Housed in the Public Records Office at the Victorian Archives Centre are the original records of Melbourne's first underground rail network, today simply known as the City Loop. Included with these records is a photographic collection, documenting this massive construction project of the time, which opened in 1981.
Now, over 40 years later, Melbourne is expanding on the original underground rail system with a large-scale infrastructure project that will deliver two new twin rail tunnels and five new underground stations, changing the way people move around Melbourne's larger metropolitan area. With a proposed opening in 2025, the Metro Tunnel will link Sunbury in the west to Cranbourne and Pakenham in the south-east and, by 2029, will also link to Melbourne Airport. 
Evolving hand in hand with this massive engineering undertaking is a creative project, Making the Metro Tunnel. Sponsored by the Metro Tunnel Creative Program and supported by partnerships such as the Royal Botanic Gardens, along with other Victorian arts and educational organisations, 13 artists were engaged using a range of mediums from paint to ceramics, cross-stitch, construction and found objects to document this important undertaking, as well as interpret it through a creative lens. Inspiration for the work was drawn from a diversity of sources, such as archaeological digs, worksite aesthetics and equipment, but also historical plant samples and photographic scans from the State Botanical Collection at the National Herbarium. 
Presently showing at the Domain Gallery in Melbourne's leafy South Yarra, a lovely light-filled Edwardian building opposite the Botanic Gardens, Making the Metro Tunnel showcases the artists' works along with the development of the underground rail network.
Spectrum warp #3, 2022, by Emma Coulter (synthetic polymer paint on linen) greets the visitor on entry, echoing an earlier piece, Spatial deconstruction #23 (resilience), a site-specific mural commissioned for the acoustic shed over the Town Hall construction site at City Square. The painting's vibrant colours and play with geometry perhaps challenge the grey uniformity and grid-like structure of Melbourne's CBD. 
Artists Oliver Ashworth-Martin, Caitlin Klooger, Tai Snaith and Dianna Wells reflect diverse responses to their interaction with the Royal Botanic Gardens' State Botanical Collection at the National Herbarium of Victoria. A work like Archive study #22 (paper and card) is one of a series from Archive Garden, developed by Ashworth-Martin using high-resolution scans to recreate samples of botanical specimens – giving the viewer insight into this vast collection usually hidden from public view. 
Three of the artwork concepts involved in the Herbarium Collection project have been subsequently reproduced as large-scale artworks displayed around the Anzac Station site, adjacent to the Botanic Gardens.
Kenny Pittock's acrylic on stoneware ceramic, 2020 – 2022, is a playful reconstruction of a milkshake cup from 1906 and drinking straws from 1909 – paying tribute to ephemera uncovered, but considered of no intrinsic or heritage value from the Metro Tunnel's archaeological dig. In contrast, Jenna Lee – in her pieces con/sumption 01 and 03, 2022 (glass, paper and bookbinding thread) – responds to discarded materials by incorporating paper from 'Aboriginal word handbooks' with remnants of colonial objects of consumption such as glass bottles.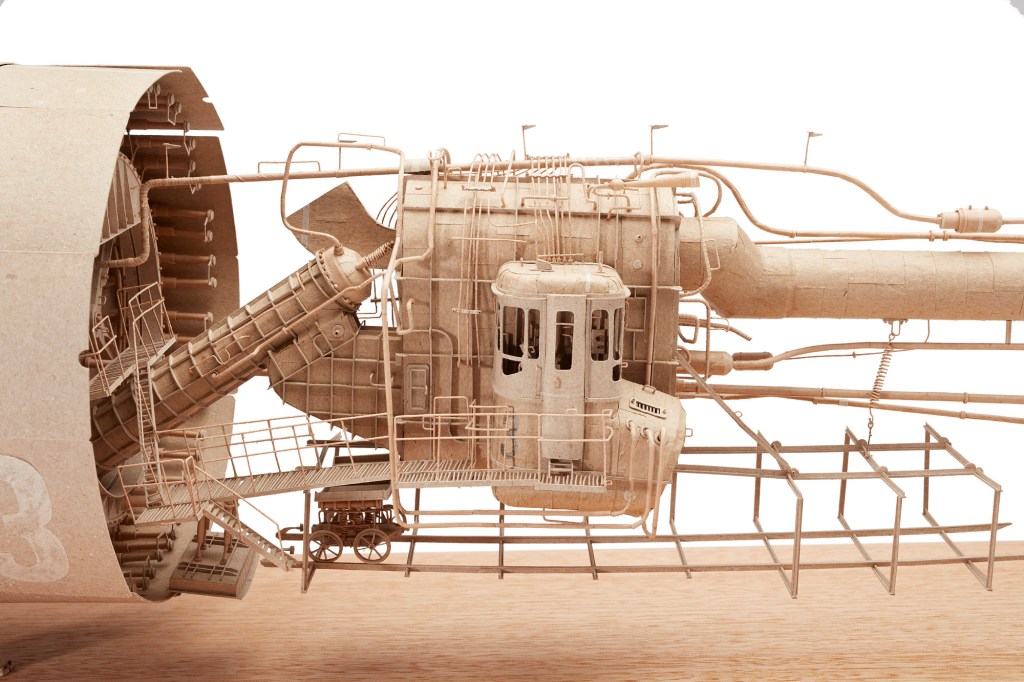 The Instrumental, 2022 (boxboard and trace paper) by Daniel Agdag was inspired by the project's tunnel boring machines. Painstakingly constructed, Agdag's work is an imaginative interpretation of some of the machinery used in the tunnel drilling process.
On the opposite wall, Harley Manifold's paintings – The Station, 2022 (oil on canvas) and Anzac Station, 2022 (oil on Belgian linen) – capture the tunnel itself and construction site in atmospheric layers of paint. Through the placement of figures and machinery, the paintings give a sense of the scale of the works being undertaken.
Read: Theatre review: Metropolis, Hayes Theatre
Through a diversity of creative interpretations, this mindfully presented exhibition explores the significance of this large public project. It is supported by information panels, text labels and a catalogue, along with an information video in which each artist discusses their work and inspiration. 
Making the Metro Tunnel: reflections by contemporary Australian artists will be on display at Domain House, Botanic Gardens Melbourne until 7 May 2023. Free entry.