It's a surprise, and a delight, to find that humour plays a big role in Freedom of Movement: Contemporary Art and Design from the NGV Collection, the latest exhibition at NGV International that draws upon the gallery's collection of contemporary art and design.
From the very beginning at the entrance sign, David Shrigley's purposefully misspelt neon, Untitled (Exibition) sets a comical and inviting tone. It leads visitors into the first gallery filled with the expressive Manga chairs by Japanese designer nendo, where the curve and extension of their metal frames seem to embody a gesture or a mood.
The belly of the exhibition, or 'Movement two' showcases a broad selection of works, loosely tied together by the concept of time. Indian artist Shilpa Gupta's sound sculpture Untitled (Rock) is placed in conversation with Canadian sculptor David Altmejd's Mother 1 (Relatives) – a dark, partially carved-out figure that hangs from the ceiling.
A personal favourite is Cover-up! by Adel Abidin, which extends the humour at the beginning of the exhibition into tongue-in-cheek criticism of culture, tradition, gender and Hollywood imagery. A video depicts an Arab man wearing the kandora, a traditional Arabic dress, who recreates the iconic image of Marilyn Monroe from The Seven Year Itch standing over a subway grating and holding her dress down. The four-minute loop blurs and challenges the distinction between femininity and masculinity, as well as heightens the sense of freedom (or its opposite – restriction) through simple movement.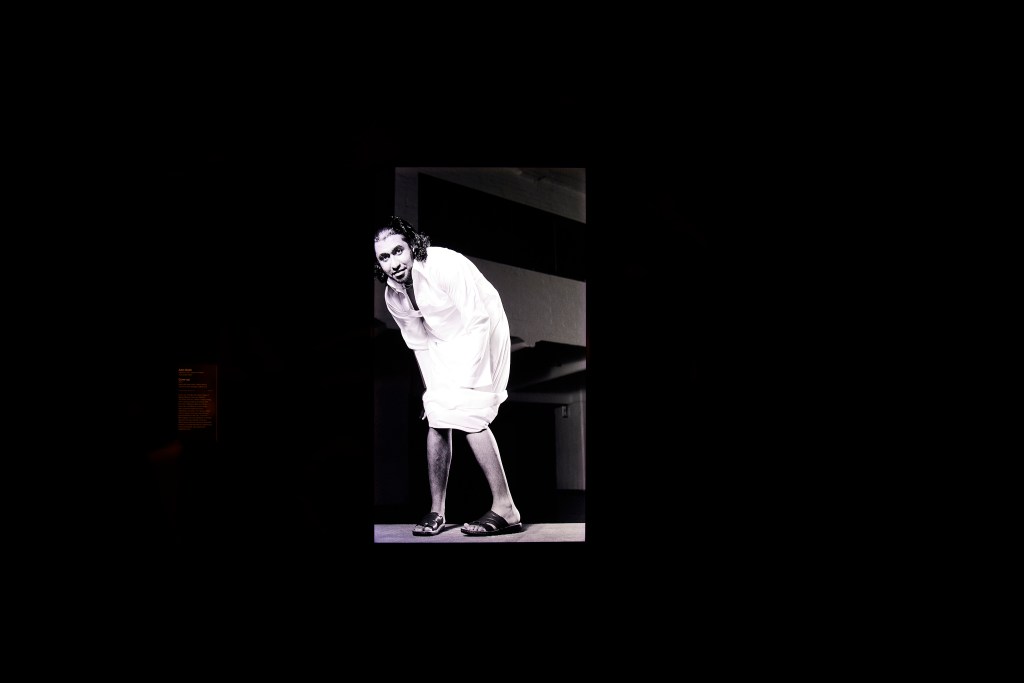 An equally dense video work is Face in the Crowd from Alex Prager, the self-taught photographer and filmmaker known for her theatrical scenes and bold narratives. The immersive cinematic experience traces a young woman's journey, as she emerges into a busy external world, from being a mere observer to only quickly become another face in the crowd.
Stuart Haygarth's sparkling chandelier created from glass lenses and Rafael Lozano-Hemmer's object scanner Please Empty Your Pockets are among the popular works for the younger art viewers, while the meticulous mixed media projection work Shinjuku calling by Yamagami Yukihiro offers game-like visuals and a moment of contemplation.
This handful of individual highlights and familiar favourites – say hi to Maarten Baas' creepy but wonderful Grandfather clock, which used to stand beside the NGV gift shop – make the main body of Freedom of Movement a memorable experience.
In comparison, the final movement, situated in a separate gallery, feels rather awkward and like an afterthought. In fact, there is no indication of its existence in relation to the main exhibition unless one happens to stumble upon it – a chance encounter depending on whether you turn left or right at the exit.
A suite of large-scale sculptures (such as Kohei Nawa's PixCell-Red Deer and KAW's COMPANION (PASSING THROUGH) and design objects (such as Front Design's Racehorse floor lamp and Chris Wolston's Nalgona chair 05) aim to 'convey momentum, energy and motion in a way that privileges expression over realism'.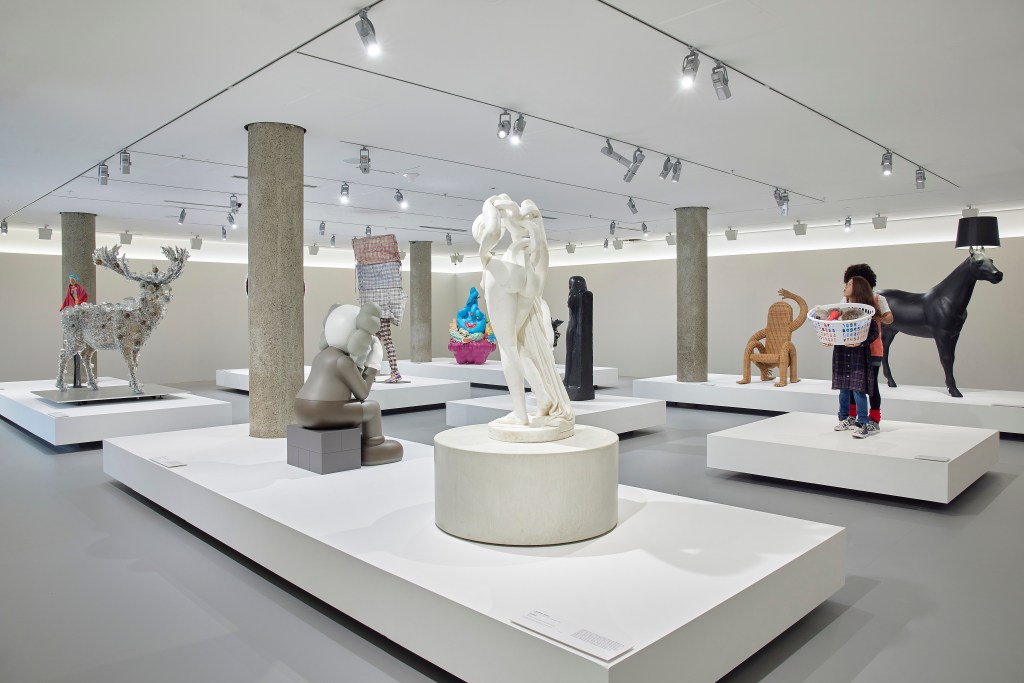 The strongest work that sustains this theme is Zimbabwean artist Dan Halter's Patterns of migration II, a walking nylon bag figure that speaks of the movement of material and product, but also of human populations.
Other standout works include Nick Cave's Soundsuit, Indonesian artist Uji (Hahan) Handoko Eko Saputro's Lucky Country series #2 and Francis Upritchard's (Blue Turban) Egypt Walk, but when placed together within the context of the exhibition their connections feel stretched, and at times even trivial.
Read: Exhibition review: China – The past is present
However, what is worth applauding is the cultural diversity presented by the breadth of artists in Freedom of Movement, which is noted as a key commitment for the future growth of the NGV Collection. And, apart from the slightly awkward exhibition layout, Freedom of Movement is a fun and interactive show with enough highlights to make it worthwhile for both adults and kids alike.
Freedom of Movement is on view at NGV International until 10 April; free.