That Fiona Foley's Veiled Paradise surveys over thirty years of her artistic career, feels apocryphal. Foley's works don't age. Unrestrained by linear chronologies, the artist – a Wondunna woman of the Badtjala nation of K'gari (Fraser Island) – showcases a practice that unfolds over decades in a continuous, passionate act of presentness. Veiled Paradise is enthralling, compelling, and unnerving.
Drawing on historical and archival research, Aboriginal rights, and feminist activism, Foley's art tells of First Nations people's invisible truths and concealed heritage. She reclaims narratives of Aboriginal massacre, dispossession, slavery, injustice, abuse, and violence. Foley examines Queensland state legislation, responding to The Aboriginals Protection and Restriction of the Sale of Opium Act 1897, from the perspective of the Badtjala nation of Fraser Island, where the first experiments to overcome the opium addiction induced to Aboriginal people took place. Through photography, film-making, installation, sculpture, painting, pastel, etching and printmaking, Foley confronts historiographical biases.
In Badtjala language, K'gari – the traditional name of Fraser Island – signifies 'paradise'. The tension between the mesmerising, unworldly beauty of the land, and its contested history, ripples through the exhibition's title. Yet, the poignant atmosphere of lost time and place, hidden from view, is most strikingly conjured up by the photographic series The Magna Carta (2021).
Staged and shot on Batdjala Country, the large format tableaux images reenact the colonial past of vice and eroticised racism. Of a foreboding quality, Foley's constructed scenes fuse reality and fantasy. The characters place themselves in the artist's imagined landscape, distorting rules of location and time. They undertake the reversed gaze of their ancestors, looking towards the European settlers but also to their own histories. In an act of double consciousness, they gaze back at themselves as actors and at Foley's bearing witness to the violence of colonialism. They also look back at the viewer with the viewer's own gaze, indicating the involvement in a past for which we refuse to take responsibility.
As I walk through the gallery space, I sense how Foley's ancestral island remains inaccessible to us through present collective inaction and continual omission.
Read: Exhibition Review: A Biography of Daphne, ACCA
Connection to land, lust, and desire are Foley's prominent themes woven throughout the exhibition. From the vantage point of the gallery's walkway, I find myself caught between the glazing shadows of two key works, Three Mangrove Pods (2000) and Pontificate on This (2016). Deceitfully simple, the materials – aluminium cast, white patina, enamel paint – speak of a layered past. Whereas the Mangrove Pods conveys Foley's intimate knowledge of her ancestral land, the wall installation Pontificate on This unpacks the governmental legislation for Indigenous populations.
In this work, Foley links Queensland's and Western Australia's colonialist past, concentrating on the Western Australian Aborigines Act 1905. For each of its clauses, Foley has cast an aluminium clay smoking pipe. It is a wry presentation that arouses disconcerting translations, and merges historical violence with wisdom, tradition and thought. 'This was exactly how I thought of the Western Australian Aboriginal Act being constructed. A group of old white cronies sitting around pontificating on this and that and how to treat the "blacks",' reveals Foley.
Treatments meted out to the Indigenous peoples are powerfully captured by the breastplates from the series Horror Has a Face (2017). White regalia for kings or chiefs of a society fundamentally built on collective consensus, brass breastplates were colonial instruments used to suffuse and drench traditional culture. Unlike the historical ones, Foley's breastplates are not individualised, but generic. Their confronting inscriptions revisit the past, and render unsettling phrases encountered by the artist during her archival research: Charcoals of Fraser Island, Ripened Fruit, Nigger Hunts, A Colonial Trump, or Black Velvet II.
A late 19th-century colloquial term for the prostitution of Aboriginal women by white settlers, 'black velvet' becomes the title for a number of Foley's works. Black Velvet II (2002/2021), is a floor installation initially created by Foley in 2002 and reimagined for this exhibition. With a slight slope, it consists of a double-oval shape with pointed ends resting on a wooden base. The higher central oval is uniformly bordered by the outward outer one. It resembles a vulva form from afar. Made of black charcoal and dried red chillies, Black Velvet II demands an unreserved act of seeing. Foley's integrative use of materials exploits different types of sensory vibrations – taste, touch, smell – rebounding on the artist's memory of preverbal sexuality.  Allured by a hint of chilli, I approach the work. Grouped around it, several other pieces, Fuck Me Harder (2002), Sacred Cunt Juice (2003), White Trash / Black Velvet (2010), and the iconic ground sculpture Black Velvet (2014), repeat and reinforce motifs of Aboriginal womanhood.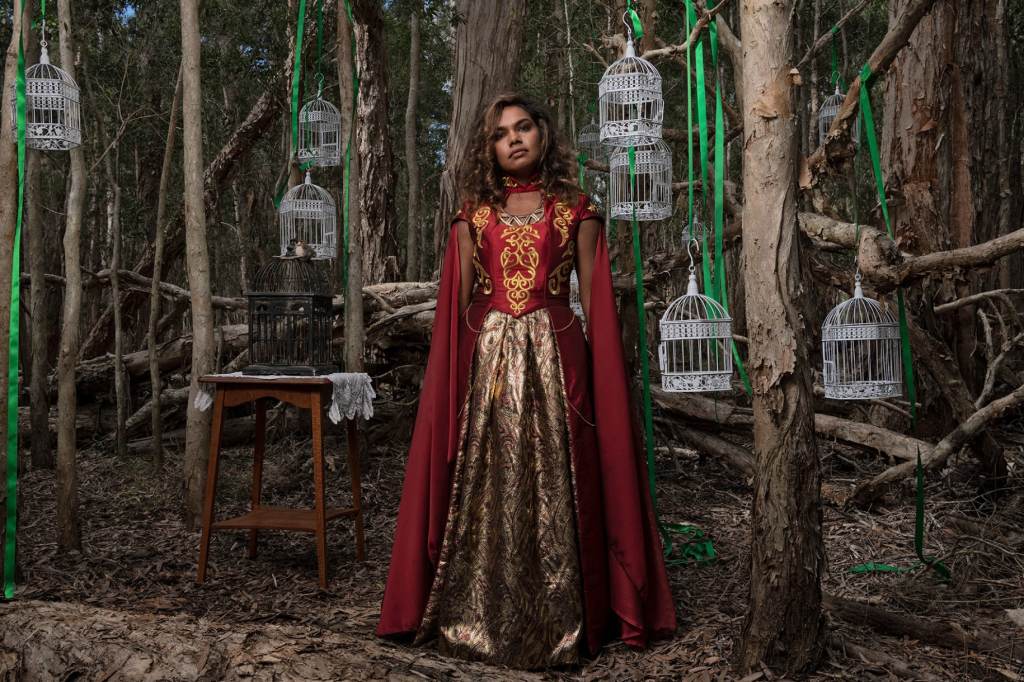 Splendidly closing the exhibition, The Annihilation of the Blacks was created in 1986 by Foley as a third-year student at the Sydney College of the Arts. A 13-piece freestanding sculpture, it represents nine black carved wooden human figures hung from a pole supported by two bare trees. A tenth white carved wooden figure with a painted black shadow stands below. Based on oral history, The Annihilation of the Blacks was Foley's first institutional purchase, one of the National Museum of Australia's first major acquisitions of work by a city-based Indigenous artist, and the first memorial made by an Indigenous artist about an Aboriginal massacre.
At each of my returns to the work, the black shadow suggests to me the absence of knowledge. With Foley's art, the absence of knowledge is knowledge, too.
Fiona Foley, Veiled Paradise
QUT Art Museum, Brisbane
On display until 26 September 2021
Free admission