While we commonly associate data with the development of technology, it has played an important role in history and culture since time immemorial. Think of astrology, predictions built upon centuries of measurements and recorded data – a way of mapping out the future that is now captured in algorithms that predict (and suggest) everything from what we are going to buy to our next favourite cat video.
Rest assured that there is no lack of prophets in Data Relations, the Australian Centre for Contemporary Art's (ACCA) latest exhibition, which brings together explorations of how data affects us on a scale never before imagined.
Zach Blas' philosophising ogre in Metric Mysticism: A Troll's Tale (2022) explains how Silicon Valley start-ups and surveillance agencies alike adopt the language and symbolism of magic. Data and algorithms are shrouded in an air of mystery to signal a force beyond human control, granting them unquestionable status. Blas suggests what we are gazing into is not a transparent crystal ball, but an opaque, man-made piece of silicon.
A work that creates a reflective parallel to Metric Mysticism is Nigerian-American artist Mimi Ọnụọha's video installations, These Networks in our Skin (2021) and The Cloth in the Cable (2022). Here, the physical element of data is made visible, palpable even, with scents, spices and textiles interwoven with data cables.
Drawing on Igbo cosmology of south-eastern Nigeria, These Networks in our Skin shows four women physically enmeshing parts of their identity and culture into a digital network that excludes them. It brings into focus the social and political aspects of data, how it maintains and enforces Western hierarchies, and what it takes to reimagine the system anew.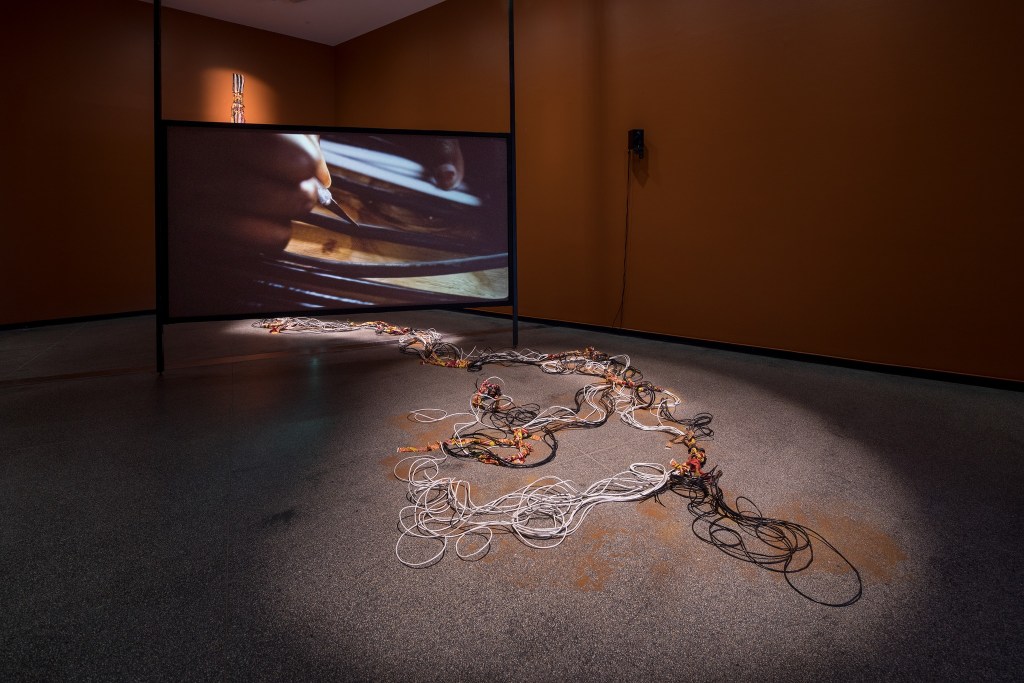 Multiple works throughout the show bring to light how data governs our words, thoughts and even our bodies. Hong Kong artist Winnie Soon's Unerasable Characters I, II and III (2020-2022) respond to the ongoing population-wide censorship in China and Hong Kong, creating a real-time configuration of erased content from Weibo, one of China's largest social media platforms. It's a graveyard of thoughts and expressions, recollected in fragments that can only offer a vague idea of their original forms – their incoherence makes them seem almost desperate.
From one end of the spectrum of control to the other, Lauren Lee McCarthy's Surrogate (2022) project is a social experiment where she offers would-be parents complete control over her body. McCarthy's video installations pose a gateway into the seemingly sci-fi world that she is exploring, where a domestic interior is accented with medical equipment – a sea of calming, health clinic blue.
Hidden in a slightly eerie darkened room with its linear formation of chairs, MACHINE LISTENING (formed in 2020 in Melbourne) brings its 'computational theatre', After Words (2022). It's a complex and nuanced multi-channel track of instructions and voices that seem to be in conversation, at times making total sense and at others completely disjointed.
The loop ends with an alarming (though admittedly humorous) proposition: 'In the real world you can say a word. But in the metaverse you can own every word you speak. Or pay rent to the owner or maybe buy the licensing rights to the word and give you a steady income stream to support your use of other people's words.'
Sadly the word 'word' has already been taken, so I've just made a really bad investment in typing out that paragraph, according to the future of the metaverse.
So what can we do in order to regain control in an age when our every action relies on data? Tega Brain and Sam Lavigne suggest: click on ads! In Synthetic Messenger (2021), 100 bots visit news articles on the internet covering climate change to click on all of the ads running alongside them. Inflated engagement statistics suggest that there is now more value in climate change-related content, and thus pushes it up in the tide of public discourse. Voilà!
Twenty screens showing hands hovering over every ad imaginable seems comical or even futile at first, but Synthetic Messenger goes to show how one simple action can create impact when performed en masse.
Brain and Lavigne have also created a new online platform, Offset, for ACCA's soon-to-be-launched Digital Wing. It is 'an alternative carbon offset market' where historic political actions will be quantified and sold as carbon offsets, explain the artists.
Data Relations is no doubt a dense exhibition that can at times feel overly conceptual, but clever curation that gives space to every artwork and installation makes the journey easier to digest.
It's a show that requires as much thinking as it does looking, perhaps an exercise that would be equally rewarding when it comes to our daily consumption of data and information.
Read: Exhibition review: INVISIBILITY
Whereas astrology used to be treated as a message from the gods, the sheer volume of data that we consume and produce each day has made 'truth' murkier, less important and selectively presented. The exhibition is an example of how art can teach us to be critical when navigating these complex webs of data relations.
Data Relations is on view at ACCA, Melbourne until 19 March; free. The exhibition is guest curated by Miriam Kelly with coordinating curator Shelley McSpedden.
The launch of the ACCA's Digital Wing on 30 January will also include the release of the Data Relations digital publication.
Please note that some of the video works are not captioned.