Gertrude Street in Fitzroy, Melbourne is known for its boutique bars and chic restaurants, as well as being a creative and cultural hub. With the launch of the annual Gertrude Street Projection Festival (GSPF), the area has been dotted with videos and projections by a dozen contemporary artists.
On the opening night of the event (Thursday 27 July), locals and visitors alike were rugged up against the wintery Melbourne night to find delights, surprises and curiosities in these pieces of public art.
A major highlight for this reviewer is the work by Guatemalan-born, Australian interdisciplinary artist Juan Rodriguez Sandoval at 167 Gertrude Street. De la tierra que me vió nacer, a la tierras que me vieron crecer y el cielo que me cubre (From the land that witnessed my birth to the lands that witnessed my growth and the sky that covers me) 2023 is filled with joy, but also a sense of melancholy, where a lone figure dressed in silver tinsel swings around on a clothing line decorated with colourful fabrics in slow motion. Projected on the red brick wall beside FoodWorks, the piece becomes a portal that transports into a parallel, but separate, time and space.
The human subject is multiplied in volume in Sarah Aiken's shopfront installation at 191 Gertrude Street, which also presents a universe that inhabits body and movement, and perhaps alternative ways of being. Make Your Life Count was recently shown at Sydney's MCA Up Late, accompanied by a cosmic soundtrack by Andrew Wilson. Understandably the audio component is not as prominent on the street, but this does not detract from the mesmerising choreography performed by a swarm of little humans.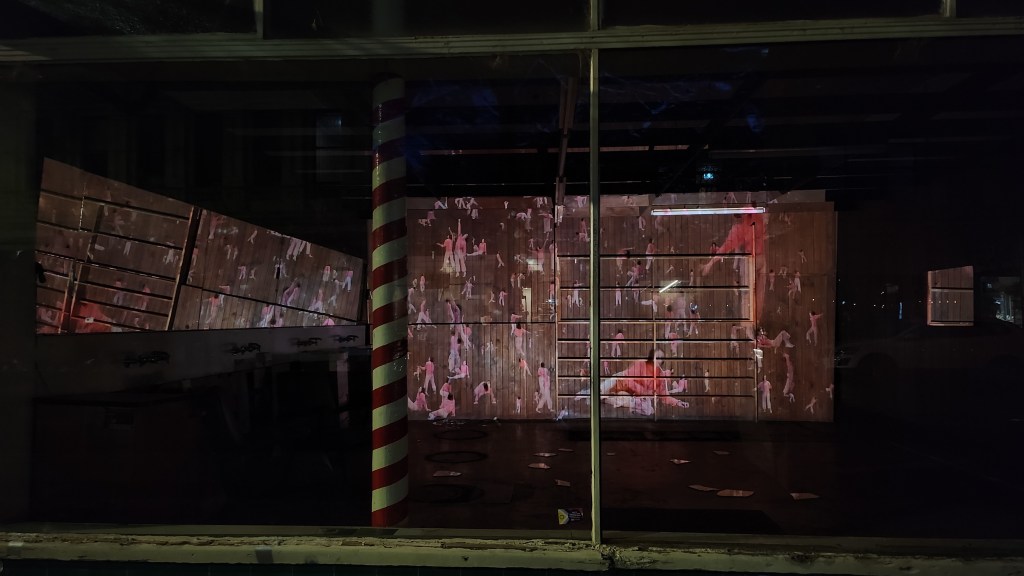 The use of shopfronts and street-facing windows is a clever way to engage with local businesses, but often blurs the line between commercial displays and creative projects. A standout example that uses this format to its advantage is by Alana Hunt at 37 Gertrude Street. The rural landscape is simple yet evokes a moment of pause, the projection's surface perfectly fitted to the angled shop panels.
Read: Musical review: Bloom, Arts Centre Melbourne
Exploring the Gertrude Street Projection Festival feels a bit like an Easter egg hunt, not simply because some works are more hidden than others, but also due to the fact that there is no signage suggesting that a certain video or projection is associated with the Festival. The question "Is this it?" can be heard among the crowds.
For locals and customers, spotting an unexpected projection in the neighbourhood can be a delight, but GSPF falls short for those seeking a more interactive cultural festival experience. That being said, it does succeed in bringing contemporary works to fresh eyes.
Gertrude Street Projection Festival is on view every night from 27 July to 6 August along Gertrude Street; free.