NAVA's In These Critical Times, MPavilion Vic, Courtesy of NAVA, photo by Daniel Gardeazabal
NAVA Executive Director, Esther Anatolitis was in Perth today (14 march) to launch a new national campaign calling for visual artists to embrace greater political courage in the face of funding challenges and sector instability.
However the timing was uncanny. In NSW today – where the election is looming with arts policy and pledges on the table – the notion of ' greater political courage' was tested.
Anatolitis released a statement from Western Australia that harshly criticised recent revelations that NSW Minister for the Arts Don Harwin has 'continued to interfere in expert, arm's-length funding decisions', which has shocked artists and audiences across the state.
Anatolitis writes: 'I'm deeply disappointed to learn that, once again, NSW's arts funding has been used for political gain.'
Anatolitis was responding to an ABC story that broke this morning accusing Arts Minister of 'pork barrelling'. The ABC reported: 'NSW Arts Minister Don Harwin and Regional Development Minister John Barilaro, also the NSW leader of the Nationals, co-approved 13 regional arts projects a seven-person panel deemed unworthy of funding. The projects, which received a share of $3 million in funding, were all in seats held by either the Liberal Party or the Nationals when the decisions were made.'
Anatolitis continued: 'Artists and arts audiences welcome elected members' ambition for the cultural life of their electorates. This ambition, however, cannot be realised at the expense of public integrity.'
'Fairness in public investment shouldn't depend on which electorate you live in,' she added.
Last year (September 2018), ArtsHub reported a similar case of Ministerial meddling, noting that 'NSW Arts Minister Don Harwin went against Create NSW recommendations and reallocated $404,000 in funding, earmarked for 11 organisations and artists, towards a single pet project.'
Read: Ministerial meddling in arts funding met by sector outrage
'In this instance, funds have been taken from artists who haven't yet had the opportunity to earn them – because two future rounds of this fund have been cancelled by the Minister in order to fund projects that he favours now. It's shocking.
'I welcome the commitment by Shadow Minister for the Arts Walt Secord towards a thorough review of all arts funding decisions during this term of government,' she stated.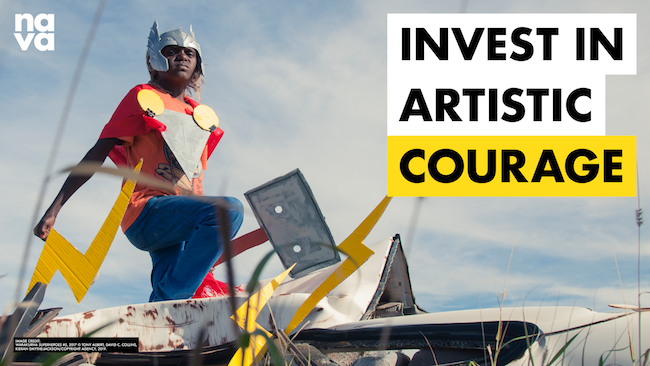 Warakurna Superheroes #5, 2017 © Tony Albert, David C. Collins, Kieran Smythe-Jackson / Copyright Agency, 2019.
New campaign that encourages the courage to speak out
Meanwhile, in Perth NAVA launched its Invest in Artistic Courage campaign to inform the nation of the unique challenges faced by our artists, and the need for ambitious and fair art policy at the 'In these critical times'.
NAVA explained that the campaign has been created to highlight how delays and successive cuts to the nation's arts funding has damaged the livelihood of Australian artists and the sustainability of the sector.
The campaign calls for greater investment in artistic courage to ensure the survival of the arts community, which plays a crucial role in fostering critical thinking and developing a vision for our country's future.
Anatolitis said in a statement: 'Now, more than ever, Australia needs to support its arts sector because artists define what is possible. A nation that invests in artistic courage is a nation with the confidence to face unknown challenges and create a bold vision for the future.'
She continued: 'The visual arts are Australia's number one art form by participation – yet policy changes across recent years have disadvantaged individual artists the most. Artists' incomes are declining, the numbers of visual artists and craft practitioners are declining, and artists' fair pay and intellectual property rights are increasingly ignored … it's taking longer for artists to become established, and the gender pay gap is worse in the arts than in any other industry.
'Visionary leadership is needed. Leadership that understands that political leadership is cultural leadership, and that investment in artistic courage would strengthen our cultural heritage and the future of our artistic community,' she concluded.
To find out more about Invest in Artistic Courage visit https://visualarts.net.au/invest- artistic-courage