The Museum of Old and New Art (Mona) 'barely spends anything on bought media,' according to Robbie Brammall, Mona's Director of Marketing and Communications.
'We rely on our activities being disruptive enough to generate their own momentum – and when it comes to earned media, controversy is king,' he told delegates at Creative Victoria's Creative State Summit last Friday (31 May).
Which is why, for Mona's first ever brand campaign, Brammall's marketing team 'did the opposite of what you would usually do,' he explained.
'We went to TripAdvisor, found our very worst reviews, and turned them into ads. We called it The Best of our Worst Reviews … The best thing about these reviews is they're grounded in truth, and in our experience telling the truth is absolutely a risk worth taking.'
Celebrating Mona's unique appeal in such a way has been highly successful. 'This campaign is our highest-converting campaign ever – magnitudes higher than any exhibition we've ever promoted,' Brammall said, 'and for Mona, brand converts over exhibition.'
Sharing negative reviews with the world instead of highlighting just a series of glowing four and five star reviews not only demonstrates Mona's irreverence – a key aspect of the museum's brand – but also generates a sense of trust amongst potential audience members.
Such an approach demonstrates a lack of artifice, suggesting that nothing is hidden away or obfuscated. It also encourages readers to consider the dialogue between good and bad reviews, asking potential audience members to consider how reviews are framed and to analyse the criticisms they present.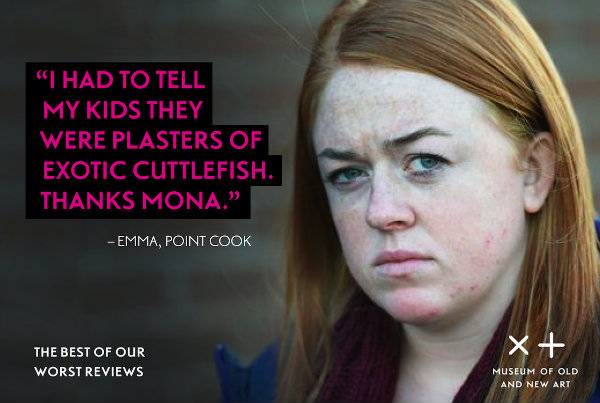 The Best of our Worst Reviews campaign also clearly demonstrates the philosophy of Mona's owner, gambling multi-millionaire David Walsh, which is 'the theory of "asymmetric upside,"' Brammall explained.
'Only do something if you have a lot more to gain than you have to lose. And for Mona it's always been our creativity that enables us to make those gains – without huge financial risk.'
Another example of creative risk-taking Brammall highlighted at the Creative State Summit was the decision to develop 'Air Mofo' (a Mona-branded airline flying in visitors to the summer festival Mona Foma) instead of the more traditional approach of printing (at a cost of approximately $70,000) a nationally-distributed festival program.
'Bear in mind our key objective is to generate interstate visitation. So this year we took that money and took a calculated risk with it. We charted a jet plane and launched an airline. "Air Mofo: no-one flies higher."
'The Air Mona promo generated 27,000 entries, hugely boosted our interstate visitation, earned over $5 million in media, and all of it in the inbound markets we're looking to grow over the next three years. It's fair to say this break from convention generated a better return on investment than a festival program on a table in St Ali coffee shop. The risk was worth it,' Brammal said.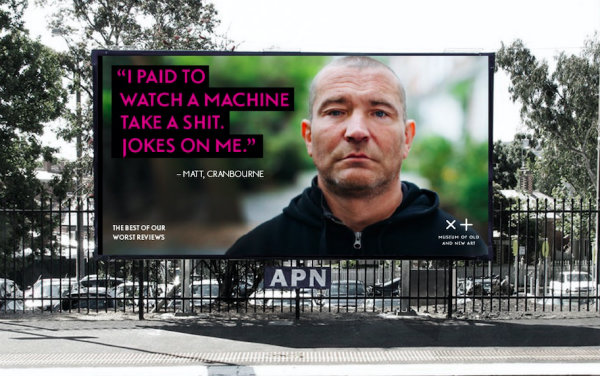 Will such creative risk-taking become the norm in the arts? It's unlikely, given few arts organisations in Australia have budgets backed by the likes of David Walsh.
Nonetheless, Brammall hopes the artists and arts workers gathered at the Creative State Summit could learn from Mona's eccentric approach to marketing.
'Whatever the future business conditions, whatever the technological innovation, there will always be the opportunity for creative disruption – and hopefully no-one is better placed to take advantage of that then the creatives in this room,' he concluded.
This article is based on Robbie Brammall's presentation, Mona 2.0 – the pursuit of growth (and by growth we mean nonsense) at the 2019 Creative State Summit on Friday 31 May.