As we celebrate Mental Health Month, we look at art's capacity to create awareness and break down the stigma associated by some with mental health by taking these conversations into the public demands.
The Big Anxiety's real talking project with Lifeline, The S-Word at Circular Quay and a poetic text-based project across St Leonards laneways and streets in North Sydney are great examples.
Another, perhaps less visible venture, is the role art plays in our hospitals to help people through their journey.
Insideout Gallery – a professional studio and gallery space for artists impacted by mental health experiences and located within Macquarie Hospital – has been operating for close to a decade.  
'There are so many who need a place like this,' said Jasmine Steven, InsideOut Gallery Project Manager and Curator, and Arts Worker at Macquarie Hospital.
While the gallery will present the exhibition, Share your Journey – an annual show curated to coincide with Mental Health Month – it is a new collaboration with the City of Ryde that is moving the conversation beyond the hospital and gallery walls.
The artworks of five artists – Simon Champ, Ruth Sariban, Paulina Nikolzew, James Akhurst and Tim O'Loughlin – will be featured across 54 street banners across Top Ryde from 23 October to 11 November 2019.
'The street banners project is a new partnership with the idea to break down stigma and barriers within the wider community, and just normalise things,' said Steven.  
'We need to make sure there is not this great divide between the hospital and beyond, and the banners are a great way to do that,' Steven continued.
One of the exhibiting artists, Simon Champ trained as an artist with Sydney College of the Arts (SCA) and has been an active advocate in mental health circles for over 10 years.
He told ArtsHub:  'I don't always consider my work as therapeutic as I trained as an artist, but art has always kept me sane in a way.'
Simon Champ; Image supplied.
Champ is delighted that a lot of people will see his work through the banner project. 'I'm part of a local community; part of a range of people all around Australia living in different ways, and art is such a great way to share those messages.'
Champ who subscribes to the thinking that he is differently abled, not disabled, told ArtsHub: 'The main purpose is to show people who don't know anything about the lived experience of mental health is that it's OK, that they are approachable and normal.'
Completing the project, the artworks in this year's exhibition have also be turned into postcards – again in an outreach campaign that promotes mental health resources.
Champ added: 'What I have seen over time is that it is less about us and them, and more a collaboration of walking side by side. We work closely with the Cornucopia Community Art Group to do studio practice.'
Cornucopia Community Art Group is group is for members of the Ryde community who access Mental Health Services, and meets every Tuesday at the art shed on the Gladesville Hospital grounds.
'On walls there are various paintings by past consumers. It started as a community workshop in the 60s. There is a real sense of history and those memories come in when we are make pots there. A lot of people paint in the hospital come up in the afternoon from the wards with their helpers and facilitators.
Champ continued: 'Art making is a powerful way to express ourselves and it can hold strong emotions which are often too hard to communicate with words. It is amazing the comfort you can find from making. In the hospital, time goes slowly.'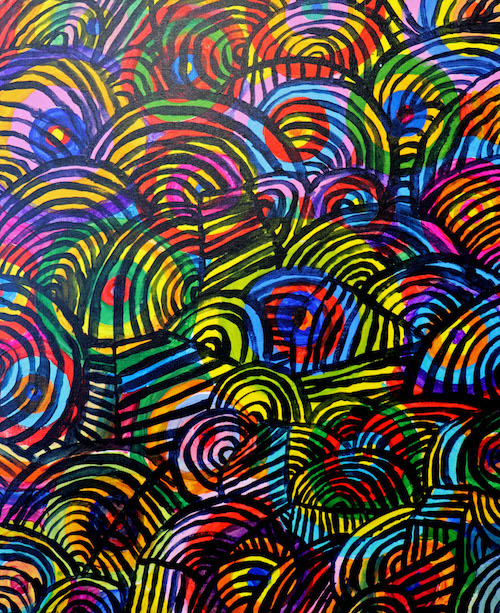 The artworks of Simon Champ will feature on street banners and postcards promoting mental health resources and awareness. Image supplied.
Share your Journey is a collaboration between Insideout Gallery and Cornucopia Community Art Group.
'While the gallery has about a dozen core artists working on site on a regular basis, the Hospital (Macquarie) has about 165 consumers participating in various art therapy programs – pottery, music therapy, a hobby unit and creative writing as well. It is a very unique hospital with a long standing program,' explained Steven.
Steven trained as an art therapist, and says that background helps her when working with artists in the Insideout Gallery. 'It puts me the position to help bring their intimate stories out, and help filter them into an exhibition that is inviting and breaks down the stigma by opening up conversations.'
Insideout Gallery is located at the Northern Sydney Education Conference Centre on the grounds of Macquarie Hospital in North Ryde. For Directions. Both Share your Journey and the banner project will be on show 23 October to 11 November 2019.