In the past, the common complaint was one of fair blur and burn out. But with the pandemic taking art fairs online globally, we may be a little rusty for the impact of #irl (in real life viewing).
Here it a quick refresher to get you ready for 2022's calendar of art fairs.
1. Know why you are going
In an interview with Artsy, Benjamin Genocchio, executive director of The Armory Show, makes the point that there are two main groups viewing art fair: those who consider the art fair as experience and those who see the art fair as marketplace.
If it is entertainment, then be sure to peruse the fair's website and check out the talks program, video screenings, performance, eating zones, and where the hot galleries are located – because viewing a fair is a holistic experience.
If it is to buy, then do your research ahead of visiting. Ask where you are going to locate an artwork you might purchase, and consider size before heading out the door.
And whether you are a first timer or an fair enthusiast, realistically there are only so many fairs you can take in each year – and budget for – so why not pencil them in your diary.
2. Purchase Art Fair Tickets Online
A quick no brainer tip is to buy your ticket online in advance. Today, especially with added health and safety protocols, check ins can be longer than usual.
3. Ticket choice: to VIP or not?
Apart from regular art fair tickets, many art fairs offer VIP passes that provide the better opportunity to attend a preview vernissage entry (usually the day before the public opening), bespoke collectors tours, as well as access to the VIP lounge – which is a heavenly escape from the crowd and noise to sit down and have a drink; to other exclusive offers that put you in the room with collectors and dealers.
Read: What is a VIP pass really worth?
4. Think shoes; not style
Yeah we all know the art world is only second to the cat walk when it comes to being seen – and yes art fair wardrobes are well curated. But don't let style compromise comfort. You are going to be on your feet all day so opt for the joggers over the heel.
5. Go to learn, not to buy
The Brussels-based collector Alain Servais offered fair punters the tip: 'Go there to learn, don't go there to buy.' It is an excellent tip! Regardless of how many art fairs you have seen, you will always learn about a new artist, a new gallery, or find a new passion.
6. Check the map
The first thing you do when you enter through the doors is to grab yourself a map of the fair and mark it up. Art fairs can be confusing and distracting, and when the blur does kick in, inevitably so will disappointment when you learn – later – what you missed.
One tip I have learnt over my 20-years of attending art fairs is to do a quick, aisle-by-aisle initial walk through. It doesn't take that long. And make a note – literally on the map what you want to return to – and mentally to locate yourself in this disorientating dervish.
7. Don't be shy, ask questions
Unfortunately, the outdated perception that galleries are elitist still lurks around. Largely, gallerists love a chat. They are passionate about what they do and the artists they show. So don't be afraid to strike up a conversation and ask a question.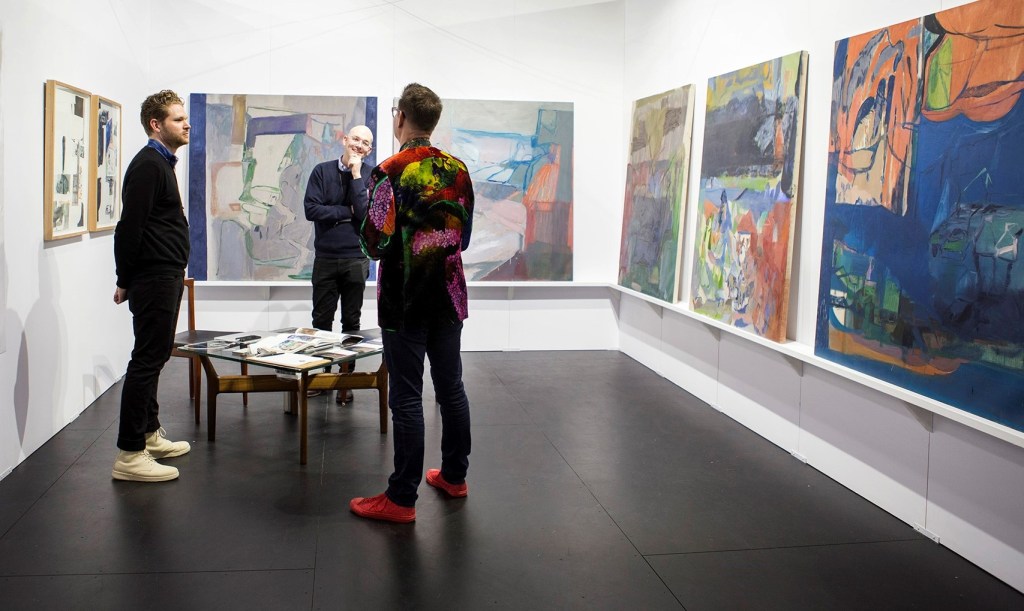 8. Don't be afraid to ask for a price
The bottom line is that an art fair is a venue for selling – and how can that happen if the price is not known? So if you see something you like, ask up front. There is no need to waste the dealers time – or your own – doing a long seductive dance if it is out of your price range. In a strange way, art fairs are probably a bit more welcoming to do this than the traditional gallery environment.
And if you are an artist and not a budding collector, then asking the price may be a great way to get the temperature on the market and where your own work might sit.
9. Don't do the big sell
Art fairs are a great venue for artists to get a sense of the market now, who the gallerists are, and where their work might sit. However, it is the worst idea in the world to use a fair as an opportunity to pitch your work for representation.
Hundreds of people are coming through that booth, and dealers are primarily there to sell the work for their artist and to build their networks. Respect that, and in turn you will be respected. Asking about representation at an art fair will just put a line efficiently through your name.
10. Snap away, but ….
Photos of the artwork are encouraged throughout the fair, but remember to also click the caption so you remember the artist and the gallery representing them, and booth number. This is two fold – in case you want to follow up on a purchase, or if you want to share the love on social media, you are correctly crediting the artist and gallery.
11. Check the storeroom
Most galleries exhibiting have additional works by the artists on show, and also other artists in their booth storeroom. If you are looking for something and just can't see it – then ask – ask if they have other works to show you.
12. Hydrate: take a break
The one thing I still do abysmally at art fairs, is to stay hydrated. You are talking and walking often for hours. Remember to take a break. Refresh the mind and the eyes; eat, drink and recharge.
13. Explore the program
Art fairs are so much more today than art hung in booths. There is usually a program of talks, tours and performance pieces. There are often also kids activities if you need to give yourself (and them) a break. Remember to check out what is on offer the day before you head out.
A trick I also do is to set an alarm on my phone, because when you are in the belly of the fair or wrapped up in conversations, you are sure to miss that talk!
14. Visit the emerging artists section
This is a must. This is a must. Do I need to say it again? Apart from supporting a next generation of artists, you may also find works that suit your budget better. It is also a great barometer of what is hot and new now, rather than the settled trends of well-established artists.
15. Consider your payment options
If you are hoping to pick up an artwork then know your budget before you leave home. Know where you will put it. Consider how you will pay for it. Most galleries offer payment options these days, and there are other mechanisms that allow you to live with that new work of art while paying it off – like Art Money.
16. Don't sleep on it
This is usually the best held advice, but it is not the one best served for art fairs. If you are quivering on a purchase then I recommend two things. Walk to the end of the aisle and if it is blurring everything thing else you look at and you can't get it out of your end – head back and bite the bullet.
Alternatively, go straight to the lounge or bar and have a quite coffee and think through your pros and cons – Do you totally love it? Do you need it? Can you really afford this, or are you just caught up in the moment? Then with a clear head, walk straight back with commitment and passion and close that sale.
Things move fast at art fairs. My guess is that a dealer will hold a work for a short half hour, and you can leave your phone number.
17. Continue the journey
We all tout that term 'networking' – but fairs are great for making new connections. So don't leave it at the fair. Continue the journey and sign up to stay in contact. Follow their Instagram page.
The Melbourne Art Fair kicks off at the Melbourne Convention and Exhibition Centre from 17–20 February 2022.