Concerts under the stars in The Lighthouse. Photo credit: Elise Derwin for Darwin Festival.
Established as a much-needed symbol of Darwin's revival and resilience after the devastation of Cyclone Tracy, Darwin Festival this year celebrates 40 years of community and cultural celebration.
First held in 1979, and originally known as the Bougainvillea Festival, Darwin Festival brings the world to the Top End for 18 days and nights, while also celebrating the best art and culture the Northern Territory has to offer.
'The original Darwin Festival was born of the idea of bringing people back to the city following Cyclone Tracy. After the evacuation there were only about 10,000 people left behind and they were largely men. The women and children were mostly evacuated, and many were fearful of returning,' said, Darwin Festival CEO Emily Mann.
'So a festival was created … and it brought the people back. It's been incredibly successful in uniting people year after year. We do face some unique hardships in the Northern Territory, so every year it's important to take time out to celebrate all that's good about Darwin,' she said.
The impact of another tropical cyclone, Cyclone Marcus, which hit Darwin in March last year, has driven one of the special 40th anniversary events in this year's Darwin Festival program.
As Artistic Director Felix Preval explains: 'Drumming Up the Storm is a major community work led by local drum master Airileke Ingram which sees 40 log drums carved out of the trees which were felled last year by Cyclone Marcus.'
As well as being a major log drumming spectacle, the event symbolises the act of resilience at the heart of the festival's history.
'Almost 40 years after Cyclone Tracy we had this other significant natural disaster change the topography of the city. So in Drumming Up the Storm we're really trying to capture the spirit of community and cultural resilience that the festival epitomises in this one big original celebration for our 40th anniversary,' Preval says.
Learn more about the 2019 Darwin Festival program
Alongside productions by Opera Australia and cabaret diva Meow Meow, the 40th anniversary program also features performances by high profile comedians such as Wil Anderson, Cal Wilson and Nazeem Hussain – artists and companies which rarely visit the Top End.
'It's pretty hard to bring work to the Northern Territory throughout the year so the Festival is a particularly important platform and an important time for local arts lovers,' Preval explains.
It's also important for local artists and arts workers, he continues. 'In terms of the Festival's role in supporting and developing the local sector, we think really carefully about the work across all genres of performance that we're bringing for local arts workers and artists to enjoy.'
Such industry-aware programming extends to the sector development program Front Row, presented for the second year this year.
'The program will see a small cohort of local artists, arts workers and local writers engage in a deeper way across the Festival, and we really hope that that will stimulate participants and lead to stronger local offerings in the festival in years to come,' Preval explains.
CULTURAL TOURISM
While Darwin Festival is clearly significant for locals with 105,000 attendees across 18 days last year, it's also increasingly a drawcard for cultural tourists from Australia's southern states.
The Festival's tagline 'Hot August Nights' forms an integral part of its national and international marketing strategy that aims to increase tourism from interstate and overseas as well as position the Festival as Australia's hottest arts Festival in more ways than one.
'We went into market for eight weeks last year with a largely digital programmatic national campaign and that actually converted into real festival ticket bookings from right across the eastern seaboard – from Brisbane, Sydney, Melbourne and Adelaide, with people coming up to see Darwin Festival, many of them for the first time,' says Mann.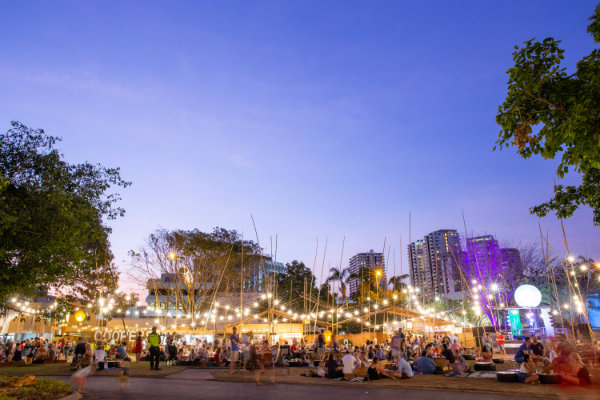 Festival Park, the main entertainment hub of the Festival. Photo credit: Duane Preston for Darwin Festival.
Given that the southern states are currently shivering through the depths of winter while Darwin enjoys warm dry days and balmy nights, such a strategy makes absolute sense. It's also demonstrably effective.
'Last year we tracked 442 confirmed ticket bookings through the digital campaign which then also translated into accommodation and flights to Darwin. So from that small test last year, this year we've extended the campaign from late April right through to the end of August, and already we're seeing great traction,' Mann tells ArtsHub.
The campaign is also focused on bringing international visitors to the Top End for Darwin Festival, through partnerships with three key airlines, Silk Air (through Singapore Airlines), Dong Hai Airlines out of Shenzhen in Southern China, and Jetstar Asia out of Singapore.
'Those three international airlines – who have each been incredibly supportive through their print and social strategies and their in-flights – they reach a market that we could only dream of. So we're seeing some great action in that sector. We're also working closely with Qantas to do the same across their national network' Mann says.
INTERNATIONAL DRAWCARDS
Preval says this year's Darwin Festival (officially his second festival as Artistic Director, although as Acting Artistic Director he also programmed the 2017 Festival) features his most international program to date.
'We have work from as far afield as Ireland, Mexico, Cambodia, Papua New Guinea and Iran. We're really thrilled to have so many international artists joining the incredibly strong Australian line-up – we're giving Darwin the opportunity to connect with the rest of the world and to understand itself in the context of that picture.'
The program also features a significant number of works by First Nations artists from Canada, New Zealand and Taiwan.
'Taiwan has a really rich array of First Nations cultures and there are a number of arts organisations in Darwin who have worked strategically with communities in Taiwan to build relationships between artists, so we're keying into a bigger conversation that's happening there,' says Preval.
Book now for the 2019 Darwin Festival
The international flavour of this year's Darwin Festival program – including Ireland's MALAPROP Theatre's LOVE+ ('a deft and delightful production,' according to The Irish Times) and Cambodia's all-singing, all-dancing Phare Circus – reinforces the Festival's role as a member of the Confederation of Australian International Arts Festivals.
Together with the major arts festivals in Adelaide, Perth and other capital cities, through the Major Festivals Initiative, Darwin Festival plays a key role in co-commissioning and presenting ambitious new works by Australian artists.
One such work at this year's Darwin Festival is the critically acclaimed Man with the Iron Neck, a potent and powerful work by physical theatre company Legs on the Wall.
Mann explains: 'We're able to bring major works of scale from the Northern Territory to the table for other Australian international arts festivals to invest in. We're excited to invest in a work like Man with the Iron Neck, which originated from Territory-born and bred actors and scriptwriters.
'We look forward to presenting more works over the next couple of seasons that have also originated from the Northern Territory,' she teased.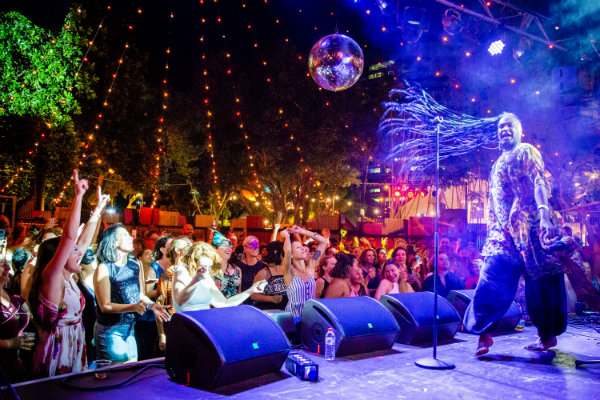 Electric Fields performing, a highlight of the 2018 Darwin Festival. Photo credit: Elise Derwin for Darwin Festival.
FOCUSING ON FIRST NATIONS
Exploring the challenging and important subject of suicide in Indigenous communities, Man with the Iron Neck is one of many First Nations works featured in this year's Festival. Such works cover a broad spectrum of themes and genres, from stand-up comedians Dane Simpson and Matt Ford in Aborigi-LOL and a free concert by music legends Yothu Yindi, to the latest work by Bangarra Dance Theatre, 30 years of sixty five thousand.
Preval is especially proud of the focus on Aboriginal and Torres Strait Islander works in the festival program.
'I think this year we have more work by First Nations artists than maybe ever before – it's a huge program across all genres of performance and visual art. It's a significant part of our live music program, our theatre program, comedy – it touches on every part of the program,' he says.
'The festival itself kicks off with three major Indigenous art events of national significance: the Telstra National Aboriginal & Torres Strait Islander Art Awards, the Darwin Aboriginal Art Fair and the National Indigenous Music Awards … Collectively, all these events bring thousands of people through the festival.'
Works such as Declan Furber Gillick's Bighouse Dreaming, which speaks to Indigenous youth incarceration in the Northern Territory, and Birds Eye View, an audio walking tour set in an historic prison and exploring the lives of contemporary female inmates in Darwin Correctional Centre, are also featured.
'Together with the rest of the programming that Darwin Festival does across its 18 days, especially our contemporary music program, they amount to possibly the most significant program of Indigenous works in the country … and by using the power of live performance, they can help shift the conversation, locally and nationally, about contemporary Indigenous life,' Preval says.
Darwin Festival runs from 8-25 August 2019. Visit www.darwinfestival.org.au for program details and ticketing and accommodation information.