Becoming an Image, Perth Festival, at the Perth Institute of Contemporary Arts, 2019. Photo: Cassils with Manuel Vason. Image courtesy of Cassils and Ronald Feldman Gallery

Imagine this: You are ushered into a deadly dark room, your only point of navigation the trust you have placed in the person who guides you – your hand on their shoulder. It is around 37 degrees Celcius, and you are positioned within a millimeter of the next person – your shoulders rubbing theirs. You wait.
Your pupils have become insanely dilated but you still see nothing. The first thing you engage with is the breathing of Cassils, and then the familiar – fump fump – the one-two of a boxer's action. You relax into the rhythm in blackness. Then pop. A photographer's flash illuminates the room for an instant; Cassils is caught in boxing formation, fists pounding an obelisk of clay their height, the retinal burn freezing the moment.
Becoming an Image was first performed in Los Angeles at ONE Archives in 2012. The Perth Institute of Contemporary Art (PICA) presented this work on 8 February as part of their exhibition Alchemic for the Perth Festival.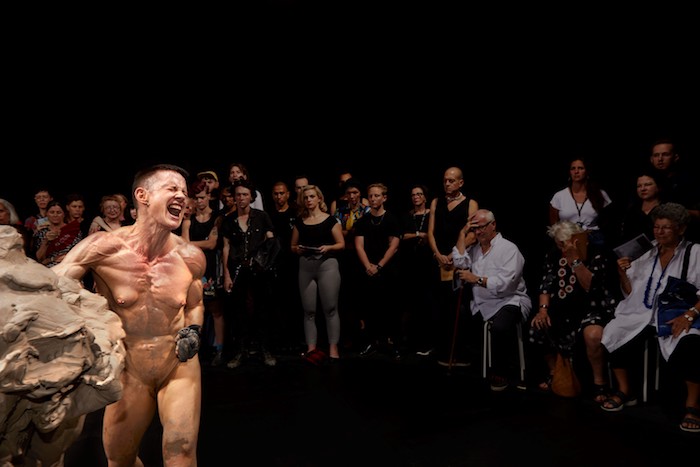 Becoming an Image, Perth Festival, at the Perth Institute of Contemporary Arts, 2019. Photo: Cassils with Manuel Vason. Image courtesy of Cassils and Ronald Feldman Gallery
Canadian born, Los Angeles based Cassils uses their body as a form of social sculpture. The blur of trained, athletic strength and theatrical drama come together in this highly conceptualised live performative work.
The artist explains that they 'transform their body by strict physical training regimes and preform transgender not as a crossing from one sex to another but rather as a continual process of becoming.'
Read: On becoming: a conversation with transgender artist Cassils
Cassils added of their work: 'As a transmasculine-identified person who chooses not to have a double mastectomy, I feel the problem does not lie within my body, but within society's perception of my body.' (1.)
The performance lasted around 30 minutes. Perhaps the more challenging feat, however, was a curatorial one. The photographs taken during the performance by Manuel Vason – intentionally a white male working blindly in their gaze – were turned into a wallpaper overnight that sat in engagement in the gallery space with the pounded, masticated raw clay.
This wallpaper juxtaposed performer with voyeur in a conversation about control and provocation of the gaze.
The performance raises questions of memory, evidence, witness and documentation, explain curators Anne Loxley and Eugenio Viola. 'The artist uses their body as a medium to question society's structures and explore ideas of violence, representation, struggle and survival,' they said.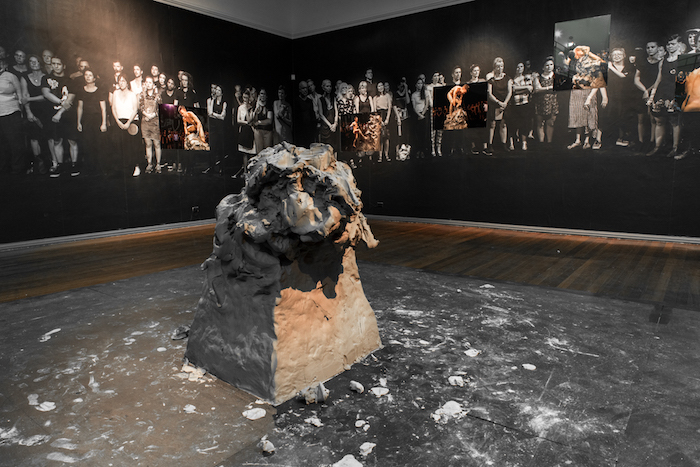 Cassils, Becoming an Image, 2012-2019; Clay bash (remnant of the performance), wallpaper and photos (documentation of the performance, photos by Manuel Vason and Cassils). Photo by Susie Blatchford. Courtesy of the artist and Perth Institute of Contemporary Arts.
The exhibition Alchemic presents five performed artworks stretching back to 2007, and is the first presentation of Cassils' work in Australia.
Speaking with Cassils they said they had noticed the change in their body since Becoming an Image was first performed, and hoped to continue to perform the piece into their 80s.
Inextinguishable Fire (2007-15) sits opposite the Becoming an Image documentation, a single-channel video that documents a 14-second performance where the artist (suited for protection) sets their body alight. The audience experience of that performance is drawn out to 14 minutes, and points to notions of Joan of Art and heretics and sexual deviants burnt at the stake.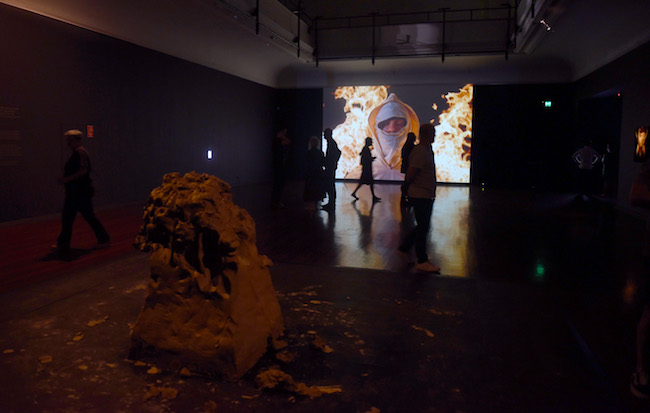 Cassils, Inextinguishable Fire (2007-15), installation view Alchemic at PICA (2019)
To its side are documents of three other performed works: Alchemic IV (2017-18), Tiresias (2010-2013), and Powers that Be (2015-17).
Alchemic IV is a luscious object caught between a Hollywood Academy Award and an example of gilded perfection from art history. Tightly cropped, it seemingly glows in the darkened space, mounted on Plexiglas to add that lustre. Cassils has referred to this mounting choice to a petri dish, and has also pointed to the lineage of images by photographer Robert Mapplethorpe.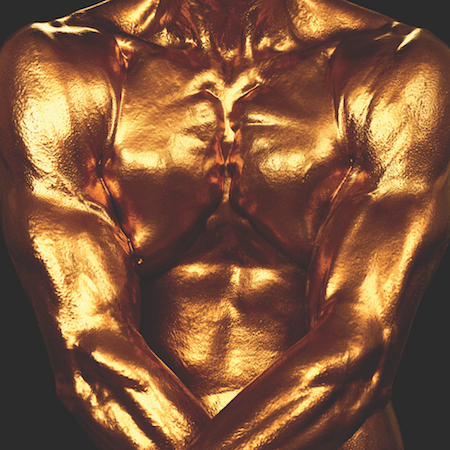 Cassils, Alchemic IV (2017); photo Cassils with Robin Black, courtesy the artist
At PICA the image extends the drama, and yet seduces us with beauty – a reprieve from the violence presented in some of the other pieces.
To its right in a separate gallery is Tiresias – a single video image floating in space, just slightly over life size. In it Cassils references Greek mythology and the idea of gender fluidity conveyed by pressing their chest against an ice-version of the Classic Green Kouros (idealic male form) for four hours until it was fully melted.
Steadfast, Cassils looks directly to camera, confronting the audience's gaze.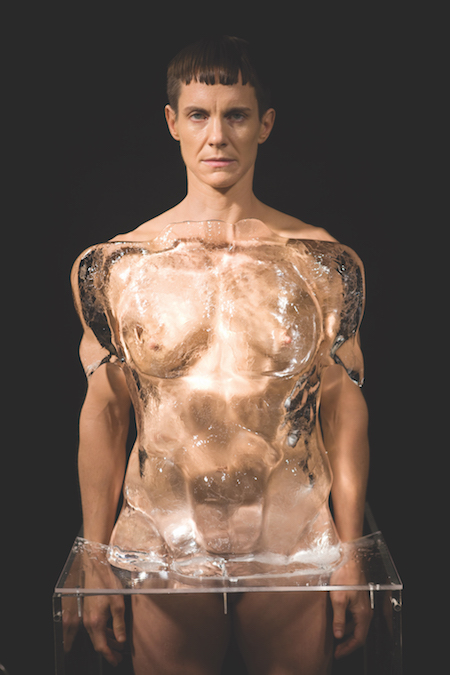 Cassils, Tiresias (2010-2013), courtesy the artist
The last in this group of works was made as an outcome of the ANTI International Prize for Live Art in Kuopio in Finland (2015) and presents a choreographed two-person fight in a car park, illuminated by headlights. The audience was invited to photograph the event on their mobile devices, playing off our ghoulish lust for violence on screen.
The piece has a nice connection with the work of Marco Fusinato – two newly commissioned pieces that extend his Infinitives series (2009-present), and indeed marks its decade-long observation. In these works the Melbourne artist plays on anonymity, capturing the intensity of an event or gesture in an urban guerrilla setting – in most cases a pause before a rock is cast in violence or protest.
Like Cassils' work Powers that Be (2015-17), Fusinato is interested in how we either ignore of participate in chaos in our information age – using images circulated in the media blown up to monumental scale to emphasise the drama while forcing us to raise questions of context. The pairing works.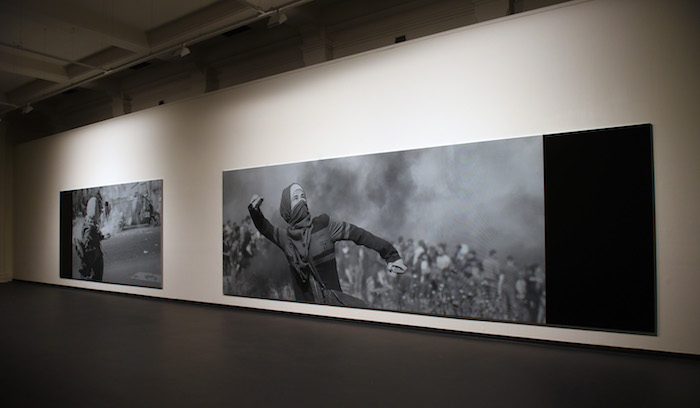 Installation view, Marco Fusinato, Lower Power (2019) at PICA, Perth; supplied
Cassils' piece Powers that Be (2015-17) was originally proposed to be performed for PICA, but given its complexities of delivery and budget, Becoming an Image was opted for instead. Cassils told ArtsHub that they desire to perform this work in the Australian outback – often the sight of trauma and violence – and hope to return to one day to achieve that aim.
Experiencing all of these works, the audience feels an incredible bodily vulnerability. Just like that retinal burn that lingers as a witness to the performed work Becoming an Image, so too does this exhibition, provoking questions of the self, our perceptions, barriers to acceptance, complicity and our capacity for empathy.
Both Alchemic and Lower Power give us an opportunity to confront, and to change, societal perceptions. Seeing these exhibition in tandem, one can no longer be a silent witness to sexual or gender violence, and apathetic to the media streams that shape tolerance.
5 stars: ★★★★★
Cassils: Alchemic
Perth Institute of Contemporary Art (PICA) and Perth Festival
Curators: Anne Loxely and Eugenio Viola
10 February – 14 April 2019
1. Cassils quoted in Alex Teplitzky "Cassils makes work that calls attention to violence against LGBTQI Bodies", Creative Capital Blog, 24 August 2017 – reprinted in PICA exhibition catalogue, Cassils: Alchemic (2019).