The cast of Christmas Actually. Photo by Dylan Evans.
'Tis the season to be jolly and Christmas Actually takes you there!
A vibrant fun-filled night of song hits from the Love Actually film soundtrack along with comedic puns from writers Adam Brunes and Naomi Price.
Starring Queensland's Naomi Price (Ladies in Black, Beautiful: The Carole King Musical), the Christmas Actually cast performed in front of a packed audience – encouraging the audience to sing along to smash hit songs by The Beatles, Beach Boys and more. The theatre was bursting with enthusiastic audience participation.
Set with cabaret style seating in the centre with the artists taking turns singing and at times roaming among the patrons, this show is an old school upbeat production. There was an almighty roar when the artists performed 'Jump (For My Love)' by the Pointer Sisters, an exhilarating moment that bought the house down!
With jovial comedic hosting and a few naughty bits, Price engaged the crowd intimately with star quality and a sense of humour that was feel good and priceless. Her stunning voice deftly filled the venue with exquisite notes; bold, sensitive and gregarious. Vocalist Stefanie Caccamo's (Beautiful: The Carole King Musical) singing was impeccable and a delight to the evenings playlist, along with the gentlemen performers Tom Oliver (More Than A Boy, Powerhouse) and Luke Kennedy (From Johnny to Jack) whose energetic vibes provided upbeat segments, incredibly funny and enjoyable antics.
Sweet music from the talented band enveloped the venue with velvety sounds from the double bass, smooth electric guitar playing, drums and keyboards on the variety of songs. Picking up the vibes for rock, disco and other genres throughout the set.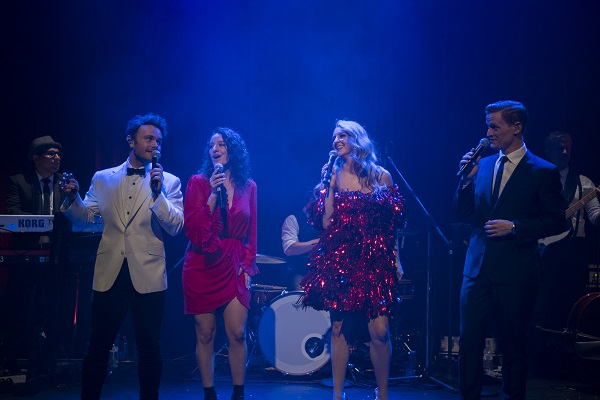 The cast of Christmas Actually. Photo by Dylan Evans.
The Roundhouse offers patrons the privilege of bringing drinks into the venue, which many people took advantage of, they even had a bespoke cocktail invented for the show. Needless to say the audience were wrapped, the tinsel was flowing and a good time was had by all! Refraining from any more spoiler alerts, this vibrant event held all you could want for this themed musical production.
After the show the singers gathered around a piano in the foyer for some good ol' Christmas carolling, warming the patrons even further for the festive season with an up close and personal experience.
This is a must see experience for all Love Actually fans and music fans too. Relive the magical musical moments from your favourite festive film including smash hit songs brought to life by a band of Australia's top musicians and superstar vocalists.
4 ½ stars ★★★★☆
Christmas Actually
Writers – Adam Brunes & Naomi Price
Lighting Design – Sam Gibb
Sound Design – Geoff Mcgahan
Cast – Naomi Price, Stefanie Caccamo, Mik Easterman, Scott French, Andrew Johnson, Luke Kennedy, Michael Manikus and Tom Oliver
27 November – 7 December 2018
The Roundhouse Theatre, La Boite