Street Photography opens at Museum of Sydney, 8 December 2018; image supplied
Before the days of Instagram, personal cameras, copyright and privacy laws, street photographers were a familiar part of central Sydney. The resulting candid, postcard-sized images of the city and its people – largely taken during the 1930s and 40s – have largely existed in family "shoeboxes" as memorabilia, until now.
While around 10,000 people in NSW were buying photos from street photography companies every week during the height of its popularity, little of that historic archive has been preserved by museums.
A new exhibition at Museum of Sydney changes that. Street Photography opens 8 December, and captures close to 300 images from this popular genre, exploring the everyday life of Sydney and its people during the Depression, WWII and post-war years.
The exhibition's curator, Anna Cossu, told ArtsHub: 'Street Photography as a genre has been neglected over the years. Some photographs are held in public collections but that's usually because they are of famous people. This exhibition focuses on everyday people, and it has only been possible through the generosity of people contributing their family images.'
Cossu is the Curator, City Museums Portfolio at Sydney Living Museums, and led a public call-out that resulted in the submission of over 1500 personal images. Of these, 250 photographs have been digitised and enlarged to form the basis of this exhibition, along with newly commissioned images taken at key photographic locations popular in the past.
'It was just like any craze – everyone wanted to get on board! Some of these commercial companies used the bylines, "See yourself as others see you" – that is what they allowed you to do,' said Cossu.
'The photographers caught pedestrians unaware – mid-stride, talking or deep in thought as they went about their day, and the public loved it.'
Cossu believes there is an incredible synergy between that popular, past fashion of everyday photography and today's quickly snapped images on our hand-held devices. She added that at the time young women would comment on being photographed several times or day, or would boast how many images of themselves they could collect.
'In the 40s there were about 80 to 100 of these street photographers roaming around the city. It is hard to know who they were. Basically, anyone who could afford a camera and paper could set up as a street photographer,' she said.
Cossu explained that at the time the only alternative was formal studio photographs, which were expensive and usually reserved for rites of passage – a 21st birthday, a marriage or christening.
'Once the public lost their suspicion for these roaming street merchants, people bought multiples. They were cheap, and it was the days of sending letters … but they were not always fantastic quality,' Cossu added.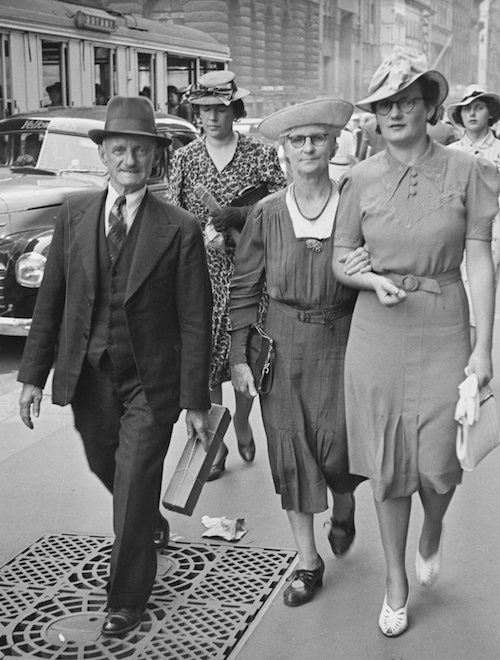 Street Photography at Museum of Sydney; image supplied
Everyday storytelling
Photography has always been about storytelling. But as street photography companies went out of fashion, few negatives lasted and this history has been nearly lost.
'At the time street photography was seen as a bit of a novelty, but over time these images have been used to complete family histories and grown in value – it might be the only photograph of grandma, or the last taken before someone went off to war.'
Cossu said: 'The adage goes, behind every photo is a story, and that is definitely what we found. We asked, "Who were these people, and what they were doing in town?" There are some really ordinary stories, but over time they take on more significance.'
She said that the exhibition is also a documentation of fashion and social mores. 'There were so many fur stoles in those images from the '30s and 40s. They also tell us about social customs of the period, as women wore gloves and hats and men suits, which often showed signs of wear during the Depression area. In the past a lot of photographs were taken around banks; we don't use banks like we used to. Others were around popular cafés – we still have that café culture.'
These photographs were commercially taken and capture a broad range of society, unlike artistic photography, which usually comes from a relationship with the sitter.
The exhibition is presented in themes that reflect how street photographers were working. 'They had their favourite marks – young fashionable couples, country people visiting the city for the day, servicemen on leave,' said Cossu.
While researching the exhibition, a collector alerted them to 127 rolls of film that had not been processed. 'They show the sequence in which a street photographer worked … This is a great resource as the photographs people bought in were just the ones that were purchased. These rare negatives tell a much broader story.'
A number of those rolls were fully digitised and are presented in the exhibition.
In developing the exhibition, Cossu worked with nationally acclaimed photomedia artist Anne Zahalka, who has restaged nine of the original images with those still living and their descendants in similar locations to where they, their parents and grandparents once stood.
'I think people are going to go back, after seeing the exhibition, and look at their own photos and histories,' Cossu concluded.
Street Photography opens at the Museum of Sydney on 8 December 2018, and continues until July 2019.
Museum of Sydney is located on the corner of Phillip and Bridge Streets. The exhibition is free with museum entry.
Visit https://sydneylivingmuseums.com.au/exhibitions/street-photography for details.