Image: Prize Fighter at Northcote Town Hall.
PRIZE FIGHTER
Leaner and tighter than its Brisbane Festival premiere season at La Boite's Roundhouse Theatre in 2015, Prize Fighter is a visceral delight; bruising and brilliant theatre that's light on its feet even as it lands knockout blows.
The story of Isa Alaki (Pacharo Mzembe) a former child soldier turned Brisbane boxer, Future D. Fidel's taut script adds a layer of fiction to the author's lived experience (as a child, the orphaned Fidel fled the Congo and lived for eight years in a Tanzanian refugee camp before being accepted into Australia).
In the boxing ring, Isa – dubbed 'Steve "the Killer" Alaki by his supportive but insensitive coach (Margi Brown Ash) – fights not only his opponents but the demons of his past. Striving for victory, Isa searches desperately for his missing brother, Moses (Gideon Mzembe). Simultaneously he learns that memories, unlike his rival boxers, aren't easily beaten down.
This intensely physical production is aided by a pre-show warm up by the cast, where they spar and train alongside members of a local boxing gym. Transitions between past and present are smoothly handled by director Todd MacDonald, assisted by David Walters's lighting and doubling by the majority of the excellent cast. The most painful aspects of the plot are handled sensitively, and its moments of catharsis are truly earned.
Save for the rare, forced line of dialogue this is a near faultless production which helps redefine our concept of what an Australian play can be. If you're sick to death of theatrical dinner parties and middle-class angst, Prize Fighter is the play for you.
4 ½ stars ★★★★☆
Prize Fighter
La Boite Theatre
Presented in association with Darebin Arts Speakeasy
Writer: Future D. Fidel
Director: Todd MacDonald
Performers: Pacharo Mzembe, Gideon Mzembe, Margi Brown Ash, Marcus Johnson, Ratidzo Mambo and Mandela Mathia
Dramaturg: Chris Kohn
Designer: Bill Haycock
Lighting Designer: David Walters
Composer and Sound Designer: Felix Cross
Sound Design Remix: Busty Beatz
Movement and Flight Director: Nigel Poulton
Northcote Town Hall
9-20 October 2018

FROGMAN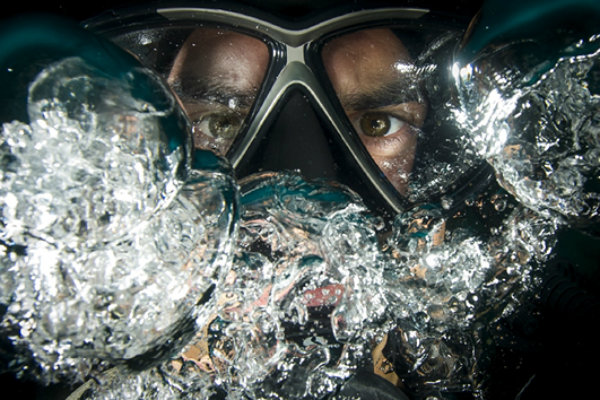 In the present day, marine biologist and coral expert Meera Clarke (Georgina Strawson) is unexpectedly visited by the police, who wish to re-interrogate her about the 1995 disappearance of a school mate, 13-year-old Ashleigh Richardson.
In 1995, Meera and her best friends, Lily and Shaun, run a coral club and hold sleep-overs while Meera's father, a police scuba diver (a frogman) searches for Ashleigh's body on the Great Barrier Reef.
Utilising virtual reality (VR) to expand its story and immerse the audience not only in Meera's memories of the past, but underwater on the Great Barrier Reef, Frogman is an ambitious but not entirely successful work from UK company Curious Directive.
With the audience taking on the role of jurors, though deprived of agency given that our presence has no bearing on the case that unfolds, the VR sequences are framed as archival police video. Unfortunately the underwater sequences are edited in such a way that any real suspension of belief is challenged; instead of smooth-flowing immersive sequences, the end result is choppy and sometimes jarring. Sequences set in 11-year-old Meera's bedroom have more weight, enriched by designer Camilla Clarke's careful eye for the period and a washed-out tone that evokes childhood photograph albums, while the VR setup allows audiences to move more freely in order to watch events unfold.
Though initially framed as a murder mystery, at its heart Frogman is a story about the persistence and reliability of memory. Less concerned with whodunit and more with how childhood experiences are remembered, the production grapples with notions of grief and loss, but never fully gets to grip with them, as if constantly distracted by the unrealised potential of its technology. A strong performance from Georgina Strawson helps anchor the drama, but ultimately the VR feels more distracting than essential to proceedings, and the intercutting between past and present drains the drama of intensity rather than adding to it.
3 stars ★★★
Frogman
Curious Directive
Presented with Theatre Works
Story: Jack Lowe & Russell Woodhead
Direction & Cinematography: Jack Lowe
Design (VR World & Stage): Camilla Clarke
Sound: Pete Malkin
Composition: Theo Whitworth
Technical Stage Manager: Ed Elbourne
Software Development: German Munoz
Digital Development: Ed Greig
Associate Sound Designer: Dan Balfour
Sound Assistant: Ben Smith
Coral Reef Scientist: Jamie Craggs
Underwater Filming: Jack Lowe
3D Modelling & Animation: Jordan Albon
Executive Producer: Francesca Moody
Theatre Works, St Kilda
11-15 October

SONG FOR A WEARY THROAT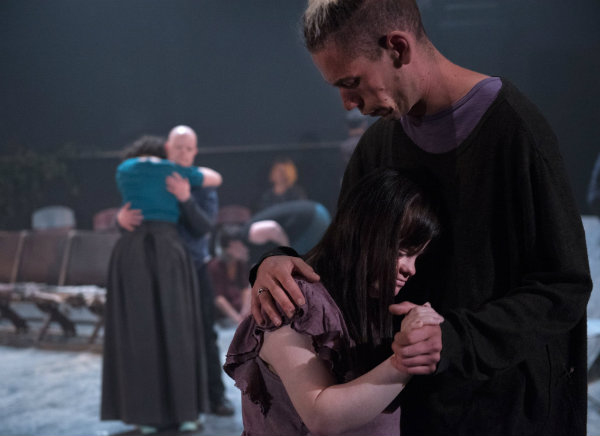 Dead leaves litter the dusty floor of an abandoned hall, and stacks of chairs line the walls. Here is an empty milk crate, there a pile of old carpet. Behind a battered row of fold-down seats a young woman sits, quietly reading. She stands, begins writing a phrase in chalk on a makeshift wall, is interrupted. A sudden cataclysm, an explosion of light and noise. In the silence which follows the stage is littered with bodies. Another explosion. Bodies crumpled anew. Chaos and disorder from which life and beauty slowly emerge.
Devised by the members of Rawcus, a company of artists with and without disability, together with the vocal ensemble Invenio Singers, Song for a Weary Throat is a collective response to trauma; a compelling dance-theatre production exploring grief and rage, shock and resilience, harmony and dissonance.
Across a series of near-wordless tableaus, skilfully directed by Artistic Director Kate Sulan, the production explores what it means to be human in ways which at times are achingly beautiful, with the whispers, lip-smacks, sighs and songs of the Invenio Singers, coupled with Jethro Woodward's sound design, contributing hugely to proceedings.
As the production continues it chafes occasionally – greater variation in tone would strengthen its impact, as would reducing its running time – but at its best, Song for a Weary Throat is exquisite and ambitious; a rich meditation on our shared humanity and our resilience in the face of disaster.
4 stars ★★★★
Song for a Weary Throat
Rawcus
Presented with Arts Centre Melbourne
Director: Kate Sulan
Set & Costume Designer: Emily Barrie
Lighting Realisation: Rachel Burke
Original Lighting Design: Richard Vabre
Musical Director & Composition: Jethro Woodward & Gian Slater
Sound Designer: Jethro Woodward
Director, Invenio Singers: Gian Slater
Associate Director: Ingrid Voorendt
Executive Producer: Jacque Robinson
Production & Stage Manager: Jess Keepence
Assistant Stage Manager: Ruth Blair
Devised and Performed by The Rawcus Ensemble & Invenio Singers
Arts Centre Melbourne, Fairfax Studio
10-14 October
Melbourne International Arts Festival
www.festival.melbourne
3-21 October 2018