Steel: art design architecture showcases 29 significant projects of contemporary Australian artists, designers and architects. Each has a creative relationship to a material that can be transformed to be structural and load bearing, sleek, rusting, touchable, ignored and intimate.
This is the third show that the JamFactory has mounted with a focus on innovative material based exhibitions, the first being WOOD: art design architecture in 2013 and the second GLASS: art design architecture in 2015.
Our lives are touched in so many ways by steel. For some, it has been used to fence in land and lives; for others, it has formed the tools we use to share hospitality and build community; it houses and shelters our daily lives.
As well, non-functional objects can be hung, placed, worn and can evoke stories that live now to be passed on as precious objects in the future. For some, they may honour a past. For many the story of steel is the story of migration, claim and culture.
JamFactory exhibition curator Margaret Hancock Davis said of the exhibition: 'Today steel is one of the most ubiquitous materials in the world. It inhabits the landscape of our bodies, our domestic spaces and our built environments. A material that ranges from raw and functional to lustrous and decorative – steel blurs the boundary between utilitarian and precious. Its affordability and durability has made it so pervasive that it is often overlooked.
'Just think of an average day: you may awaken in a house or apartment block whose structural form is made of steel; head to the bathroom where you turn steel taps for a shower under a steel shower rose; next to the kitchen to open your stainless- steel-covered fridge, turn on your steel kettle, and eat breakfast with utensils made from steel; before leaving in cars, motorbikes, trains, trams or buses, over bridges and on tracks, all of which contain some steel,' writes Wilson.
Design by Them, Corro Bowl, 2009. Photo: Pete Daly
What you will see
The versatility of the material is captured in the diversity of the exhibition, which has been curated by Margaret Hancock Davis. Here is a taste of just a few projects:
Works by Waradgerie woman, Lorraine Connelly-Northey provoke a reimagining of traditional containers using wire and steel fencing material – the detritus of colonial Australia – in her work Narrbong (2009).
Gunybi Ganambarr also uses the refuse of industry as the material through which he represents his land. Ngaymil (2012) is carved corrugated steel and records the sacred freshwater Milngurr (spring) near a confluence of rivers in Arnhem Land, Northern Territory.
Geoff Nees collaborates with architects and engineers and brings his skills at paper cutting to hand-folded laser-cut stainless steel designs. His extrapolated isometric grids form facades on the Royal Domain Tower St Kilda Road, Melbourne (2006).
BVN, Australian PlantBank, 2014. Photo: John Gollings
Award winning architecture by BVN is featured in this exhibition by their Australian PlantBank project (2014) built within the Australian Botanic Garden in Mount Annan on the outskirts of Sydney.
The building is designed to 'embrace the woodland, acting as a mediator between the natural and the man-made', explains Davis. In this case, the polished steel panels both reflect the surroundings and protect it from the threat of bushfire.
CODA Studio has presented the Administration Building (2012) for the Eastern Kimberley Landowners groups the Miriuwug Gajerrong Corporation and Gelganyem Trust in Western Australia.
Davis describes the building as having a 'material palette', exploiting the qualities of light steel to create openness and combining an industrial aesthetic with strong colour that connects the structure to this unique place.
Craig Hiron's much awarded The Little Guy is a sleek stove top espresso machine made from scrap, recast steel, referencing Giordano Robiatti's 1947 Atomic coffee machine.
Barry Gardner is a cutler using Damascus steel formed by a process in which layers are welded/forged together and then folded/twisted, ultimately forming a wave like pattern in the metal. His kitchen knife (2016) has been formed from 400 layers of steel drawn from recycled files.
Mari Funaki's vision is exemplified in the series Object (2009), which has been celebrated for the refined, enigmatic qualities embodied in her work and whose celebration of steel as a precious material lives on through her legacy in the work of contemporary jewelers using steel.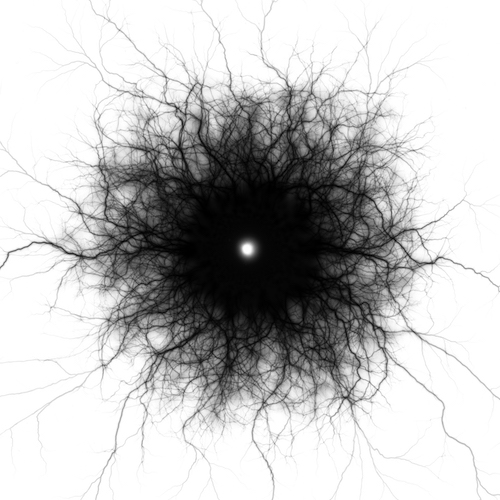 Sean O'Connell Mild steel spark, 2016; supplied courtesy the artist
Sean O'Connell's stainless steel kinetic pieces, Bracelet and Balltract kinetic rings (2015) are accompanied by the exploration of the innate qualities of diverse steels recorded as photographic images.
Overall, the exhibition is beautifully conceived and physically constructed. Actual objects, plans, photos and models form the exhibition that is currently at QUT Art Museum until 25 March.
It is partnered with a catalogue that is a strong reference for artists, designers and architects wanting to locate their own practice historically and in a contemporary context.
The curator, Margaret Hancock Davis's catalogue essay reminds us of the relationship between the material and the conceptual. She says: 'That's all the motorcycle is, a system of concepts worked out in steel. There's no part in it, no shape in it; that is not out of someone's mind.'
After its presentation in Brisbane, it will then travel to Bathurst Regional Gallery (NSW) in June and continue to venues around Australia until mid-2020.
Rating 4.5 out of 5
Steel: Art Design Architecture
Curator: Margaret Hancock Davis
Queensland University of Technology, Brisbane
17 February – 25 March
This is a touring exhibition initiated by JamFactory, Adelaide.
Artists included in the exhibition: Alison Jackson, Anthill construction, Barry Gardner, Brodie Neill, BVN, Christian Hall, CODA Studio with Mark Philips Architecture, Collins Turner, Cox Architecture with Walter Brook and Hames Sharley, Craig Hiron, Dan Lorrimer, DesignbyThem, Geo rey Nees, Gunybi Ganambarr, Kensuke Todo, Korban Flaubert, Lorraine Connelly Northey, Mari Funaki, Matthew Harding, Maureen Faye Chauhan, Misho and Associates, Oliver Smith, Sabine Pagan, Sean O'Connell, Seaton McKeon, Simon Cottrell, Sue Lorraine, Tony Hobba Architects, and Trent Jansen for Tait.