We might be physically isolated from friends, family and collaborators at the moment, but artists always find a way to adapt to a crisis – especially online.
The digital sphere not only connects us socially; it's also the domain to which so many artists and arts organisations are now turning in order to connect with audiences and collaborators.
From online tutorials to help you skill up from the comfort of your own lounge room, and webinars and streaming services which inform and entertain, through to a stimulating array of resources designed to educate your children, here's a guide to some of the many digital arts activities which just a mouse-click away. 
Australian Theatre for Young People's "On Demand" is a fantastic drama resource available for every student and teacher across Australia. Featuring an ever-growing library of high-quality filmed versions of ATYP's award-winning productions all complete with accompanying resources for inspiring online adventures. And it's free!
---
Webinar: Finding and Dating Photographs with the National Library
Piece together dates and places from the many clues that family photos contain. Clothing, cars, historic events and even telegraph poles can help date an image and provide crucial information. Learn how to identify these clues and how best to search the Library's collections.
---
Collarts are now offering a range of great courses online, providing their specialised tertiary education to people wanting to work and upskill in the Design and Entertainment industries. Through industry-connected learning—coupled with strong personal and professional development—learn valuable skills to carve out a successful creative career.
---
Our gallery might be closed, but we will be bringing you remarkable art and ideas from Brisbane and beyond — artist talks and Q+As, collection insights, and experimental sound offerings. More Details follow them on: Insta:
@griffithuniversityartmuseum
LCI Melbourne is a unique higher education design institute, dedicated to personalised, interactive and collaborative mentorship. Our mission is to inspire and empower students, to explore diverse creative disciplines and thrive in global design industries.
---
During the temporary venue closure, Arts in Greater Dandenong will bring the arts to you. Follow them on Facebook, Instagram and eNews and enjoy exhibition tours, curator talks, storytelling, workshops and many other online arts experiences.
---
Missing your library storytimes? Join us on Facebook for an online alternative! Toddler Time: Mondays 10:30am | Baby Rhyme Time: Tuesdays 10:30am | The Continuing Story: Wednesdays 4pm | Pre-school Storytime: Fridays 10:30am.
---
Inspirational and educational art workshops, full of techniques, inspired by famous artists. Delivered via an interactive digital classroom to the comfort of your home. Lead by professional artist and teacher Helen Pollard. With free mini tutorials and daily art challenges, you will be guided to create your own masterpiece while learning skills in drawing, painting, sculpture, animation.
---
Discover your inner potter from the comfort of your own home with Clay Talk @ Montsalvat's online pottery classes featuring Kid's Creature Cups, Adult's make-a-plate, 4-week term classes making your own Moroccan candle holders, spoons, ring holders.
---
EVERYTHING CHANGES: Tim Maguire and PAINTING MEMORY a collection show featuring works by artists incl. William Dobell, Margaret Olley, John Olsen and Brett Whiteley. As well as developing new initiatives to connect to audiences through virtual channels (web, socials, EDMs).
---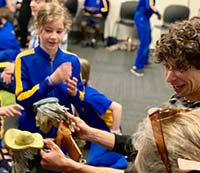 Online courses: Storytelling with Objects with Black Hole Theatre
Black Hole Theatre is offering various workshops in storytelling with objects and puppets – as a live stream, or as a stand-alone video directed at teachers and parents. Led by highly experienced puppeteers.
Even before these uncertain times, people looked for comfort, laughter or inspiration – now is when they could find it from your voice. Learn how to reach out past lockdowns in this six-week online podcasting fundamental course.
Get in touch about upcoming opportunities
Next Online Activities and Creative Experiences guide 23 April. Booking deadline: 17 April