With only two weeks on campus in March 2020 before the pandemic hit, theatre and acting students from the University of Melbourne's Faculty of Fine Arts and Music (home to the Victorian College of the Arts and Melbourne Conservatorium of Music) had to quickly adapt their practice from a physical space to an online classroom, finding new creative ways to complete their graduate projects.
Students of Budi Miller, Head of Acting, produced two Shakespeare productions during lockdown with students quickly adjusting their performances for Zoom instead of using a traditional rehearsal space. 
'Because of our very nature of being theatre artists and actors, we're usually the slowest ones to adapt to new technology,' Miller said. 'But everyone adapted quickly and we began to make things from this new medium.'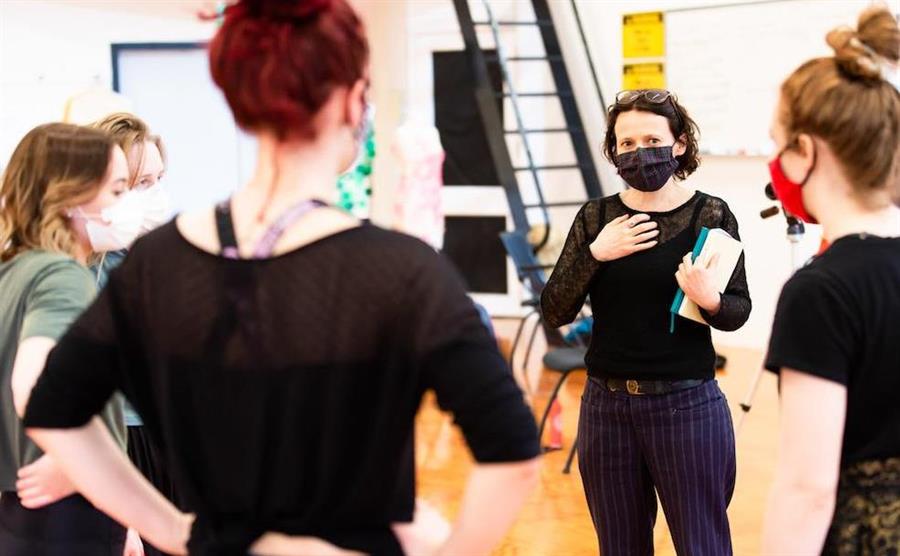 Theatre students in rehearsal for The World that Was with industry mentor Roslyn Oades. Image credit: Drew Echberg 2020. 
The graduate works of both theatre and acting students is currently displayed online, captured through video and stills to be presented over the next few months as part of 35 events, performances, showcases and exhibitions across screen, stage, music and the performing arts running from December 2020 to July 2021.
The online graduate performances have been so successful that audience  engagement has surpassed previous theatre graduate seasons of live performances with a 100% increase from live audience figures in 2019. 
Although students are returning to campus this semester, it doesn't necessarily mean the end of online performances.
'We don't know what the universe is going to give us, or what nature will require of us,' Miller said. 'But what was great about the online performances was the accessibility. We've seen now that there is interest and we will respond to it accordingly.'
Lessons from lockdown
Although suddenly creating work online instead of in a performance rehearsal space was a challenge for students, Theatre Lecturer Rinske Ginsberg said she was impressed by her students' ability to work collaboratively with one another and also with the University's Production students.
'It was just the most remarkable, active, muscular collaboration in regards to having all hands on deck,' Ginsberg said of her students' and their ability to adapt to change.
She adds: 'I am absolutely in awe of my students' creativity and their ability to master new skills really quickly.'
For their graduate project, Rinske's students were split into three groups, writing and performing a range of pieces that include a live radio play: The World that Was; Simulacrum, five stories about identity and digital personas, and Baccarat (below), an experimental piece about a casino with a morgue in the basement.

Baccarat is just one of three student projects to come out of the University of Melbourne's Faculty of Fine Arts and Music.
The experience of working online and being forced to adapt, although stressful, has really shown the strength of students and what they're capable of, she says.
'It's a powerful thing, to train people to be so autonomous, muscular, and vulnerable. They're potent makers who have had to do so much reaching into themselves.'
Learning additional skills through lockdown
While students faced challenges creating work from home, the experience also provided them with real-life training, imperative for a career in performing arts.
Miller said: 'Most of the work you're going to be doing to prepare for an audition will be done in your home. So we utilised the opportunity to look at the home spaces, and how to turn these spaces into workspaces.'
Working with Zoom also gave students extra skills in performing in front of a camera.
'They're using the same skills that they're going to be using in their actor training: understanding the medium of film delivery, as well as live performance and video performance,' Miller said.
Among some of the skills Rinske's students had to learn were understanding interactive platforms such as Mila Notes – a tool for organising creative projects – and developing a code of conduct on how to work ethically with one another.
'Each group had a particular different ethos, but a series of protocols about how they would communicate including compassion, respect, and absolute listening, despite whatever changes or differences of opinions they had,' Rinske said.
Despite the challenging year that was 2020, the students' resilience determination and creativity is now available for future employers to watch online.
'Everyone from the company can stand up and just say: "I am remarkable, my skills are huge. They are so employable and they have the tenacity, the determination, and the motivation to make their own work,' concluded Ginsberg.
Visit the University of Melbourne's Faculty of Fine Arts and Music to view theatre and acting works as part of their 2020 Graduating Season.