Linda Cropper, Johnny Carr and Nicholas Bell in The Architect. Photo by Jeff Busby.
Aidan Fennessy's play The Architect, directed by Peter Houghton, is set around the issue of assisted dying, played out in the elegant home of a retired middle-class couple, John (Nicholas Bell) and Helen (Linda Cropper). Helen has a stage-four brain tumour and she and John have planned for her a dignified ending. Helen wants to see her son, Jeremy (Stephen Phillips), whose tardiness in coming to visit his mother at the end of her life is causing Helen some angst. John wants to make a brief trip back to the UK and insists on someone coming to live in and care for Helen.
Up turns Lenny (Johnny Carr), a tattooed working-class tradie in shorts and Blundies. He's an unconventional candidate but endears himself to Helen. John makes references to Lenny's tatts, making us wonder if he and Helen been cloistered for the last twenty years. This, and the opening conversation between Helen and John about remote controls dates the couple badly. Yet the play's setting is contemporary. Being adorably useless around technology is typical short-hand for ageing characters, but Helen's only 68 and, given their privilege might more likely to be grappling with competing streaming services or trying to retrieve her Go Pro.
The Architect is meant to be about assisted dying but the story never wrestles with this: everyone's fine with it in principle so the play lacks an overall arc or any real tension; it's resolved before it starts. Nor do we have characters who long for anything, are driven, or who need to overcome flaws in their own souls or even their respective pasts to be interestingly changed by the end. The first half is too slow, there are no real stakes set up; some tweaking and the story could have opened in Act Two.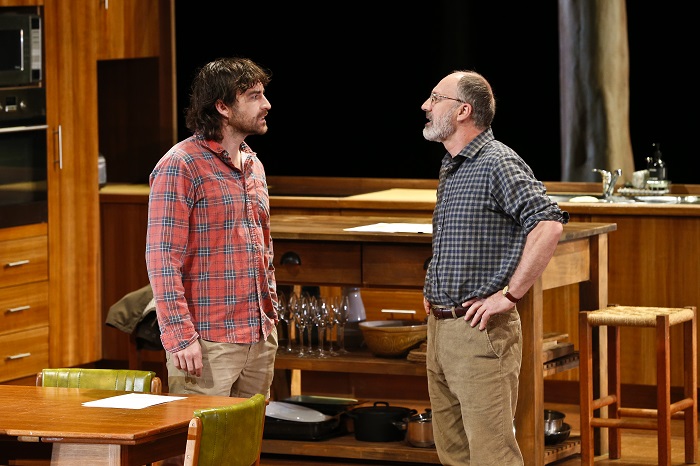 Johnny Carr and Nicholas Bell in The Architect. Photo by Jeff Busby.
Jeremy, a Sydney lawyer (shorthand for materialistic arsehole with shonky values), arrives in time to be the catalyst for a couple of barneys, one with John who gets to utter the dreadful line 'I'll smite you like the hand of God!' (Who the eff speaks like that under duress?) Jeremy gets over his brattiness to connect with his mother, but we haven't been sufficiently pained by their estrangement for this to count.
Lenny's blunt but hardly outrageous, so it doesn't seem such a leap that he and Helen would get close. His 'dark past' is sad but not damning. Carr's performance is the highlight of the play; he carries his character along with deliriously good comic timing.
Oh-so-dignified Helen has accepted she's dying, although she's sad about it, of course. The only one to take issue with Helen's decision to determine the timing of her own end is Jeremy, not because he's against assisted dying per se, but because he doesn't want his mother to die. So there isn't a 'I hope she will, I fear she won't' question at the heart of the play. None of the characters need to overcome; they merely have to come to terms.
The set by Christina Smith is ravishing, with big picture windows upstage looking out on tree trunks silhouetted against a boundless vista, suggesting the great beyond. Sophisticated sound design is by J David Franzke.
Somebody in the audience yelled out 'Support Euthanasia!', as the curtain went down, unnecessarily as polls confirm most of us support assisted dying. The Architect adds little to the conversation, and won't bring new audiences to the MTC.
The audience on opening night loved it and stood up in ovation. So don't mind me.
3 stars ★★★
The Architect
by Aidan Fennessy
Melbourne Theatre Company
27 September-31 October 2018
Southbank Theatre, The Sumner