With both Craft Victoria and artisan in Brisbane celebrating 50 years in 2020 and the Australian Design Centre celebrating 55 years, it isn't hard to believe that there's again a buzz around the craft, design and makers scene.
We had the ceramic wave a couple of years back, but two of America's largest institutions are setting the tone for 2020: MoMA, New York's iconic Museum of Modern Art is showing Taking a Thread for a Walk (until 17 May), while Making Knowing: Craft in Art, 1950–2019 is currently presented by the Whitney Museum of American Art (until January 2021). Both place craft and design with equal footing within the most contemporary of contexts.
Furthermore, in Australia, craft and design organisations have banded together to strengthen their visibility as a network, and to work on lagging sector perceptions around materiality and makers.
American writer Glenn Adamson stated with the start of this year: 'Craft matters, too, because it is the art world's best path to diversity.'
We have taken a look at our national pathway to diversity – a vibrant and exciting calendar of offerings in 2020 across the design and craft sector.
FEBRUARY
Linda Britten Couture: Until 17 April (VIC)
Winner of Australian Fashion Designer of the Year, Linda Britten's detailed, feminine approach to couture has made her Australian label highly sought after. She actively works with many arts and performance-based organisations, including Arts Centre Melbourne, Victorian Opera and Short Black Opera to create performance couture. The 'WOVEN SONG' gowns were created specifically in response to Australian Tapestry Workshop pieces designed by Brook Andrew, Daisy Andrews and Nanyuma Napangati for Australian Embassies and High Commissions in Singapore, Tokyo and New Delhi. Presented at Australian Tapestry Workshop as part of Asia TOPA and Melbourne Fashion Festival Arts Program 2020.
Seikatsu Kogei: Objects for Intentional Living: 21 February – 23 May (NSW)
The Japan Foundation, Sydney's next exhibition, Seikatsu Kogei: Objects for Intentional Living presents some 50 works by 22 currently-active Seikatsu Kogei artists for the first time in Australia. The objects on display are made from a variety of materials, including wood, ceramics, lacquer, glass, metal, bamboo, paper and clay.
Visualising the Future:  TALK 22 February (NSW)
This panel talk hosted by UNSW Art & Design, looks at the changing world of work (Industry 4.0) and how media arts, data visualisation, and immersive design are changing the world of work. Visualising the Future will take a look at how artists and designers are central to this changing world.
Fit For Purpose: 25 February – 17 April (NSW)
Curated by Armando Chant for UTS Art, Sydney, Fit for Purpose explores the economic, environmental and social conditions of fashion and centres on designers whose work is driving change through explorative, sustainable, ethical and collaborative practices.
Broached Goulder:  27 February – 3 May (SA)
Broached Goulder is a collection of limited edition furniture by Jon Goulder that recounts, through artisanal making, a deep connection between a fourth-generation Australian furniture maker and those that came before him, riffing off a different design period. Presented by JamFactory Adelaide.
Intersections and Boundaries – Mel Robson: 27 February – 3 May (SA)
Alice Springs-based ceramic artist Mel Robson presents a new body of works that explore the idea of place through mapping and cartography. Presented by JamFactory Adelaide and curated by Caitlin Eyre.
Body Future – Alice Potts & Tarryn Handcock. Image supplied.
Body Future – Alice Potts & Tarryn Handcock: Until 1 March (TAS)
In a world where fast fashion is failing our future, how can we transform the daily impact of our bodies to be of use to the planet? The answer could lie in our sweat or even our dead skin according to designers Alice Potts, from Royal College of the Arts (London), and Tarryn Handcock from RMIT (Melbourne). Presented in association with Mona Foma 2020 and Design Tasmania, Launceston.
Fresh! Until 7 March, (VIC)
Presented annually since 1993 by Craft Victoria, Fresh! celebrates the next wave of Victorian graduates in contemporary craft and design (image top).  
Kristel Britcher, To Hold, I, II, III, III, 2018, blown, cut, coldworked, firepolished glass. Photograph Michael Haines
The Guildhouse Fellowship: February – July (SA)
Valued at over $50,000, The Guildhouse Fellowship is awarded annually to one South Australian mid-career visual artist, craftsperson or designer. It is intended for artists who have moved beyond the early years of their practice, and seek an opportunity to research and create. The Fellowship is awarded to an artist who can demonstrate its instrumentality to their arts practice, and their contribution to the ambition of the visual arts sector in South Australia. Applications traditionally open in February, and are announced early July. The Fellowship is supported by the James & Diana Ramsay Foundation and is presented in partnership with the Art Gallery of South Australia (AGSA).
MARCH
Melbourne Design Week: 12-22 March (VIC)
Australia's leading annual international design event, presents its largest program to date in 2020. Programmed around the theme 'How Can Design Shape Life?' the Design Week Melbourne Festival comprises 85 exhibitions, 94 talks, 15 films, 22 tours and 16 workshops celebrating the best of local, national and international design. The theme will be explored through five thematic pillars: Healthy Cities, Design Cultures, Waterfront, Waste and Design Evolution. 
Tom Malone Prize 2020:  14 March – 29 June (WA)
The $15,000 Tom Malone Prize is in its 18th year, with the winning work becoming part of the Art Gallery of Western Australia's collection. AGWA curator Robert Cook said: 'Tom Malone Prize represents the best glass work being made in the country today. The fifteen works in the shortlist for 2020 demonstrate how our nation's glass artists continue to invent, and reinvent, to challenge themselves technically and to find new frameworks to distil human experience in accessible and enlivening ways.' The winner will be announced, Thursday, 19 March.
SCCI Fashion Hub: TALKS 19-28 March (NSW)
Now in its third year, the program has been released for this year's SCCI Fashion Hub with over 40 leading thinkers, makers, curators, designers and entrepreneurs expanding on the multifaceted realm of fashion today.
Duty of Care, Tony Albert: 26 March to 10 May (ACT)
Building on the body of work created for Visible, QAGOMA (2018), Aboriginal artist Tony Albert will explore the notions of invisibility using the transparency of glass to explore the concept of the lack of visibility of marginalised people. The new body of work created during this residency at Canberra Glassworks in late 2019 will form a large part of the exhibition. The exhibition will be curated by Sally Brand.
MADE/WORN – Australian Contemporary Jewellery: 26 March – 27 May
Showing at Australian Design Centre, 22 contemporary jewellery artists explore the act of making and the creation of meaning for the wearer. Alongside this exhibition, artist Natalie Rosin will present work at ADC entitled Endangered + Extinct, a presentation of architectural ceramic sculptures that depict buildings either demolished or under threat of gentrification.
The Flux Mentorship Award: March (ACT)
The Flux Mentorship Award  is a new and unique award for a mid-career artist wishing to develop their skills, networks and a practice in the medium of glass. The award encourages creativity, development of artistic sovereignty and courageous decision making and is valued at $20,000, and is managed by Canberra Glassworks. Applications now closed, with the announcement of the successful applicant 7 March.
CONCRETE – art design architecture: TOURING
CONCRETE: art design architecture is a major exhibition exploring innovative ways that concrete is being used by artists, designers and architects in Australia in the 21st century. The exhibition includes 21 artists, designers and architects from across Australia and brings together products, projects and works of art that reflect many of the current preoccupations with concrete within contemporary art, design and architecture in Australia. Curated by Margaret Hancock Davis and Brian Parkes, it is currently touring across ten venues nationally in 2020. For dates visit the CONCRETE website.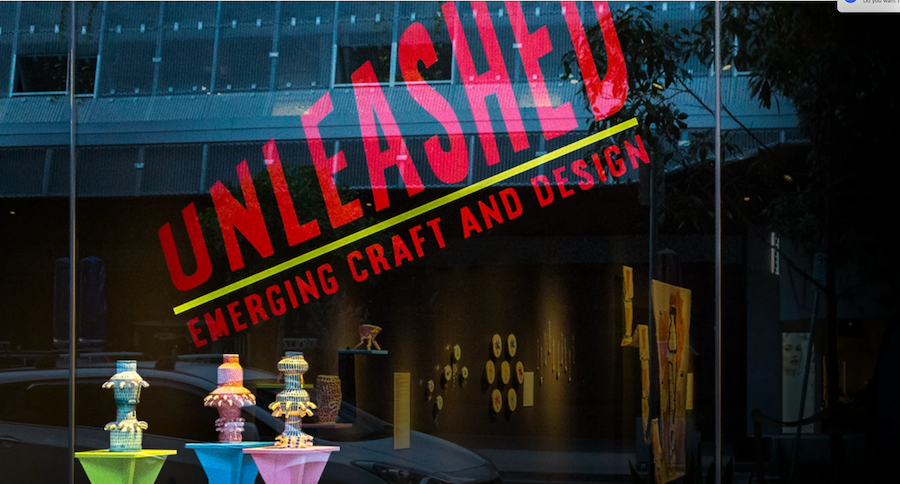 Image supplied.
APRIL
Unleashed 2020: 4 April – 23 May (QLD)
Artisan returned Unleashed: Emerging Craft & Design in 2018 after a seven-year hiatus, and today it is more popular than ever. Drawing together a small cohort of early-career practitioners, the biennial exhibition explores the convergence between visual art, craft, and design. Unleashed celebrates not only the continuing importance of legacy skills, but also their contemporary application of craft and design in Queensland.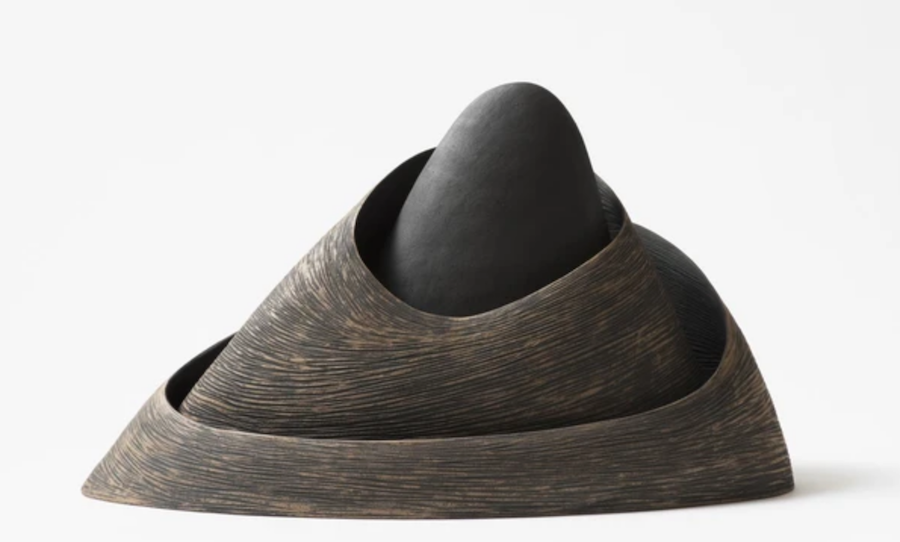 Robyn Campbell, Contour (detail), 2017. Ceramic. Photo: Brenton McGeachie.
MAY
Transference: 14 May – 27 June (ACT)
Transference is an exhibition which features new works by Jo Victoria and Robyn Campbell. Both artists share a fascination with light. Jo manifests this in her work with porcelain and Robyn with glass. The key objective of this Craft ACT exhibition is to exchange the deep knowledge of their respective materials and its interaction with light
FUSE Glass Prize: 15 May – 4 July (SA)
The FUSE Glass Prize is a biennial prize for Australian and New Zealand artists working in glass. It returns in 2020 with an increased non-acquisitive cash prize of $20,000, and provides a platform for artists to push their work to new limits, and focuses public attention on the importance of glass as a medium for contemporary artistic expression. Further bolstering this important prize is the development of a new FUSE Residency Award in the alternate year of the prize, expansion of the FUSE Publication and plans to tour the finalists' exhibition to New Zealand from 2022. In 2020 the exhibition of 12 established and six emerging finalists will be showcased at JamFactory in Adelaide from 15 May – 4 July and at JamFactory at Seppeltsfield in the Barossa from 11 July – 27 September. This is the first time the exhibition will also be shown at the Australian Design Centre in Sydney from 9 October – 18 November providing a further boost in public awareness and support for the prize. Entries can be submitted between 20 January and 20 March 2020. The winner will be announced 14 May.
We The Makers Design Festival: 15 May – 4 October (VIC)
A UNESCO City of Design festival, We The Makers is a major new biennial Design Festival from the National Wool Museum in Geelong that showcases the work of makers, designers and artists. The Festival's 2020 theme is 'Design for the Future: Sustainable and Ethical Textiles and Fashion'. The Makers Design Festival is currently inviting makers, designers and artists to be involved.
The Design Conference: 20-23 May (QLD)
The Design Conference is an event for creatives. It is more than discussions on the future of design; it is finding what motivates, connects, moves and educates our world leaders in the creative field. At Brisbane Powerhouse.
Sarah Rayner and Sophie Carnell, work in progress, 2019, porcelain and silver. Image supplied.
CERAMIX: 29 May – 19 July (NSW)
Drawing together 26 artists nationally, this exhibition pairs works by ceramicists with their collaborative artists in other mediums to explore the relationship between materiality, form and texture. As such, the exhibition focuses on the open possibilities of clay as a starting point for making work and a collaborative approach to 13 large-scale gallery installations. Presented by The Australian Ceramics Association and Manly Art Gallery & Museum (MAG&M), with guest curator Sophia Cai. 
JUNE
Generation Z: 4 June – 29 July (NSW)
The Australia Design Centre takes a look at craft and design through the lens of the 18-25 age demographic.
The hand-made tale: 50 years of QLD craft & design: 5 June – 18 July (QLD)
July 2020 marks the 50th anniversary of artisan, as the peak body for craft and design in Queensland.  To celebrate, The Hand-made Tale: 50 years of Qld craft & design explores the artistic and theoretical trends running parallel to Queensland's and Australia's social development. Craft became less of a fringe or highly individualised pursuit and became enmeshed in urban and domestic design and an intricate market system.  The Hand-made Tale articulates pathways to where Qld craft and design is now.
JULY
Tension(s) 2020: 1 July – 27 September (NSW, and touring)
Curator Vic McEwan says of the 2020 edition of the Tamworth Textile Triennial, which he has titled Tension(s) 2020: 'I hope that, through this exhibition, the materiality of our combined working practices and perspectives can be realised beyond the scope of a rather parochial, one-dimensional, 20/20 view.' He continues: 'In order to bear witness to, contribute to and respond to these tensions, the triennial will focus on the future of people and place through textile as a material and human experience as materiality.' The exhibition will tour after it opens in Tamworth. Expressions of interest open.
Megan Cope: 9 July – 6 September
With her first solo exhibition with Canberra Glassworks, Aboriginal artist Megan Cope will present a new body of work made in collaboration with the Canberra institution and its community of glass makers.
Grace Lillian Lee, Body Armour – A Weave of Reflection Pink and Orange 2018. Photography by Wade Lewis. Image courtesy of the artist.
Piinpi: Contemporary Indigenous: 18 July – 18 October (NSW)
Created exclusively for and by Bendigo Art Gallery, Piinpi: Contemporary Indigenous Fashion will celebrate Australia's leading First Nations creatives and design movement that is fast becoming an internationally recognised fashion phenomenon. Featuring the work from the inner city to remote desert art centres, Piinpi will highlight the strength and diversity of the rapidly expanding Indigenous fashion and textile industry. The exhibition is curated by Bendigo Art Gallery's First Nations Curator, Shonae Hobson. Bendigo Art Gallery Director Jessica Bridgfoot said key works featured in the exhibition will be acquired by the gallery, and will form the beginnings of the Australian Fashion Collection.  
AGWA Design: 25 July – December (WA)
AGWA Design – family resemblance is a collection show at the Art Gallery of WA, which revisits objects acquired through the Peter Fogarty Design Fund. 'These works explore the idea that hand-making is so often about incremental and subtle shifts in focus and form,' says curator Robert Cook. Established by Dr Tim Jeffrey, the fund ran for fifteen years and allowed the Gallery to acquire works by Australian designers and craftspeople.  
Catapult: July (SA)
Catapult is a career development mentorship program for South Australian artists, craftspeople and designers, generously funded by visionary philanthropic organisation, The Ian Potter Foundation, and managed through Guildhouse. Mentorships at $10,000 target mid career and established artists with ambitious projects. Several projects can be awarded in a year. Mentors are traditionally announced in July; follow the Guildhouse website for call outs.
AUGUST
WORKSHOPPED 2020: 6 August – 30 September
WORKSHOPPED is Australia Design Centre's annual exhibition of new work by 40 object, lighting, and furniture designers, including this year a special salon of Australian designers marking the 20th anniversary of the exhibition.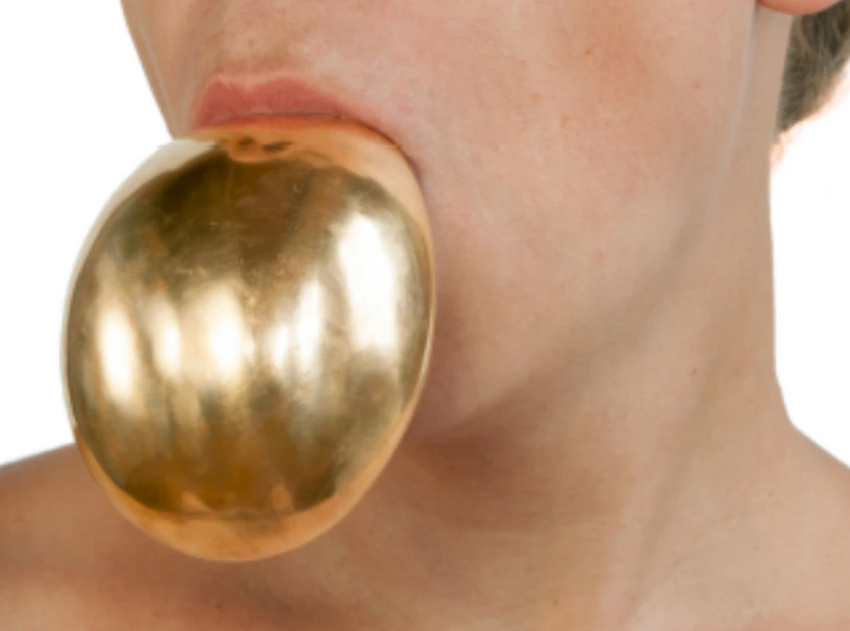 Lauren Kalman Devices for filling a void. The Body Layer at Craft ACT. Photo: Courtesy of the artist. 
The Body Layer & The Table Layer: 27 August – 17 October (ACT)
This Craft ACT exhibition draws together 13 leading Australian and International makers who have trained in the discipline of gold and silversmithing, and another 12 atists in a second exhibition The Table Layer, to coinicide with the JMGA conference (Jewellers & Metalsmiths Group of Australia). Each maker will present distinct work that pushes the preconceptions and possibilities of jewellery and adornment as traditionally understood.
SEPTEMBER
JMGA 2020: CONFERENCE 11-13 September (ACT)
With the theme VALUE CHAINS, the 2020 JMGA conference (Jewellers & Metalsmiths Group of Australia will be hosted by the ANU School of Art & Design, Canberra. The term Value chains is borrowed from the world of commerce and yet here refers to the connected nature of jewellery and metalsmithing across time, place and community. A full program including exhibitions, workshops, awards, talks and more to be announced soon.
Sydney Design Festival: 16 – 22 Sept (NSW)
Sydney Design Festival (NSW) will reshape the former Sydney Design Festival (previously held in March) into a dedicated program focusing on the local Australian design industry while also reflecting on internationally applicable design themes within the context of Australia's place in the Asia Pacific. The Powerhouse has appointed esteemed writer and editor Stephen Todd as the Creative Director of Sydney Design Week 2020.
Drawn by Stones: 3 September – 25 October (NSW)
Drawn by stones brings together artists who utilise the ceramic medium to interrogate contested histories, stolen land, Indigenous sovereignty, and concepts of national identity, with the exhibition grounded by the 2020 installation of Dean Cross' site-responsive work Monuments – an ongoing project since 2016, intended for exhibition every two years. It is presented by 4A Centre for Contemporary Asian Art, with further artists to be announced by curator Bridie Moran.
Women in Design: September (TAS)
By developing a national event focused on the role and outlook of women in design practice, Design Tasmania seeks to underscore the importance of nurturing future opportunities for women in design. This program identifies and gathers leading female practitioners and thinkers offering a unique opportunity for Design Tasmania to consider the role of the organisation as a champion of women in social and cultural practice. This program has been traditionally presented in September. Dates and details yet to be released for 2020.
OCTOBER
Sydney Craft Week 2020: 9-18 October (NSW)
Sydney Craft Week returns in October for its fourth edition, produced by Australian Design Centre, with other 150+ events annually. With the theme "Change Makers", craft takes on a very timely narrative for 2020. Programming yet to be announced.
Seed Stitch Contemporary Textile Awards: 9 October – 18 November (NSW)
Seed Stitch Contemporary Textile Awards is a biannual exhibition featuring the work of NSW contemporary textile and fibre artists. Presented for the second time by Australia Design Centre, the exhibition will tour to Tammworth Regional Gallery following its Sydney release.
The Craft Contemporary Festival: 23 October – 22 November (VIC)
Craft Victoria's 50th year of supporting local makers launches The Craft Contemporary Festival a month-long, state-wide celebration of making, community and creative experimentation across the Victorian maker landscape. The Festival invites us to think about the ways in which the act of making connects and forges our cultural lives. EOI open approximately 6 months prior.
NOVEMBER
DESIGN Canberra:  9–29 November (ACT)
DESIGN Canberra returns in 2020 with the theme CARE. For its 7th edition, it will become a collaborative forum for contemporary, experimental and authentic design to celebrate and explore the ways that care and caring is valuable and vital. Expressions of Interest for DESIGN Canberra 2020 are open until March. 
Design Tasmania Awards: November (TAS)
The Design Tasmania Awards were founded in 2006 to recognise and promote excellence in design and innovation. Their aim is to promote emerging, established and professional designers in Tasmania, both nationally and internationally. The categories cover Fashion and Textiles, Furniture Design, Jewellery Design, Object Design and Visual Communications. Finalists' designs are traditionally exhibited at Design Tasmania in Launceston in late November. 2020 dates and call for entries yet to be announced.
Mavis Warrngilna Ganambarr, 2019. Photo: Courtesy of Koskela.
DECEMBER
Mavis Warrngilna Ganambarr: TOURING
Leading fibre artist Mavis Warrngilna Ganambarr has been named as the tenth artist in the exhibition series Living Treasures: Masters of Australian Craft, produced by Australian Design Centre. With a grant from the Federal Government's Visions of Australia program to support research and development this year, Samantha Moody (Arts Centre Manager at the Marthkala Homelands and Resource Centre Aboriginal Corporation), and adjunct curator Sasha Titchkosky (Koskela), will develop a major exhibition to open in 2021, and will travel to over 15 exhibition venues across Australia.