Rob Tannion has left Circus Oz to work with Cirque du Soleil. Photo credit: Jessica Jeanfield.
After three years as Artistic Director and co-CEO of Circus Oz, Rob Tannion has moved on to a new role with Canadian circus juggernaut, Cirque du Soleil. Speaking with ArtsHub in late June, as he was preparing to depart from Circus Oz's Collingwood headquarters, Tannion said he was extremely satisfied with what he had achieved during his time with the company.
'I was brought in to shake up the snow globe,' he said, borrowing a metaphor from a colleague. 'It's something someone said to me the other day … and I think it's a really eloquent way of talking about instigating change at the company.
'I feel like I've achieved quite a significant amount of change in the past three years. It just feels like it's the right time to move on and for the incoming Artistic Director or artistic team – whatever model they chose to go with – to come in and reconsolidate, let the snowflakes settle a little bit and go forward to the future,' Tannion said.
Joining Circus Oz in 2016 after working for more than two decades in Europe, Tannion – who has also worked in musical theatre, dance, site-specific theatre and film – introduced a number of changes at the company. While his tenure began with Model Citizens, a relatively traditional Circus Oz production in 2017, Tannion's artistic aims were soon clear: the creation of new operating models, new collaborations, and a portfolio of several smaller shows each year.
'The company was known for having one big show and a continuing cast, a rolling ensemble, so to then open that up and change formats, it's been challenging,' he admitted.
One such challenge was adapting the company's approach to marketing its work, Tannion explained. 'We've needed to be much clearer about how we message the shows that we've got, so we don't put off the people who are loyal and faithful to the style of multi-generational shows that Circus Oz was presenting. But we also had to allow the space for new people to come in – for example with Rock Bang we wanted a more musical audience, and with Tutti we're engaging with the orchestral audience. So there's been challenges, but we're definitely on track.'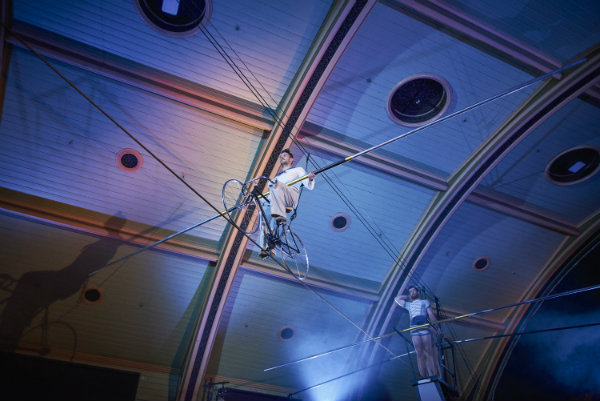 Lachy Shelley performs in 2019's Circus Oz production Wunderage. Photo credit: Aaron Walker.
The weight of history was another struggle for Tannion and his team.
'How do you create change, the space for change, when a company has grown up and has had such a strong identity for a very long time, of creating shows in one style? How do you flip that coin?'
Resourcing the creation of smaller but more frequent productions was also a challenge, he continued.
'It was great to float the idea of creating a portfolio of shows but at some point we had to make it, and I guess there was never quite enough lead time to create a significant ramp-up in the amount of production staff, the amount of creatives we would be engaging with, the amount of new performers we would be working with. We didn't quite have the bandwidth to be able to facilitate that – we could have done with a bit more love in that area. Last year particularly was a very massive year for Oz, and I do say hats off to everyone who went on that journey, because it was massive to get up four new creations,' Tannion said.
Tannion is not the first senior executive to leave Circus Oz this year; his co-CEO, General Manager Lou Oppenheim, departed at the end of February to take up a role in Create Infrastructure within Create NSW. The new position of Executive Director is expected to be appointed shortly.
Despite two senior staff members leaving the company within a few months of one another, Tannion is quick to assure the sector that there is nothing going on behind the scenes.
'The two moves were not related – I didn't choose to leave because Lou was leaving or because of any other external factors. I was pretty clear what my remit was from the get-go with the Board – it was to instigate change and create change … I always had said potentially three to five years, depending on how long those changes would need to take – and also, opportunity presents itself, you know? Cirque was pretty wonderful at getting in contact and pursuing the opportunity on this new job, and so yeah, it was a combination of things,' he said.
Despite his achievements, Tannion leaves Circus Oz with a few plans unrealised.
'There were tonnes of things,' he laughed. 'I was very interested in achieving a series of circus-on-film projects – literally I just ran out of time and again, there's just no bandwidth for it at the moment.
'And I was also really interested in looking at a much more immersive show that went on a larger journey I guess, with geo-tracking and phones – basically a real "move through the city" style of adventure. So there were some big ideas but they'll just be on the shelf, I guess.'
As well as unrealised creations, Tannion also said he wished he'd been able to find a better balance of long-term and short-term performers during his time with Circus Oz.
'The other big thing is trying to get to the point where we could start to settle in a good mix of people who were, I guess, core members of the shows – so that there was a bit more stability in the cast. Trying to find that right balance where it didn't just become project-based. I think that is definitely a challenge – some people want a full-time contract, other people will run from a full-time contract, so how do we find the right balance of the right artists for the right shows? It would have been good to be able to offer a bit more stability and loyalty in that area.' Tannion reflected.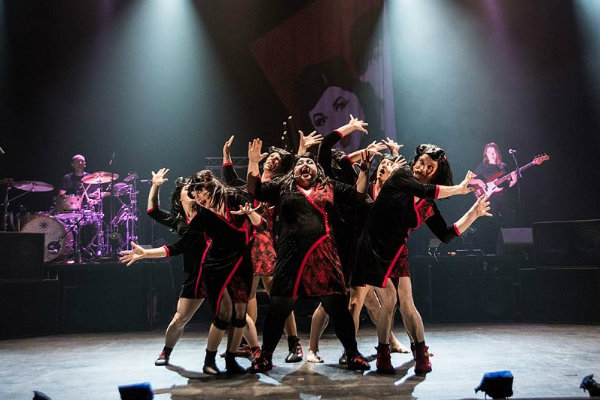 A scene from the premiere season of Circus Oz and Otto & Astrid's Rock Bang at The Malthouse Theatre, Melbourne, 2018. Photo credit: Mark Turner.
When he first joined Circus Oz, Tannion consulted widely, asking peers and colleagues about their impressions of the company. 'And there was quite often talk of it being too closed or too insular and not opening up,' he explained. Consequently, Tannion has championed collaboration during his time as Artistic Director, leading to works such Wunderage, a recent collaboration with Brisbane's Company2.
'I think working with other people who have different processes and different ways of working can only work in the positive, you know? It's about either challenging the process of how you make something or invigorating it or underlining it and amplifying it – so the opportunities that these collaborations have offered up have been great opportunities for Oz.'
There's still more to be done on that front, he believes. 'I think one of the things that the company has done well has been in making this amazing space that we've got here [in Collingwood] totally accessible to the small to medium and independent sector. We do have a responsibility about making the space accessible, making the resources that we can offer accessible – which may not necessarily only be space needs. They could be talking to producers or building and rigging advice, things like that.'
While there's been talk about Circus Oz's home base becoming an Australian circus centre, Tannion feels that idea hasn't yet been fully owned by the company.
'We've been talking about this … how we can make the Collingwood home base really the Australian circus centre – a space where people can really come in and create. Which they do anyway but we really need to be confidently celebrating that space with the small to medium sector.'
Tannion laughed when asked for advice for his successor – whoever that might be.
'What would be my advice? To be clear and true to yourself about where you see the company in the next ten years, the next 15 years. What's the long term vision for it? I think that will be vital to have. If I shook the snow globe again, where and how does that snow settle and what image are we making – and what do we want to make? Because Oz is a fantastic company and it's got so much potential and so much going for it as well as so much history – so how do we harness all of those things to take it to the future?'