While the visual arts sector settled into living with COVID in 2021 – and perhaps felt a little less freaked out by constantly shifting exhibition schedules, one's appearance on Zoom, and wore the badge of being nimble with a little more pride – nevertheless, the sector is far from recovery.
The big imbalance during 2021 was that the visual arts was largely less supported than the performing arts and festival sectors. While there were a number of different schemes on the table during the year to aid recovery, the allocation of RISE funding (Batches I-IV) showed just how out of balance the picture of 'valued recovery' was.
Of the 324 organisations awarded under RISE in 2021, a mere 38 (12%) have been visual arts organisations.
Read: Visual arts sector overlooked in COVID relief support
The word on the ground, however, is that the rethink the pandemic forced has been silently welcomed. How we work within the sector, what we deliver, and what is valued, has taken on a new and layered understanding – often for the better.
In terms of trends across the visual arts in 2021, the first feature article ArtsHub published for the year gave us a hint. Titled Artists, Activism and the Anthropocene: What does it really mean for change?, water and climate change was a big topic that trended strongly across exhibitions this past year – with more promised for 2022.
Read: Experts say our galleries and museums need to become greener
Other big topics across the visual arts (one might argue they have thankfully become staples) have again been gender equity, diversity, wellness and ensuring visibility for First Nations conversations.
These were the big news tickets that stood out for the visual arts in 2021.
Biggest arrogant move: Mid-February, many arts organisations awoke to find that they could no longer share news and articles on Facebook. The social media giant blocked many arts organisations following the proposed News Media and Digital Platforms Mandatory Bargaining Code, preventing the sharing of Australian stories. The block was reversed within a week.
Read: Facebook ban to lift but can we trust them again?
Biggest faux pas: 'Dark Mofo doesn't deserve our blood,' said Wemba-Wemba & Gunditjmara woman Paola Balla, a visual artist, curator, writer and lecturer. The statement was a backlash to the festival's call out early in the year: a literal request for blood of First Nations Peoples by Spanish artist Santiago Sierra for his project Union Flag. Needless to say, the project was cancelled.
Biggest commission: In September, the National Gallery of Australia (NGA) announced it would mark its 40th anniversary with the major commission of an immersive public sculpture by artist Lindy Lee. Titled Ouroboros, it has been allocated a $14 million budget to fabricate, and is expected to be delivered in early 2024.
Also for Canberra, Sydney sculptor Alex Seton was awarded a $1.2 million commission for the proposed work, Every drop shed in anguish to be permanently sited in the grounds of the Australian War Memorial. It is expected to be completed in the second half of 2023.
Read: On gender, pay and public art
Biggest investment: Many in the visual arts and museum sector would agree that one of the biggest wins of 2021 was the June confirmation that Powerhouse Ultimo will no longer close. It has also received the largest investment in the arts by the NSW Government since the Sydney Opera House, with $500 million committed to Powerhouse Ultimo on top of the institution's move to Parramatta.
Best "unsung" show: Curator Nur Shkembi used Rumi's evocative words to frame her selection of 16 women artists who have Islamic cultural backgrounds for the exhibition SOUL Fury at Bendigo Art Gallery, described as 'a tour-de-force experience' by writer Alison Carroll.
Big design: While the first thought would be Gabrielle Chanel. Fashion Manifesto at NGV, or Bendigo Art Gallery's Mary Quant: Fashion Revolutionary – following a consistently strong track record for fashion – the gong this year has to go to the spotlight on jewellery, and in particular Geelong Gallery's survey exhibition Blanche Tilden—ripple effect, looking at the 25-year trajectory of the Melbourne-based jeweller. Its tour will continue into 2022.
Read: Are jewellery exhibitions art, and why the recent rise in them?
Biggest question: Presented by a panel of First Nations arts managers at GLAM (the Australian Museums and Galleries Association conference), the question posed was: 'Is the idea of custodianship an expressions of First Nations cultural equity, or yet another imposed white frame to work within?' Read more.
Biggest policy conversation: While much work was done this year on a Code of Practice by NAVA (National Association for the Visual Arts), it was the Federal Government's new National Indigenous Visual Arts Action Plan 2021-2025 and the work that the Australia Council and A New Approach did in 2021 towards A National Arts Policy, that will have long legs for the sector.
Read: What next for a national arts policy?
Biggest topic: No vax no entry for galleries – the implications, the legalities and the thorny day to day realities. Regardless of government positions, many questions were raised in 2021 in terms of organisational liabilities, and how to manage post-pandemic reopening.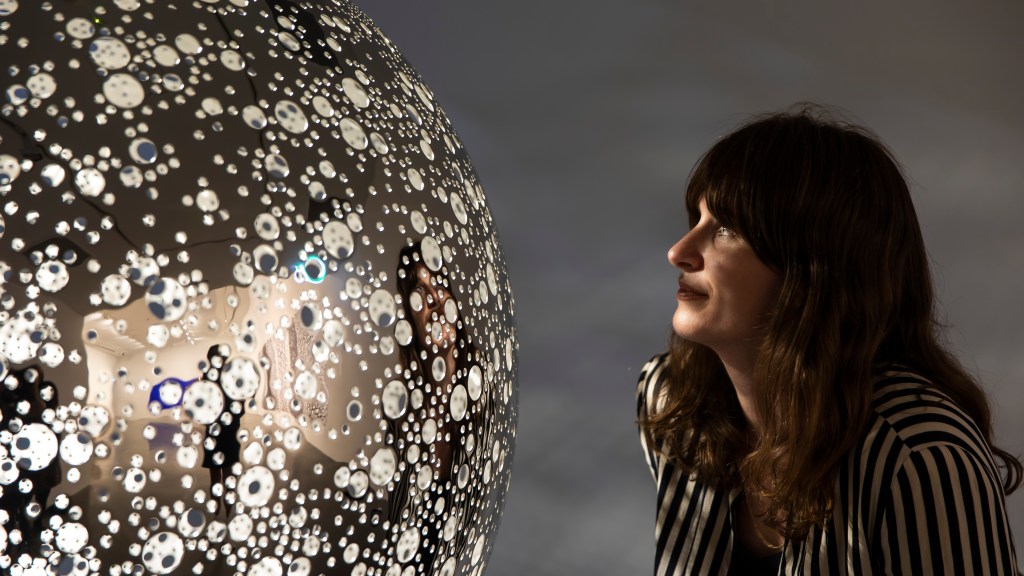 Big solos: Surprisingly, with many of our east coast galleries closed for extended periods in 2021, there was still a solid roll out of major survey exhibitions by Australian artists this year – which felt more important than ever before. Among them were:
Biggest win for persistence: In another story of 'persistence pays off', after two knock-backs, and 16-years of lobbying, Newcastle Art Gallery got the green light in August for its $35.6M expansion project, which will double the gallery's space. It is expected that the gallery will close its doors early next year for an 18-24 month construction period, with a planned delivery in 2024.
Read: Vale 2021: Saluting those we lost
Biggest disappointment: It would have to be either the incredible exhibition, Hilma af Klint: The Secret Paintings, the first major survey of her work in the Asia Pacific region presented by the Art Gallery of NSW, which opened 12 June only to close on 26 June for the remainder of its showing; or French Impressionism from the Museum of Fine Arts, Boston, which was similarly and sadly impacted by lockdown at the NGV. The event that could also fit in this category was the inaugural Rising Festival, which was forced to close after only a single night of performances.
Read: The exhibition no one saw – artists speak on coping with closures
Biggest education win, or not: While 2020 was plagued with news of art school cut-backs, in 2021 the focus has been on the new arts curriculum – part of the wider, national cross-curriculum review. While First Nations artists are better addressed, 'the proposed curriculum means a teacher could go an entire year without referring to a single living Australian artist.' The current arts curriculum was published in 2015, and consultation on the draft happened across this year, ahead of next year's release.
Biggest scandal: Artists came together with allegations against Melbourne art dealer Tristan Koenig over missing paintings and sold works going unpaid, while four-time Archibald finalists Benjamin Aitken and fellow artist Shannon McCulloch were found in possession of 'a commercial quantity of ice, drug-dealing paraphernalia and a stolen sawn-off shotgun'.
Read: Art overstepping legal boundaries
Biggest punch above weight: This year we are awarding this to Newcastle Art Gallery for their exhibition WARWAR: The Art of Torres Strait developed with renowned artist and curator Brian Robinson, and taking a much needed look at issues of cultural maintenance, Christianity, language and the impact of globalisation on the physical environment, through the art of the Torres Strait Islands.
Biggest "oldie": Both turning 100 years, and deserving a nod for the legacy they have given the visual arts sector, was the Archibald Prize (presented by AGNSW), and artist Guy Warren, who delivered an impressive five exhibitions in 2021 – a boon for an artist of any age.
Read: When you've still got it at 100: Q&A with Guy Warren
Biggest job shuffles: While the departure of Elizabeth Ann Macgregor as the MCA's director of 22-years was significant news this year, it was the move of Senior Curator Rachel Kent (within months) to take up CEO of Bundanon that was a pleasant surprise. Also turning heads was the move of long-time curator of Mona Nicole During to take up the helm as CEO of Craft Victoria – but the gong goes to Rebecca Coates, who stepped down as Director of Shepparton Art Museum within a week of it opening its new doors.
Read: Big career moves in 2021
Biggest trending topic: NFTs hit the art world big in 2021 – so big we have looked at the subject in a separate story. But another topic that has welled up – literally – has been climate change, with a particular focus on water resources. Nina Miall unveiled Slow Moving Waters the 2021 TarraWarra Biennale; NGV Australia presented Big Weather; Sydney Biennale Artistic Director José Roca and his curatorium revealed the theme of their multi-venue exhibition, Rivus (or river), while curators Hannah Mathews and Melissa Ratliff closed off the year with Language is a River for Monash University Museum of Art (MUMA).
Read: Australian undercurrents: Why curators are (still) fixated on water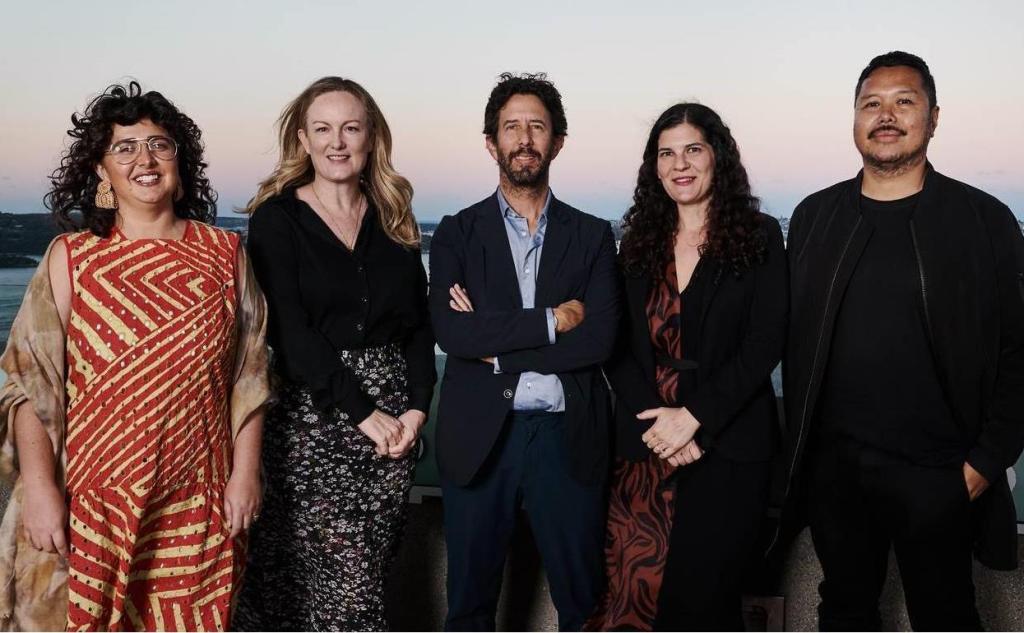 Biggest ego shift: Curatoriums are not a new idea, especially within the format of the international biennale, but in the wake of the pandemic and shifting museological trends around agency and diverse voices, the curatorium is becoming king. Leading the way in 2021, Biennale of Sydney curator, Columbia's José Roca, chose to put ego aside, appointing Paschal Daantos Berry (AGNSW), Anna Davis (MCA), Hannah Donnelly (Producer, First Nations Programs, Information + Cultural Exchange (ICE)), and Talia Linz (Artspace) to steer the exhibition.
Read: Curatoriums are the new programming superpower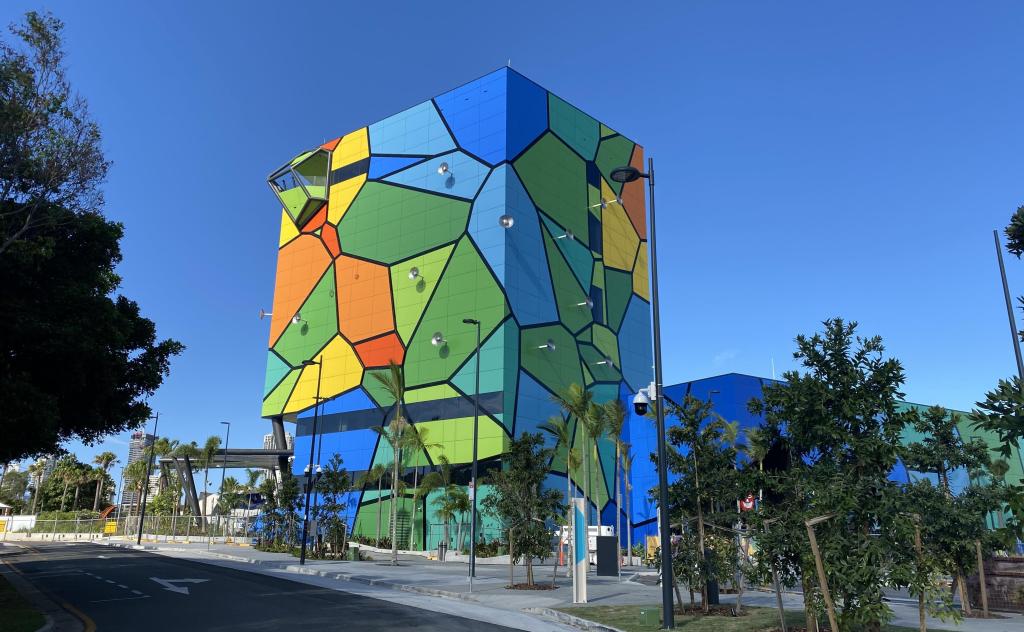 Biggest unveil: The long-awaited reveal was shared this year by a handful of new builds: the Shepparton Art Museum, which opened its 'purpose built' $50M temple of culture in November; HOTA, the Gold Coast's Home of the Art, which invested $60.5 million into a new gallery; Science Gallery Melbourne's (SGM), the opening of which was rescheduled several times due to lockdown, and in regional NSW, Ngununggula in Bowral.
In terms of significant refurbs, the Australian Centre for the Moving Image (ACMI) opened after a $40 million facelift, as did Orange Regional Gallery, Woollahra Gallery at Redleaf, while just this month, the Art Gallery of Western Australia unveiled its new rooftop space.
Big new philanthropy: The Northern Centre for Contemporary Art (NCCA) in Darwin is the first art gallery 'in the world' to receive philanthropic funding via crypto currency. It was also the single biggest donation in the org's 32-year history. Dr Prash P pledged to donate one carbon-neutral Bitcoin per year for three years (a minimum guarantee of $140,000). While other gifts have been larger in 2021, we love this thinking outside the box and the breaking of new ground.
Big art fair results: Despite fairs remaining a digital offering in 2021, the wins were great. Darwin Aboriginal Art Fair (DAAF) hosted over 70 participating Art Centres on the digital platform with a record $3.12 million in sales generated, with 14% of the audience buying Aboriginal and Torres Strait Islander art for the first time. 62% of visitors stated that this was the first time they had visited the Fair and 87% of attendees said that they intend to visit Darwin for the physical event in the future.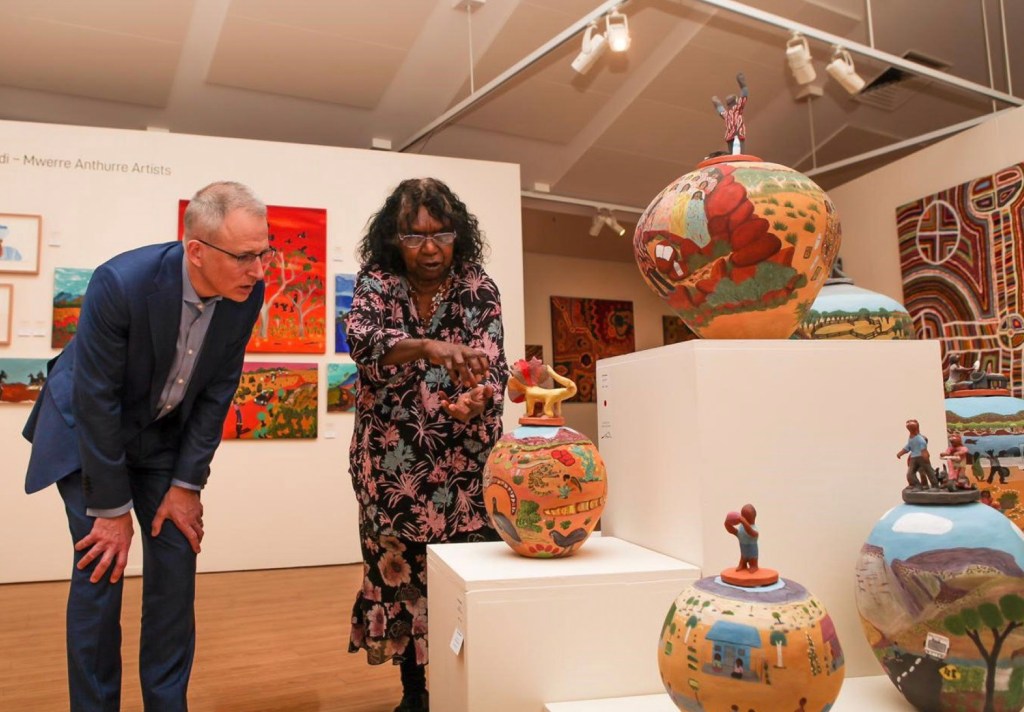 Big First Nations: In 2020 the Bla(c)k Lives Matter (BLM) movement found currency in Australia following protests in America. In 2021, we settled into that change, increasingly placing First Nations artists forefront in policy and programs.
The social impact model NEO-Learning was launched, developed by Big hART through the Telstra Foundation's Tech4Good program – an Indigenous-led digital platform changing in-class learning ahead of the new national curriculum.
2021 saw many new galleries open their doors. What caught our eye was the number of First Nations artists commissioned to mark these destinations with signature public artworks.
In October, the Federal Government launched the long-awaited ambitious new plan for economic and professional growth in First Nations Visual Arts, backed with cash. Read Inside the new plan for First Nations visual arts for details.
Construction started in December on Adelaide's new Aboriginal Arts and Cultures Centre and is expected to attract around 700,000 visitors to South Australia each year, when it opens in 2025. To be known as Tarrkarri, which means 'the future' in Kaurna Language, the $200 million centre will offer an 'immersive cultural experience'.
Papunya Tula (which was a catalyst for the Aboriginal art market) turned 50 this year, and also started building a dedicated Utopia Art Centre, based in Arlparra.
A director was appointed for the National Aboriginal Art Gallery in April, with Tracy Puklowski to take up the position to lead the feasibility study for the new gallery alongside Alice Springs stakeholders.
Wesfarmers, the National Gallery of Australia and the Art Gallery of Western Australia came together to present Ever Present: First Peoples Art of Australia which surveys historical and contemporary works. Opened in December, it will travel to the National Gallery of Singapore in 2022.
Biggest tech bling: While we all had our tech milestone moments in 2021, in terms of scale the opening of The Lume in Melbourne – a new permanent space inside Melbourne Convention and Exhibition Centre created by Grande Experiences – is impressive, and the only immersive space of its kind in the Southern Hemisphere.
Biggest exchange: The UK/Australia Season 2021-2022 – a joint initiative by the British Council and the Australian Government's Department of Foreign Affairs and Trade – is a bumper program currently underway in Australia and reflecting on history, culture, nationhood and the question, 'Who are we now?' The Season was first presented in the UK from August to November 2021.
Big pressure point: A report released in April by Res Artis looked at the impact of cancelled artist residencies globally, and showed 65% of artists have been forced to pursue non-arts work, while 12.2% of artist respondents considered leaving the arts sector permanently, with that number rising to 18% among emerging artists, due to the impact of COVID.
Read: Alarming report results as artist residencies buckle under COVID pressures
Biggest rethink: Unsettled, with the subtitle 'our untold history revealed' was a powerful exhibition that launched the newly refurbished Australian Museum, was the first major project of the museum's inaugural Director, First Nations, Laura McBride, who was appointed in March.
Biggest Biennale: It goes within a flutter of doubt that the 10th Asia Pacific Triennial marks the year in a significant way – charting a tumultuous period in the region with the pandemic, but also showing how changing voices over the past decade have shaped this exhibition into a mature conversation.
Others that deserve a nod also, having pulled off such strategically complex exhibitions when freight is difficult and installation is often managed via Zoom meetings include: Tarnanthi (Adelaide); the inaugural Hyphenated Biennale in Melbourne (which bought together First Nations and Asian diasporic artists in a multi-faceted dialogue); Fremantle Biennale; TarraWarra Biennial 2021; the third (and final) edition of The National 2021: New Australian Art; the inaugural PHOTO 2021 International Festival of Photography across Victoria, Ballarat International Foto Biennial, and the inaugural Indian Ocean Craft Triennial in Perth.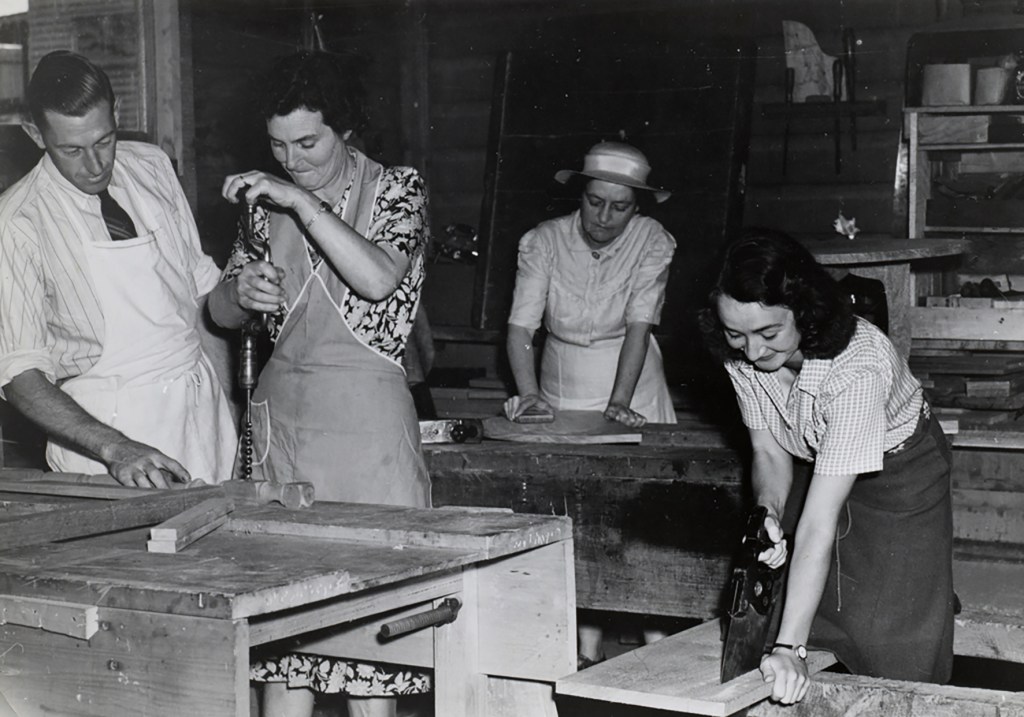 Biggest anniversaries: In 2021, the Arts Industry Council of South Australia (AICSA) celebrated its 30th anniversary; the Centre for Contemporary Photography (CCP) in Melbourne its 35th year; Heide Museum of Modern Art turned 40; McClelland Sculpture Park & Gallery and Craft ACT: Craft and Design Centre both turned 50; Monash University Museum of Art (MUMA) celebrated 60 years of the Monash University Collection; and in regional NSW Sturt gallery and workshops celebrated 80 years. But taking the gong would have to be the South Australia Museum which celebrated 165 years.
Read: The secrets to making it to a middle age as an arts organisation
Biggest survey (group) show: Despite some lockdown interruptions, Powerhouse Museum's exhibition Clay Dynasty brought together works from 168 Australian artists, as shaped by three generations of makers, to chart studio ceramic practice in Australia over the last 50 years. It will continue into 2022. Also worthy of a mention was Monash University Museum of Art's (MUMA) exhibition Connecting the World through Sculpture, curated by Charlotte Day and part of a year-long program celebrating 60 years of sculpture acquired by Monash.
Biggest blockbusters: The blockbuster calendar kicked off in March with Botticelli to Van Gogh: Masterpieces from the National Gallery, London at NGA, followed by European Masterpieces from The Metropolitan Museum of Art, New York, which opened June at QAGOMA in Brisbane. Then Ancient Greeks, which first opened at Perth's new WA Museum and has toured to the National Museum of Australia, and wrapping off the year, Doug Aitken: New Era at the MCA and Matisse: Life & Spirit from the Centre Pompidou, Paris.
They were all big in scale, big in delivery of top shelf works, but mostly big in term of pulling off these costly shows that rely on big audience in difficult times.
Biggest public engagement: Literally, this gong must go to artist Patricia Piccinini who launched the new monumental sculptural hot-air balloon, Skywhalepapa in February. Its maiden flight was in Canberra (it was commissioned by the National Gallery of Australia) and is currently undergoing a national tour. Piccinini's work was also presented for Rising in Melbourne – an installation which in many ways was emblematic of the year, given it opened, closed, reopened and captured the joy of the IRL experience of art (pictured top).
Biggest rethink: We want to shout out to City of Hobart, which invited artists to embark on a reinterpretation of the disputed William Crowther colonial statue in Franklin Square. The Truth Telling project was delivered by artist Allan Mansell, filmmaker Roger Scholes, Professor Greg Lehman and artist Julie Gough.
Read: How Australian artists are reinterpreting colonial sculptures
Biggest commercial news: The most impressive and confident commercial move this year was by Sydney dealer Michael Reid, who expanded his network of galleries with an impressive new space in Chippendale and is currently locking down another space in regional NSW – Bowral – to compliment galleries in Murrurundi, Northern Beaches, and Berlin. Earlier in the year we also took a look at six new art galleries that opened with pandemic optimism.
Read: Commercial galleries prosper against the odds
Big rebrand: Without spotlighting any single organisation, we want to pay a nod to the many visual arts organisations that used the pandemic moment to rebrand. We have seen new look websites launched and many new programming assets unveiled. Having done the same at ArtsHub in 2021, we want to recognise the hard work in collectively making our sector better.
Curious how the year stacks up?
The Big List: the Visual Arts in 2020
The Big List: The Visual Arts in 2019
The Big List: what made an impact in the visual arts in 2018