Desart
General Manager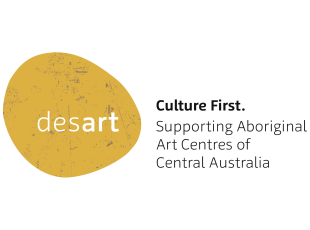 Desart is the peak arts industry body for Central Australian Aboriginal art and craft centres operating in the cross-border regions of the Northern Territory, Western Australia and South Australia.  The organisation was established as a not-for-profit entity in 1992 and is incorporated under the Northern Territory Incorporations and Associations Act.
Desart's current membership comprises 36 Aboriginal art and craft centres located within five defined regions: the Barkly; the North West; Central Alice Springs and surrounds; the Ngaanyatjarra Lands of WA; and the Anangu Pitjantjatjara/Yankunytjatjara (APY) Lands of SA.
Desart exists to support, promote and advocate on behalf of Aboriginal artists and member art centres to ensure their recognition and sustainability as a vital cultural, social and economic resource for Aboriginal people of Central Australia.
The Desart office is based in Alice Springs and has a staff of eight including a CEO and seven  other administrative and program-specific employees.
The Role
The General Manager is a key position within this small organisation, based in Mparntwe/Alice Springs and will work closely with the CEO to provide leadership, development and strategic guidance on all aspects of Desart's business operations.
How to apply
Please  provide a cover letter, responses to the selection criteria and your current CV with three referees and address Private and Confidential to Senior Program Manager Carmel Young: programmanager@desart.com.au or PO Box 9219, Alice Springs, NT 0871.
A hard copy of the Job Description and Selection Criteria can be downloaded from https://desart.com.au/job-opportunities/
For all enquiries please contact Carmel Young on 08 89534736.