Force Majeure
Executive Director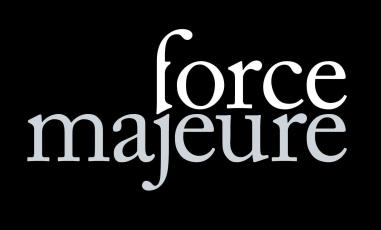 Role: Executive Director
Contract: Full-time Two-year term (with possible option to extend)
Remuneration: $80 – $100k per year commensurate with experience, plus superannuation of 10%, four weeks of annual leave, and mobile phone reimbursement
Reporting to: The Board of Directors
Direct reports: Producer, Marketing & Philanthropy Co-ordinator, Bookkeeper, Financial Consultant, contracted staff and artists.
Closing date: Friday 28th May, 5.00pm  Position enquiries to: Julieanne Campbell, Acting Chair 0412 563 220, 

jssy@internode.on.net
ABOUT FORCE MAJEURE
One of Australia's most celebrated arts companies, Force Majeure produces critically acclaimed dance theatre for an array of Australia's leading arts festivals and venues. Using its unique blend of storytelling and movement, the company creates award-winning works by exploring and questioning contemporary culture.
A resident company at Carriageworks in Sydney, Force Majeure's original works are created through collaboration and partnerships with leading Australian artists and companies. Through a rigorous devising process, Force Majeure works with multidisciplinary artists to produce unforgettable theatrical experiences that ignite curiosity in audiences, and inspiration in artists.
As an industry leader, Force Majeure invests deeply in artform and artist development through the company's INCITE program. INCITE offers invaluable training in the company's devising process and sets the standard in our artform for young, emerging and mid-career artists.
The company offers support to Australia's independent dance sector through its Associate Artists program, with two inaugural and subsidised positions currently held by Ghenoa Gela and Liesel Zink.
Force Majeure currently receives both federal and state four-year funding (2021-24) from the Australia Council for the Arts and Create NSW. It is the only small-to-medium dance company in NSW currently multi-year funded by the federal government.
The company is led by Artistic Director Danielle Micich and was founded in 2002 by Kate Champion.
ROLE
The Executive Director works alongside the Artistic Director, leading and driving the development and delivery of Force Majeure's strategic vision, goals and outcomes. The Executive Director and Artistic Director are jointly responsible for internal and external stakeholder management. They lead the organisation as a team, ensuring Force Majeure is recognised as an artistic and industry leader locally, nationally and internationally.
The key purpose of the Executive Director's role is to provide strategic leadership for the company.  This entails building national and international partnerships; touring, developing and producing new work; and producing artist and artform development programs. Central to measuring the ED's performance is the effective delivery of all projects on time and on budget, the smooth management of stakeholder relations and employee satisfaction.
The Executive Director is an advocate and spokesperson for the company and this role requires a highly developed understanding of, and relationships with, the arts industry. The ED is responsible for national and international market development so this role does include travel.
The ideal candidate has a strong understanding of the artistic process and a commitment to best practice in the producing of new work. The candidate must also have outstanding skills in organisational management, finance, business development, interpersonal relations, stakeholder management, negotiation, written and verbal communication and experience in artistic project development, government relations, marketing, philanthropy and securing funding.
RESPONSIBILITIES
Artistic
Work with the Artistic Director in the creation of an annual artistic program that reflects the artistic ambitions and goals of the company
Pitch new works (in collaboration with the AD) to festivals, co-producers, touring consortiums and key stakeholders
Act as executive producer for all major works, supporting the Producer with the delivery of all presentations and the negotiations of national and international performance seasons
Undertake national and international market development, building upon existing opportunities and creating new markets for Force Majeure
Leadership & Governance
Attend all Board meetings and strategic planning days and provide, with the support of the Financial Consultant, management and finance reports to the Board
Work with consultants, Board and staff to develop strategic business and marketing plans as required
Oversee the ongoing long-term development and running of the company, in collaboration with the AD
Provide acquittal reports (written and verbal) to the Board of Directors, funding bodies and other key stakeholders as required
Line-manage the Producer, Marketing & Philanthropy Co-ordinator, Bookkeeper and Financial Consultant
Ensure all artistic and infrastructure costs run to budget
Attend key meetings with funding bodies, trusts or foundations
Build, strengthen and enrich strong and positive working relationships with key stakeholders, all the time projecting a professional, amenable and approachable perception of the company
Manage the relationship with our landlord, Carriageworks
Advocacy
Represent the company to presenters and promoters both national and international, including attendance at international forums and performing arts markets
Provide sector leadership through participation in industry events, seminars or media opportunities
Financial Management
Take a strategic approach to building diverse sources of income
Manage the identification and negotiation of government and philanthropic partnerships
Working with the Financial Consultant, undertake financial planning and management, including preparation of budgets and monitoring of financial performance and analysis of financial data
Marketing and Development
Manage the company's marketing and philanthropic development programs with the Artistic Director, Marketing & Philanthropy Co-ordinator and Board members
Oversee all marketing/communication strategies, supported by the Marketing & Philanthropy Co-ordinator
Key Selection Criteria
High level experience as a contemporary performing arts producer or senior manager in an arts organisation
Extensive knowledge of the current dance and theatre industries in Australia, its dynamics, key players and current trends
A proven ability to provide strategic leadership
Ability to identify and negotiate funding opportunities in both government and private sectors
Good understanding of the technical aspects of theatrical production
An ability to work collaboratively and respectfully with artists, artistic and production teams and individuals, including staff members
A comprehensive understanding of the producing process, including budgeting, time management, scheduling; and the skills required to lead and bring together artistic, production and technical elements in the realisation of a new work
Excellent ability and confidence to network, lobby and represent the company and the sector on an industry and public platform
Personal Qualities
An in-depth knowledge of the Australian arts sector and its networks
Excellent communication and inter-personal skills, with a clear and authoritative style of writing and speaking
Excellent negotiation skills
Strongly motivated and dynamic self-starter
Strategic thinker
A natural collaborator who will fit into an organisation with ease and confidence and manage staff effectively
Professional, friendly and approachable personality
Ability to manage a number of projects in a timely manner and prioritise workloads
Ability to travel nationally and internationally
A very keen eye for detail
Some knowledge of workplace health and safety
A firm commitment to equal opportunities for all