Business Victoria
Victorian Government - Live Performance Support Program (Presenters) Round Two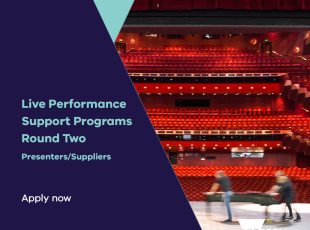 The Victorian Government's Live Performance Support Program (Presenters) Round Two provides grants to eligible businesses affected by the cancellation or postponement of events as a result of lockdowns and public health restrictions between 11:59pm on 27 May 2021 and 11:59 on 2 September 2021.
This program is for live performance event presenters. A presenter is a person or organisation with the right to hold, cancel or re-schedule an event, collect the proceeds from ticket sales or re-locate a given live performance event. For any given event, this may be the producer, promoter, venue owner or artist promoting their own show.
Applicants can apply for either $7000 or $5000 for one event, depending on losses or unrecoverable costs, and a further $5000 for a second event. There is a cap of $12,000 per applicant across the two rounds of the program.
In response to industry feedback, the eligibility and requirements for Round Two of the Live Performance Support Program (Presenters) differ from the first round of the program, which closed on 16 July 2021.
Please read the guidelines carefully, especially the eligibility criteria.
Applications close 11:59pm, 8 September 2021.
Full guidelines are available on the Business Victoria website.