Australia Council for the Arts
Leadership Program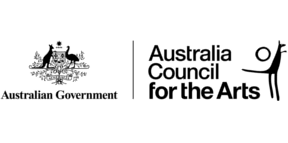 The Australia Council Leadership Program is dedicated to transforming the cultural and creative industry's knowledge, skills and capabilities by investing in emerging, mid-career and established leaders.
Our program recognises the diverse nature of leadership and builds on the rich knowledge and experience across the industry.
We partner with respected facilitators to foster personal and professional development through knowledge-sharing and connecting people across Australia and internationally.
---
About the Leadership Program
Grounded in respect, generosity and listening, we tackle the big issues and opportunities faced within the cultural and creative industries today. The program is designed to explore new ways of thinking and enact the potential of creativity for change. We are guided by First Nations principles, cultural Elders and Custodians.
As a participant in our programs, you will share experiences, form new connections, develop skills and build confidence in your own capabilities. You will benefit from longer-term outcomes for yourself, your practice, organisation and community.
COVID-19 has undoubtably had a significant impact on the arts and cultural landscape, yet we have seen the crucial role that creativity plays in developing new ways of adapting practices. We host a variety of programs to nurture creative development, adaptive leadership and ongoing sustainability within the cultural and creative industries.
These programs are designed to address the diverse needs of leaders working in all parts of the industry, from small to large organisations, emerging to established and independent practice.
We invite leaders from various backgrounds, careers levels and geographies to get involved.
For more details about the leadership programs, please visit the relevant program pages or read our General FAQ.
"On a personal level, I must again highlight the impact of this leadership programme for giving me an opportunity to reflect on my practice and now able to see the arts ecosystem in a broader term" – International Arts Leader (Malaysia) 2019 cohort
For more information, visit australiacouncil.gov.au