Copyright Agency
Grants for Organisations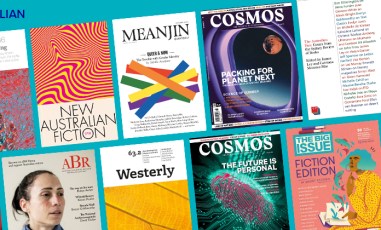 ABOUT THE GRANTS
The Copyright Agency's Cultural Fund supports leading Australian organisations with grants to create and deliver exceptional opportunities for Australian writers, journalists, editors, publishers, picture book illustrators, cartoonists, graphic novelists, English and literacy teachers, and visual artists.
Our aim is to support key industry stakeholders to offer sustained and realistic support to Australian writers, publishers, and visual artists.
The Cultural Fund encourages potential applicants to create opportunities for writers, editors and visual artists at all career stages, and especially for those from First Nations and diverse backgrounds.
Our priority is to develop greater audiences for the work of Australian writers and visual artists and to support projects with definite outcomes, whether it be for literary awards and prizes, mentorships, publication/presentation or exhibition. Projects should have a broad reach, as the focus on local audiences is not a priority.
The Cultural Fund supports leading national writing organisations to build literacy skills for children and young adults and to encourage reading at all levels. For 2022/23 we will focus on creating partnerships with key industry organisations to raise the profile of writing and writers.
To complement the Copyright Agency's Reading Australia initiative, we are interested in supporting targeted writers-in-schools programs for Australian writers whose work is featured on Reading Australia.
Support for Australian book publishers
Australian publishers may apply for creative writers' commission fees for new works of exceptional cultural significance
The grant will not replace the publisher's advance or royalties
The publisher must have a signed contract with the author before applying
The Cultural Fund does not support editorial and production costs or the costs associated with reproducing artwork and illustrations
Support for visual arts organisations
Our priority is to support opportunities for Australian visual artists to create new work with exhibition outcomes
The Cultural Fund is interested in supporting key national art fairs with opportunities to profile and promote Australian visual artists
Our focus will be to support projects where there is a guaranteed exhibition outcome for artists
From 2022 we will not support publications on visual artists or visual arts, including catalogues
Writing on the visual arts, or profiles and other analytical writing on visual artists is not a priority for the Cultural Fund
Project dates
Projects must start after 1 January 2023
Amount of grant
Minimum: $10,000
Maximum: $30,000
The Cultural Fund's grants for organisations are for a single project for up to a year.
We strongly encourage all applicants to pay industry rates to writers and visual artists. This is a crucial component of your application.
For more information, visit Copyright Agency