Copyright Agency
Create Grants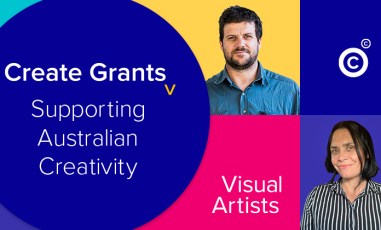 The Copyright Agency's Create Grants support mid-career Australian creative writers and visual artists to create and develop new work. These grants provide a living allowance for writers and visual artists to write and create a new work for publication and exhibition.
Please note, eligibility requirements have changed for 2022.
Create Grants will support Australian creative writers who have published or performed at least one work and no more than four works in the genres of fiction, poetry, children's literature, young adult literature, picture book illustration, graphic novels, playwriting and literary non-fiction. Visual artists must have at least five and no more than ten years' professional experience, with no more than ten solo exhibitions.
Create Grants do not support work aimed specifically at the scholarly or academic market.
If applicants are working in collaboration, all applicants must be mid-career writers or visual artists, and meet the eligibility criteria.
Four grants in total will be awarded in 2022. The Cultural Fund will support two grants for writers and two grants for visual artists.
Amount of grant: $25,000
Projects should start after 1 January 2023 and span four to twelve months.
WHO CAN APPLY
Authors and visual artists must be mid-career
Applicants must be Australian citizens or permanent residents
Applicants must have acquitted any overdue Cultural Fund grants
Visit our activities supported page for a full list of what the Cultural Fund will and won't support
Authors
You must have professionally published/performed at least ONE and no more than FOUR full-length works of your own creative writing (including professionally presented plays) by a publisher/theatre company in the following literary genres: fiction, literary non-fiction, children's and young adult literature, picture book illustration, poetry, graphic novels, and writing for performance (plays)
Self-published works do not count towards eligibility
These grants cannot be used towards the costs of publication
Visual artists
You must have at least FIVE and no more than TEN years' professional experience
Artists should have had no more than TEN solo exhibitions in public or commercial galleries (this should not include group shows)
These grants cannot be used towards exhibition installation costs
HOW TO APPLY
Applications must be submitted by the closing date via the SmartyGrants online system
Applicants may submit only one application per round
Late applications will not be accepted
Incomplete applications will not be assessed
YOUR APPLICATION
Your application will be assessed for its literary and artistic merit. This includes:
a project description
details of your publication, performance or exhibition history
samples of your work
a letter of support
Please note: CVs are not required.
For more information visit Copyright Agency