Macedon Ranges Shire Council
Artist Experience or Attraction - Expression of Interest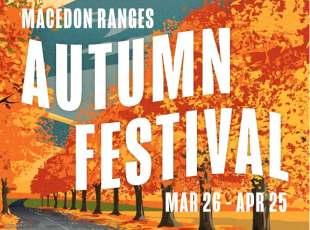 Nine Villages, One Festival
Unearth autumn in the Macedon Ranges. A month-long exploration of events, nature experiences, autumn produce and creativity across nine unique and colourful villages.
Macedon Ranges Shire Council invites Expressions of Interest (EOI) from suitably accomplished artists to undertake development and delivery of an artistic experience or attraction for the 2022 Macedon Ranges Autumn Festival. The successful experience or attraction will be a showcase feature, to be accessible for the duration of the festival.
A total funding pool of $20,000 is available to the successful applicant.
Examples of the types of experiences we are seeking include, but are not restricted to:
• Sculpture or mural trails
• Sound, light or multimedia trails
• Shire wide scavenger hunt
• Town and village activations
The artwork or activity should aim to inspire locals and visitors to explore the Macedon Ranges beyond already popular tourist attractions in the shire. Successful expressions of interest will reflect the Macedon Ranges Autumn Festival's call to action, to "unearth autumn in the Macedon Ranges", and align to one of the brand pillars that celebrate the uniqueness of the Macedon Ranges.
• Arts, culture and makers
• Nature and the outdoors
• Historic villages and rural landscapes
• Food, wine and ferments
The commission will be a two-stage process. Successful applicants to the EOI will be invited to prepare a full proposal. The assessment will include a peer review and panel assessment to select the preferred proposal.
For information on how to apply vist Macedon Ranges Autumn Festival – Apply for Funding