Uninvited Theatre
Uninvited Theatre - Actor & Director Training, Script Assessment, Speech Writing & Editing, Oral Persuasion & Performance Tips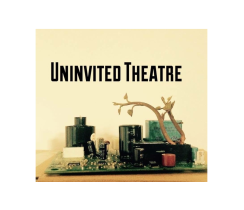 How do you know if the scene that you're writing, directing, performing or teaching is on the dramatic money? Is there such a thing as an objectively dramatic situation?
Are the characters enacting, simultaneously, the desperate inclination to depart and the fervent need to remain in the scene because their presence is either problematic or extremely risky, and the prospect of their departure equally fraught?
If you're not addressing these points, there's a good chance that you are merely focussing on information and exposition. The study of drama, from Euripides and Shakespeare to Arthur Miller and Harold Pinter, is not the study of information and exposition; it is the study of how characters struggle for access and territory in a physical space.
It is the study of collision, which is known as a situation.
*
Training & Assessment Content Areas:
Actor & Director Training
Script-writing & Assessment (theatre / film)
Speech-writing & Editing
Oral & Written Persuasive and Performance Tips
Cameron Sievers has been writing and directing for fifteen years. His work has been shortlisted, long-listed, and staged by UK theatres; including the Southwark Playhouse, and the Tristan Bates Theatre. In 2013, he completed an MA in Theatre Directing in London because he recognised the need for formal training in a theatre culture. Combined, Sievers has brought more than twenty plays to full production in sixteen shows in Australia and the UK. Outside of his own material, highlights include directing Pinter's, The Birthday Party, for Melbourne University in 2009.
Actor Training Improvisation, demonstrating that drama is the tension between presence and absence.
All enquiries: 0477 808 921
*
Reviews:
Committee – Fringe Festival, La Mama Theatre 2016
Song for Simon Birmingham: a Sketch Show – Melbourne International Comedy Festival, La Mama Theatre 2018
Medea: A Reasonable Woman – Courthouse Theatre, 2018
Nothing About Anything – Meat Market, 2021: '…brilliant, cutting edge, hilarious… Too many people play it safe with big companies and known productions… what your show offers can't be replicated on a big stage… I hope both you and the writer get seen in this by an TV industry pro. It's that good. An Australian off the wall sketch show.' David Cubley – independent theatre attendee.
'The strongest new writing on the Melbourne stage.' Sarah Wallace – The Plus Ones.
Applications Open
Feb 1, 2022
Course Fee
Tailored rates for individual needs