University of Technology, Sydney
Master of Media Practice and Industry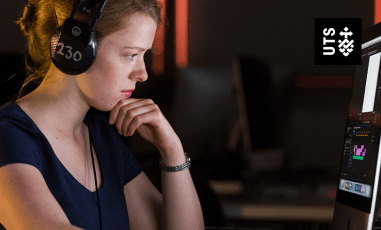 The Master of Media Practice and Industry is for creative media graduates or experienced industry practitioners seeking to advance their skills and employability in a hybrid and dynamic media environment. The course is focused towards media industry transformations with respect to ethics, social justice, technology and sustainability. Students select from innovation, industry and production subject choices which share entrepreneurial, collaborative and iterative approaches to the ideas, practices and audiences for screen, digital media and emerging platforms. Curation, design thinking and project-based work are key aspects of the course which aims to produce graduates who can provide leadership to harness and shape opportunities in the field.
The Master of Media Practice and Industry is unique in integrating advanced media production practices and future-focused capabilities and technologies with social justice, ethics and sustainable industry practices. UTS's unique partnership with Compton School, Australia's first Creative Business School to co-deliver the Advanced Creative Entrepreneurship core subject offers students an opportunity to build a viable business from scratch. Graduates from this course are highly sought after as leaders in a rapidly evolving media landscape.
Prerequisites
Admission requirements
Applicants must have completed a UTS recognised bachelor's degree, or an equivalent or higher qualification, or submitted other evidence of general and professional qualifications that demonstrates potential to pursue graduate studies.
For applicants with a bachelor's degree, master's, graduate diploma or graduate certificate:
the degree must be in the field of society and culture (e.g. Bachelor of Arts), or creative arts
if the degree is not in the field of society and culture, or creative arts, applicants must also have a minimum of two years' related professional work experience. These applicants must also provide a curriculum vitae (CV), which should include details of paid and voluntary work or other experiences (e.g. special interest groups) that could be relevant to the course, and provide a personal statement that outlines their interest in the course and demonstrates an understanding of the opportunities present in the emerging media industries. Employment experience is assessed according to the response provided by applicants via the employment question on their UTS e-application.
If applicants do not submit these documents, their application may not be considered.
The English proficiency requirement for international students or local applicants with international qualifications is: Academic IELTS: 7.0 overall with a writing score of 6.5; or TOEFL: paper based: 584-609 overall, internet based: 94-101 overall with a writing score of 24; or AE6: Pass; or PTE: 65-72 overall with a writing score 58; or C1A/C2P: 185-190 with a writing score 176.
Eligibility for admission does not guarantee offer of a place.
International students
Visa requirement: To obtain a student visa to study in Australia, international students must enrol full time and on campus. Australian student visa regulations also require international students studying on student visas to complete the course within the standard full-time duration. Students can extend their courses only in exceptional circumstances.
If you don't meet the admission requirements for this course, there may be alternative pathways to help you gain admission.
Applications Open
Nov 26, 2023