RMIT
Master of Arts (Art in Public Space)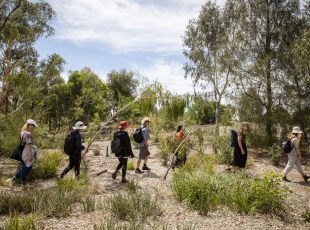 Study public art and explore site installations in public spaces and community art programs.
This degree brings together both education and research and encourages active collaboration between art and design practitioners and the community. You will address issues within art in public space that are central to current international cultural debate. You will gain a broad understanding of discourses and practices of public art by examining current definitions of public space, and learning to deal with the challenges that arise from such definitions.
You will explore multiple views of how art is presented and received in the urban context and address questions such as:
Where are the spaces that enable art to be an active interpretation, rather than decoration, of the city?
Who should define policies for public culture?
How can art negotiate the new spaces of the contemporary public sphere, such as the internet?
In this degree, you will have the opportunity to work directly with leading-edge industry partners through practical research projects.
As a student of this degree, you will have access to dedicated studios, equipment and specialised technical advice to realise your projects across a range of sites.
You will have lecturers who are practicing artists and creative practice researchers with extensive experience in their field, as well as access to expertise of a technician. You will also have access to the PS50 public exhibition program and other on-site projects that are developed with non-government organisations, government, community and cultural organisations, cultural institutions and industry partners.
Early in the degree, the focus is on collaborative projects that expose you to new ideas and methods of working. Throughout your study you will develop projects that reflect your specific interests and will culminate in a major project that is assessed through documentation in a research catalogue and public presentation at a postgraduate conference.
The Master of Arts (Art in Public Space) nurtures a cohesive learning environment by combining small group and individual practices and encouraging collaborative projects and peer to peer discussions.
You will have access to public art opportunities and projects developed with government and non-government organisations, community and cultural institutions, and industry partners. In previous years, we have worked with Melbourne Water, City of Hume, City Space Architecture (Bologna, Italy), and Heide Museum's Centre for Projection Art.