Installation view 2018 Hadley's Art Prize at the Hadley's Orient Hotel with its signature 1903 leadlight ceiling; Photo Jessica King
Hadley's Orient Hotel, established in 1834, is an unlikely setting for one of Tasmania's most exciting emerging art events.
The pairing of art and accommodation is not so unusual. In recent years, Australia has witnessed a spate of "art hotels", however Hadley's was ahead of the game presenting its first exhibition in 1926— a landscape exhibition by watercolourist John Eldershaw.
Early landlord, John Clay Hadley was one of Australia's earliest art collecting hoteliers who was encouraged by his son (a keen landscape painter). So it is a natural progression that the property has quickly become a leader in the landscape prize genre, offering a $100,000 annual acquisitive prize.
Entries now open to the 2019 Hadley's Art Prize
Hadley's Art Prize Curator, Dr. Amy Jackett told ArtsHub: 'People expect to see historic landscapes at a historic hotel and are always surprised at the thought that goes into these contemporary landscapes.'
While landscape is a very specific genre, it is also a very broad genre when it comes to contemporary interpretations.
'We definitely encourage people to think openly', Dr Jackett said.
The HAP, now in its third year, is gaining traction as one of Australia's most coveted art prizes.
'As soon as we launched the Prize the response was instantly diverse. We also had a strong immediate response from Aboriginal and Torres Strait Island artists, which was great to bring to Hobart,' said Dr Jackett.
While the prize is acquisitive, it is not shaped or steered by a policy. 'It is in the hands of the judges. We made it acquisitive because we wanted to build a collection of art in the heart of Hobart's CBD that is accessible to everyone in the community,' Dr Jackett said.
The judges for the 2019 Prize are artist Raymond Arnold, Mona's Senior Research Curator Jane Clark, and Art writer, curator and gallerist Susan McCulloch OAM.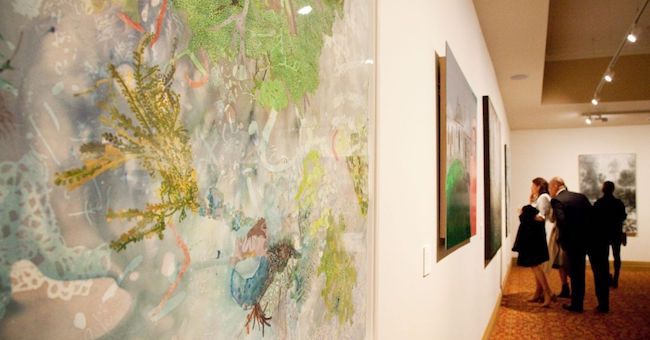 Installation view 2018 Hadley's Art Prize at the Hadley's Orient Hotel; Photo Jessica King
Different to many art prizes, the panel of judges for the HAP views and rates every single entry submitted, last year 640 entries.
Jackett said that in past years, the city of Hobart has benefited from all the art loving tourists who flock to Tasmania for Mona.
'Each year we produce an exhibition catalogue with essay that connects the finalists' works, an Education Kit for visiting school groups (endorsed by Art Education Australia), and we engage the community with events and guided exhibition tours. I wanted it to be like any other major exhibition,' Dr Jackett said.
Prize Benefactor and Hadley's Orient Hotel owner, Don Neil first conceptualised the Prize as a way to give back to the art community and believes one of the advantages of the prize being presented in a hotel is that people can experience a deeper connection to the art by living with it as a hotel guest.
How to enter the 2019 Hadley's Art Prize
The Hadley's Art Prize celebrates drawing, painting and printmaking about the Australian landscape.
Jackett writes: 'Landscape is about where we live and how we relate to and visually represent place; landscape is lived in, experienced, remembered. Sometimes natural, sometimes urban. The Hadley's Art Prize exhibition highlights the breadth and diversity of contemporary Australian landscape art.'
As well as the $100,000 acquisitive prize, there are also non-acquisitive Highly Commended Awards, a Packing Room Prize, People's Choice Award and a School Prize.
Entries close 5 April 2019
Exhibition opening with winner announced Friday, 19 July 2019
Finalists' Exhibition at Hadley's Orient Hotel, 20 July – 18 August 2019
Artists can learn more about the prize and enter online at https://www.hadleysartprize.com.au/
The Prize's benefactor is Don Neil and the prize is presented by Hadley's Orient Hotel.