The cast of Counting and Cracking. Photo by Victor Frankowski.
Given the number of languages spoken in Counting and Cracking, it's not surprising that English fails to describe how wonderful this show is. Culturally, dramatically and comically rich, the production is easily lost in a flow of superlatives which would belie an elegant simplicity of staging, storytelling and worldbuilding.
With gracefully developed themes to invite remembrance or curiosity, Counting and Cracking engrosses and immerses the viewer in the Australianness of this story of another land.
Settings span across Sydney and Sri-Lanka, Ceylon as it was, the production also ranges across timelines. From 1957 to 2004 the audience encounters Radha, as a baby; a young woman; a young mother, and then a widow.
Radha is both a product of her experiences and repressively oppressed by them. Her relationship with her 21-year-old son Siddhartha, who struggles across cultures, is loving but strained and both will be confronted by living ghosts who arrive unbidden when a phone call brings geo-political chaos back from the room of memory.
This production is helmed by a wonderful performance from Nadie Kammallaweera who brings, to leopard mother, Radha, a lightness of energy and a deft comic skill inspiring a shared humanity. Her discreetly modest intelligence and blazing spirit are also captured wonderfully by Vaishnavi Suryaprakash as young Rhadha, these characters physically aligned by very clever costuming.
Equally wonderful as her son is Shiv Palekar who is boldly loving and patient. Qualities which lead him to a modern and equal relationship with Lily, played with wonderful empathy by Rarriwuy Hick.
With an ensemble of astonishing depth, Director Eamon Flack has been able to strip the production of excessive place setting and populate the evocatively earthy, gravelly floored, bare stage with actors who speak in other languages. Their translators perched on the steps leading up to the action. These adjuncts to audience understanding engage each other and with the role playing cast, hold props like building intercoms and gently, comically, correct the action when required.
The entrances and movement around the set balances the freneticism of the sub-continent with an apparent effortlessness of intimacy on the large stage. Simple set pieces, wood and cane lounging bed or all white computer station are brought in and out as the places and times are defined by an old fashioned cricket scorer's gate.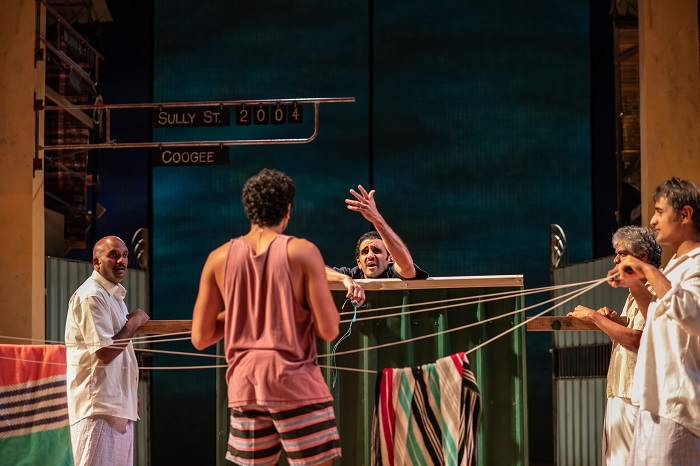 The cast of Counting and Cracking. Photo by Victor Frankowski.
Cricket gets a bat in the complex text from Shakthi Shakthidharan but not all the themes, concepts and events are easily accessible to all of the watchers. There are gasps and tears of recognition around, and a lean forward, strain to assimilate from others. The legacy of Counting and Cracking for the latter is a desire to understand. To google: Tamil, Sinhalese, Sri Lanka, LTTE … Pendle Hill. If there is room for more editing of the political exposition in Act Two and a faster resolution in Act Three it does not affect the impact of the show as it stands.
The production is nestled in a solidity of well-constructed arena inside Sydney Town Hall and comes with very tasty Sri Lankan snack before the show. The walls around have a young Buddha resonance that is unmistakeable and brought home in the final scenes of the play. The costuming is ebulliently lush in places and subtly narrative. The emotive and lyrically beautiful live music is wonderful to listen to and be carried away on and soundscapes, from early morning beach birdsong to Colombo cacophony, are used to considerable effect. The lighting is superbly uncluttered, with no colour, no jarring changes just an illumination of performances, story and theme.
Counting and Cracking is wonderful, just wonderful.
Rating: 5 stars ★★★★★

Counting and Cracking
Belvoir and Co-Curious for Sydney Festival 2019
Written by S. Shakthidharan
Director: Eamon Flack
Set & Costume Designer: Dale Ferguson
Sound Designer & Composer: Stefan Gregory
Lighting Designer: Damien Cooper
Cultural and Costume Advisor: Anandavalli
Actors: Prakash Belawadi, Nicholas Brown, Jay Emmanuel, Rarriwuy Hick, Antonythasan Jesuthasan, Nadie Kammallaweera, Ahi Karunaharan, Monica Kumar, Gandhi MacIntyre, Shiv Palekar, Monroe Reimers, Hazem Shammas, Nipuni Sharada, Vaishnavi Suryaprakash, Rajan Velu, Sukania Venugopal
Band: Janakan Raj, Kranthi Kiran Mudigonda, Venkhatesh Sritharan
11 January – 2 February 2019
Sydney Town Hall
Additional dates: 2-9 March 2019
Adelaide Showgrounds as part of Adelaide Festival