Photo by Aziz Acharki on Unsplash.
As the Australia Council pointed out in the 2017 report, Reading the Reader: A Survey of Australian Reading Habits, 'Australians value Australian books and the Australian book industry'. This has remained true in 2018.
This year has seen the continued popularity of non-fiction books including anthologies, short story collections and novels, while self-help books dominate the best seller lists. The truth is obvious: Australians are reading Australian books.
Here we list the books that dominated the charts but which also dominated the cultural conversation at Writers' Festivals, around the kitchen table, and in the workplace.
The Life to Come by Michelle de Kretser
Published by Allen & Unwin
Category: Fiction
Michelle de Kretser's The Life to Come was awarded the 2018 Miles Franklin Award, making it De Kretser's second win after previously winning the Miles Franklin in 2013, for Questions of Travel. In the 61 year history of the award, de Kretser is only the third women to have won more than once – an outstanding achievement.
But don't let this award-winning novel overawe you. If you haven't read the Life to Come, it's definitely one to pick up during the summer break. An expansive yet intricate story that explores the microaggressions that occur in contemporary Australian culture, The Life to Come is a collection of stories woven together in a way that neatly demonstrates de Kretser's masterful storytelling skills.
The Trauma Cleaner: One Woman's Extraordinary Life in Death, Decay & Disaster by Sarah Krasnostein
Published by Text Publishing
Category: Biography, Non-fiction
The incredible story of trans-woman Sandra Pankhurst's journey as a trauma cleaner; someone who cleans up the mess after violence, negligence, or a death has occurred. Pankhurst has seen the most desolate of human situations, and is admired for her compassion during such miserable times.
Krasnostein has been praised for her compassionate and honest depiction of Pankhurst, which was shortlisted for 12 awards including the Dobbie Literary Award for a first time published author. The book won five of the awards it was nominated for, including the Victorian Prize for Literature. It's easy to see why. In the words of the Saturday Paper: 'A wondrous portrait of an inspiring character.'
The Barefoot Investor: The Only Money Guide You'll Ever Need by Scott Pape
Published by John Wiley & Son
Category: Non-fiction, Self-help & Personal development
The top-selling book of 2018 according to Nielsen BookScan Australia, as revealed at this year's Small Press Network Conference, The Barefoot Investor has dominated not only the non-fiction charts but the over-all book sale charts. Since its September release, Pape's companion book, The Barefoot Investor for Families has been following closely behind in the charts; it is currently sitting at number two.
Pape's down to earth, dependable and easily accessible advice makes this self-help book a constant favourite. Described as 'being in touch with financial matters that affect everyday Australians,' Pape has a solid career in the finance sector as a former investment advisor with one of Melbourne's leading finance firms, EL & C Baillieu.
Growing up Aboriginal in Australia edited by Anita Heiss
Published by Black Inc.
Category: Non-fiction, Anthology
Heiss, a proud member of the Wiradjuri nation of central New South Wales, has previously published numerous books across genres. In Growing up Aboriginal in Australia, she has compiled and edited the diverse stories of some of Australia's much-loved First Nations writers.
From remote communities and living on Country to speaking First languages, this is a heartfelt and insightful compilation about the writers' personal experiences.
Notably, the success of Black Inc's anthology has inspired similar titles, to be released in 2019: Growing up Disabled in Australia (edited by disability activist Carly Findlay), Growing Up Queer in Australia (edited by Benjamin Law) and Growing up Arab in Australia (co-edited by activist and poet Sara Saleh, and author and academic Randa Abdel-Fattah).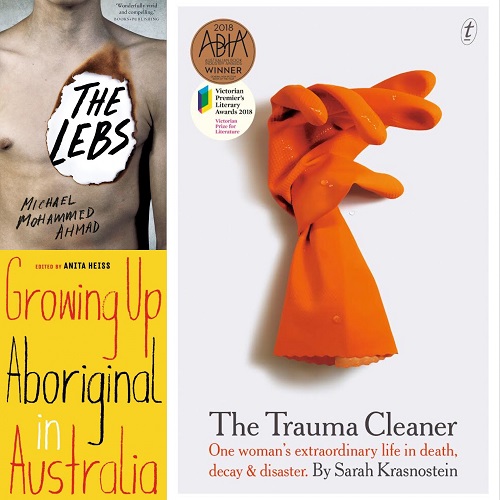 The Lebs by Michael Mohammed Ahmad, Growing up Aboriginal in Australia edited by Anita Heiss, and The Trauma Cleaner: One Woman's Extraordinary Life in Death, Decay & Disaster by Sarah Krasnostein.
The Lebs by Michael Mohammed Ahmad
Published by Hachette
Category: Fiction
Garnering rave reviews, The Lebs follows the story of Bani Adams, a young Arab-Australian student attending Punchbowl Boys High School in Sydney's western suburbs.
Set in the early 2000 – around the time of a horrific gang-rape by a group of boys from the Punchbowl area led by Bilal Skaf – The Lebs focuses on schoolboy Bani's journey as a young man growing up in Australia.
Arab-Australian writer, editor, community arts worker, and teacher Michael Mohammed Ahmad was awarded the Sydney Morning Herald Best Young Novelist in 2015 for his previous work, The Tribe, 2014 (Giramondo).
Ahmad's writing style is hypnotic and honest. The Lebs is a novel that illuminates the complex realities of the cultural hybridity experienced by some minorities in Australia.
Eggshell Skull by Bri Lee
Published by Allen & Unwin
Category: Non-fiction, Memoir
In the era of #MeToo, Eggshell Skull has proved to be an important Australian book in 2018.
Lee, a former judge's associate in the Queensland District Court, was forced to confront her own experience of sexual violence after continually witnessing the injustices occurring in the legal system.
An avid supporter of the #LetHerSpeak campaign, Lee is a vocal advocate for law reform in Queensland and the wider country. Lee has lent her voice to causes that affect sexual assault victims and has penned searing articles on this topic for Guardian Australia.
The Shepherd's Hut By Tim Winton
Published by Penguin Books Australia
Category: Fiction
Coming in at number five of the Most Popular Australian Author in 2018 Awards (Booktopia) and considered as 'the pre-eminent Australian novelist of his generation,' by Booktopia, Tim Winton released The Shepherd's Hut earlier this year. A novel centered on the abused and neglected protagonist Jaxie Clayton as he speeds through the desolate landscape of Western Australia, looking for escape, and maybe even redemption.
Laced with colloquial language, The Shepherd's Hut is lyrical and evocative. Winton weaves a mirage of Australia that is confronting but recognisable.
Winton described his protagonist Jaxie Clackton: 'He has been marinated in violence. He has internalised it; it lives like a virus in his body. His limb, his face, his eyes, they all project it. He has always lived in a state of hyper vigilance, fearing attack and offense at every turn. But attack and offense are in him, they are boiling in him. They are his prime instincts.'
The Tattooist of Auschwitz: Based on an incredible true story By Heather Morris
Published by Echo Publishing
Category: Historical Fiction
Based on real life interviews author Heather Morris conducted with Auschwitz survivors, including detailed conversations with Ludwig Eisenberg, The Tattooist of Auschwitz is an unimaginable and profound love story.
As a prisoner in Auschwitz and the camp's designated "tetovierer" (tattooist) Ludwig Eisenberg met and fell in love with Grita, also a Jewish prisoner. Though it was forbidden the two continued their romance and survived the death camp against all odds. This book is written with beauty and a delicate sensitivity.
Published by Melbourne-based small press publisher, Echo Publishing, an imprint of Bonnier Books UK, this incredible book will be adapted into a TV drama miniseries by Synchronicity Films in 2019.
The Arsonist: A Mind on Fire By Chloe Hooper
Published by Penguin Books Australia
Category: Non-fiction
Shortlisted for the 2019 Victorian Premier's Literary Awards, Walkley Award winning journalist Chloe Hooper's The Arsonist delves into the Black Saturday bushfires, which killed 173 people in regional Victoria nearly a decade ago.
Hooper meticulously explores two separate fires in the Latrobe Valley which were found to be deliberately lit by Churchill resident Brendan Sokaluk.
The Arsonist is a compelling examination of a troubled man and follows both Sokaluk's trail and the shattering aftermath of that fateful day.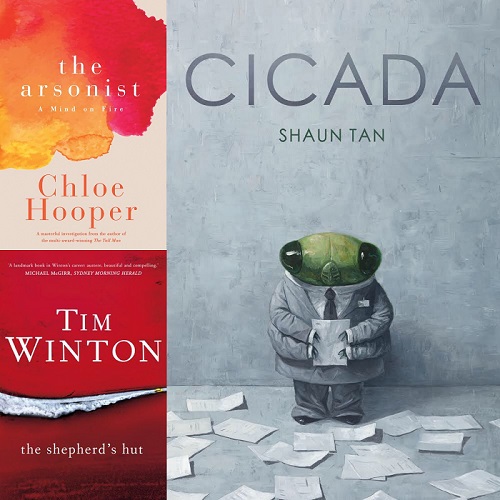 The Arsonist: A Mind on Fire by Chloe Hooper, The Shepherd's Hut by Tim Winton, And Cicada by Shuan Tan.
Special mentions: Children's Books
Cicada by Shuan Tan, Hachette
Author and illustrator Shuan Tan's whimsical picture book follows underappreciated office worker Cicada. 'Cicada work in tall building. Data entry clerk. Seventeen year. No sick day. No mistake. Tok Tok Tok!'
The Very Noisy Baby by Alison Lester, Affirm Press
Based on her own very noisy grandchild, author and illustrator Lester is the first children's writer to win the Melbourne Prize for Literature 2018, which is awarded every three years.
Rodney Loses It by Michael Gerard Bauer, illustrated by Chrissie Krebs, Omnibus Books
Winner of the Children's Book Council of Australia (CBCA) Book of the Year Early Childhood Award for 2018, Rodney Loses It is a fast favourite among little children who tend to misplace their most treasured items.
Special mentions: Young Adult
Between Us by Clare Atkins, Black Inc.
Set in the parched landscape of the Northern Territory, Between Us is a stirring tale about two teenagers, Anahita, an asylum seeker, and Vietnamese-Australian Jono, who are caught between their cultural differences.
Living on Hope Street by Demet Divaroren, Allen & Unwin
Described as a 'big-hearted, compassionate work' by author Christos Tsiolkas, Living on Hope Street follows the interwoven stories of a series of neighbors. Full of honesty, this novel sheds a light on contemporary Australian existence.
Catching Teller Crow by Ambelin Kwaymullina and Ezekiel Kwaymullina, Allen & Unwin
Written by a talented First Nations brother and sister writing team, Catching Teller Crow is more than just a ghost story. Weaving colonial histories, family, love and violence in an intricate and moving young adult novel, this is a must read.
ArtsHub Book Reviewer recommendations
Erich Mayer, one of ArtsHub's dedicated book reviewers, has read and reviewed prolifically this year. Here are his top three recommendations for books published in 2018:
1: Tales from the Inner City by Shaun Tan, Allen & Unwin, 2018
Mayer wrote, 'Shaun Tan's haunting poetic prose and the captivating mysticism of his illustrations invade the very being of the reader.'
2: Zenobia by Morten Dürr and Lars Horneman, University of Queensland Press, 2018
'[A] striking and deeply moving graphic novel, which uses simple drawings and few words to tell the story of Amina, a girl forced to escape war-torn Syria and seek refuge across the sea.'
3: The Eastern Curlew by Harry Saddler, Affirm Press, 2018
'Harry Saddler writes with such contagious enthusiasm that it is impossible not to share his love of birds.'