2018 Emerging Artist Winner, Marooned by Amber Koroluk-Stephenson; courtesy the artist
With the tag line, "Australian art. Any medium. All women," the Ravenswood Australian Women's Art Prize (the Art Prize) is set on changing opportunities for emerging and established female artists in Australia.
Established in 2017, the annual prize is conducted by Ravenswood School for Girls (Sydney) and aims to inspire, promote and connect generations of female Australian artists through professional recognition and mentorship.
In 2019, for the first time, entries to the Art Prize will not be confined by theme. Patron and Judge, artist Jennifer Turpin said, 'We are trying to get artists to put in work that they think best reflects their practice.'
The winner of the Professional Artist Prize will receive $35,000, making the Ravenswood Australian Women's Art Prize Australia's richest professional art prize for women, while the winner of the Emerging Artist Prize will receive $5,000.
Artist, educator and prize co-ordinator, Edwina Palmer said that it was important to set the bar high within the competitive field of art prizes.
'It is about equality and that women are being recognised on that professional level nationally. Symbolically it says, "women are worth it,"' Palmer told ArtsHub.
'All artists have financial challenges – it costs money to make great art. $35,000 really helps. And $5,000 genuinely supports a project. Given the lives women have to lead, raising families and having to work at the same time, we feel the Prize is an important way to support women artists and to let them do the work they want to do.'
Entries for the 2019 Ravenswood Australian Women's Art Prize are now open. For information visit the www.ravenswoodartprize.com.au
Counting women and making women count
Palmer said that there were two motivations that drove Ravenswood School for Girls to take the proactive step of offering an annual prize, the first being a desire to support its own community.
'We are a community that is all about supporting women – our students, women out there in the arts, our alumni, emerging artists, people who aspire to professional careers as artists,' she explained.
The need for greater opportunities for women across the visual arts industry was a further call to arms. In particular Palmer praised the work of Elvis Richardson, founder of The Countess Report, for helping inspire the Prize. Richardson's site has provided hard evidence of gender inequality in the contemporary visual arts in Australia since it was established in 2008.
'Elvis, I, and a group of artists set up the Ultimo Project [a members-based studio model providing long-term affordable workspace for artists, and space to show] 30 years ago. Since then the numbers have not changed very much, which says a lot to me.'
Giving the practices of women artists visibility, especially in the commercial gallery sector where it is hard to get representation, is a challenge that Ravenswood is taking on through the The Art Prize.
'The artists who have submitted work have seen it as more than an art prize – they have seen it as a movement that is really trying to make a difference,' she told ArtsHub.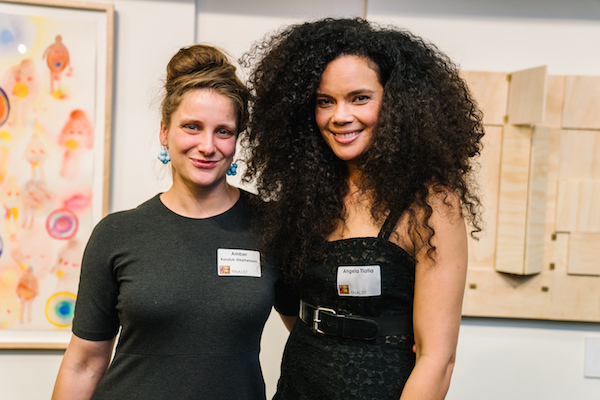 2018 Emerging Artist Winner Amber Koroluk-Stephenson with 2018 Professional Artist Prize Angela Tiatia; supplied

A prize that helps overcome the "gender challenge"
From day one, the The Art Prize has aspired to having national reach while simultaneously establishing a professional benchmark of excellence.
'That is incredibly important. If we wanted women to have greater opportunity then we had to reach out nationally,' said Palmer.
'While we recognise that some artists can't always get beyond the physical hurdles of distance, for those artists who are remote we want to be able to say to them that the Prize promotes your work, it creates opportunities, it creates a community, and that is key.'
The Prize received entries from Western Australia, Tasmania, and even as far as the Tiwi Islands in its first two years.
'That was the moment I went, "yes we are getting the word out there,"' said Palmer.
Key to the success of the Prize is the collegiate support network that it fosters among women. 'Mentorship is more relational rather than formal – women get to meet each other through the Prize,' she said.
The Ravenswood School for Girls Gallery additionally offers an exhibition for the winning artist in partnership with an emerging artist. Palmer added that the Prize had also led to finalists being offered gallery exhibitions elsewhere, from artist-run spaces to a New York gallery.
How to apply
Entries to the 2019 Ravenswood Australian Women's Art Prize are open now, and close on 20 March 2019.
Artwork judging will be overseen by Art Prize Patron and acclaimed artist, Jennifer Turpin, with the winner announced on 31 May 2019, at the opening of the prize exhibition.
The finalists' artworks will be exhibited at the Ravenswood School for Girls Gallery from 1-9 June 2019.
To find out more, or to apply to the 2019 Ravenswood Australian Women's Art Prize, visit the www.ravenswoodartprize.com.au