Image: Shutterstock
After experiencing an epiphany on the New York subway, then-jeweller Amy Franz realised she had to pack up her life in Australia to pursue a career in fashion. She has now lived in New York City since 2015.
Part 3: Amy Franz – Accessories designer
'I had given myself three months off my jewellery business in Australia, which I had run for 15 years, to decide what I wanted to do next' Franz told ArtsHub.
'Initially I was in Spain and was looking for an old craftsman whom I could work under because I really wanted to learn how to make shoes and bags. It didn't work out though because the attitude was one of, "It's a dying trade and there's no business here." I thought: "That's a great idea for me to be entering that then,"' she laughs.
'When I was on the subway in New York I saw an advertisement for the Fashion Institute of Technology and their accessories program – it was like a light bulb just went off! I love New York and I didn't know that program existed it, so I researched it, threw together a folio and said: "Well, if I get in I'll move – it was like that."'
On education
After being accepted into FIT, Franz undertook two years of the program and went on to do an Associates year.
'It's kind of interesting to see how the education system works over here because [once I started studying at FIT] I had to participate in a lot of really irrelevant courses like physical education! It's probably geared up for younger people and they teach you about diet and it's like, "But I just want to learn about leather. I eat the meat then I turn it into a bag."
'A lot of the study that I've done and a lot of my continued interest here is looking at my craft practice. There's a really interesting history of craft practice in America and it was really important, especially in quilting, throughout the various wars.There's an interesting thing happening where craft practices have been accepted more in the art world even though it sits outside of it.'
On opportunity
'New York is a really incredible place and it's quite easy to fall in love with it and you realise that there is so much more opportunity here if you work in the arts just because of the population. It's also interesting in the sense that you could be sitting in a bar, you and your dero mates, and you're sitting next to a wall street banker.
'After I finished at FIT I fell into a job with a start-up luxury handbag company called 1 Atelier whose whole premise is mixing artisanal craftsmanship with technology. That was great because I was working under a master craftsman – an Ecuadorian guy who has been making bags for 50 years. That opportunity was amazing because I don't think that those people really exist in Australia,' Franz said.
Moon clutch bag designed by Amy Franz. Image supplied.
On cashflow
'My intention initially was to keep my jewellery business running in Australia, but it was just too difficult, the time difference was a killer. Then on top of that I realised it just wasn't' feasible – so much of the business that I had was based around customer service, so I shut it down and that funded my two years of study; I didn't work during that time.
'It's difficult too with the exchange rate, you wipe away 30% of everything you've got saved up. Rent is expensive, it is challenging.'
On New Yorkers' energy
'Before you move here, you might have the opinion, as an outsider, that everyone is really busy – that they're pounding the pavement, elbowing each other out of the way. This does happen, but people are also incredibly open. They're always interested and engaged and everyone has a story.
'One thing I notice is that people want to tell you about themselves, which I really like. They're also happy to jump straight into a conversation and aren't scared to ask you personal questions. It's not rude, they're just curious and there's no time to mess around with formalities They'll jump straight in and ask: "What do you do, what do you love, where do you live?"'
On working in the Garment District
'The Garment District is a real hub, especially for people in apparel, accessories and millinery; it's concentrated in this one area and all the suppliers are still there. It's a really cool scene but the suppliers that have been there forever are shutting down or new businesses are emerging and old craftsman are retiring; there's not really the opportunity for people to come and take their place again.'
Read: How Australian creatives have made it in New York (pt1): Jemila MacEwan – Interdisciplinary Artist
On ethical fashion trends
'There's an Italian guy named Simone Cipriani and he founded the Ethical Fashion Initiative – he works a lot in Africa and Haiti with artisans and figures out how to help these people elevate their craft into viable businesses without being exploited in the way that's happening in China, India, Bangladesh and everywhere else.
'It's really interesting to be in New York now because that conversation is just starting. It's like, "How do you not only pay for the work but, how do you properly pay people for their cultural contribution to what you're doing?"
'For example: If you are an American designer who is utilising Maasai beadwork, you're working with a very old tradition which is steeped in a lot of cultural signifiers, and you're using that to sell a product.
'It's great to be thinking about these issues because they're front and centre here at the moment. I don't feel like it's being considered in quite the same way back home.'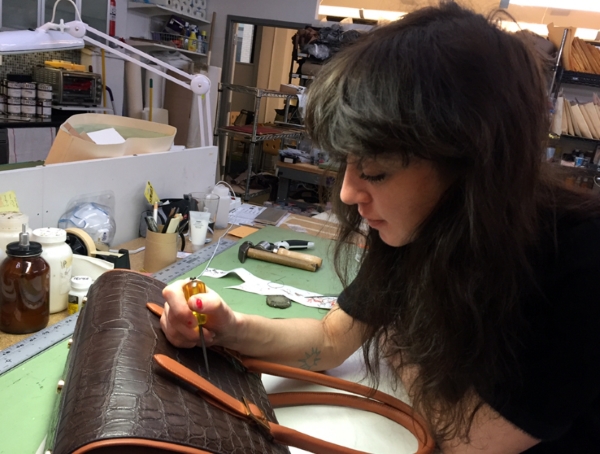 Franz at work in her studio. Image supplied.
On homesickness
'In terms of swinging between New York and Australia, I love that as an idea but every time I go back home it's hard. I've been back once a year since I moved — it's a really long journey. Mum lives in Perth and New York to Perth is just horrific. Every time you leave you wonder, "Am I doing the right thing?" You have to leave your family and your friends over and over again. When you're here you think, "This is what I am doing and I made the right decision."
'When you go back home it takes a few weeks to settle back in and you realise how beautiful life is in Australia as well; it's relaxing and the food is good. You can't buy good bread here. It's like, "I just want a salad sandwich, maybe a sausage roll every now and then."'
On visas
'With the current climate the visa process is a bit scarier and tougher than it has been in the past. I've spoken to a few immigration lawyers in the past few months who are saying not only is it taking a bit longer because they have a backlog, but they're really cracking down because some applications that may have slipped through quite easily before are now being questioned. You really have to have your ducks in a row and make sure you're being legitimate with what you're doing and do it the right way.'
On networking
'You meet people from all walks of life and they're really great at networking. People are also open to those who are engaged in what they're doing and enthusiastic. It's amazing how often you start talking about what you're doing and someone will say, "Oh my friend does this you should connect with this person," and before you know it you're developing this web of contacts with people in creative fields who are able to fund projects. I don't know if that happens to the same extent in Australia.'
Read: How Australian creatives have made it in New York (pt2): Marc Barold – Production Designer